March 11, 2020
Located at a small hillock, the St. Antony's shrine in Kachchatheevu with its white walls decorated with flowers and lights of different colours gives a serene atmosphere to Catholic devotees who have thronged in after hours long sea journeys.
The Kachchatheevu island with a sandy land space of 285 acres and surrounded by clear blue waters, has become a bee hive with thousands of devotees who came from Sri Lanka and India to worship the shrine dedicated to Anthony of Padua, the patron saint of fishermen.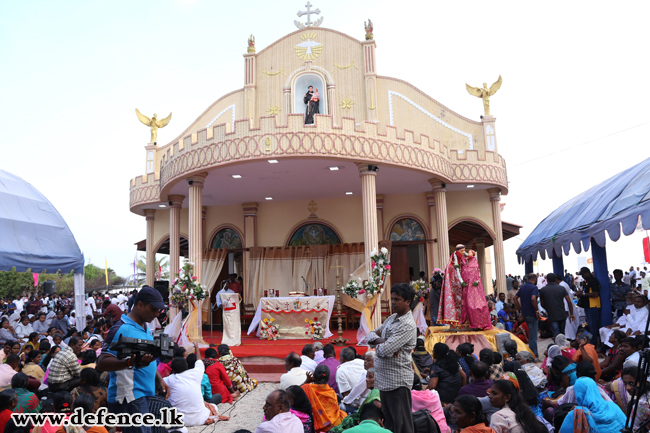 With no differences of cast, creed or religion, thousands of devotees worship Saint Anthony in this small island which turns into dead silence after two-day festival with light and sound.
Jayaseeli Fernando from Negambo and Mary Jaquline from Madapuram, Tamil Nadu are sitting next to each other under a shady Palmyra tree that protects them from the scorching Northern sun.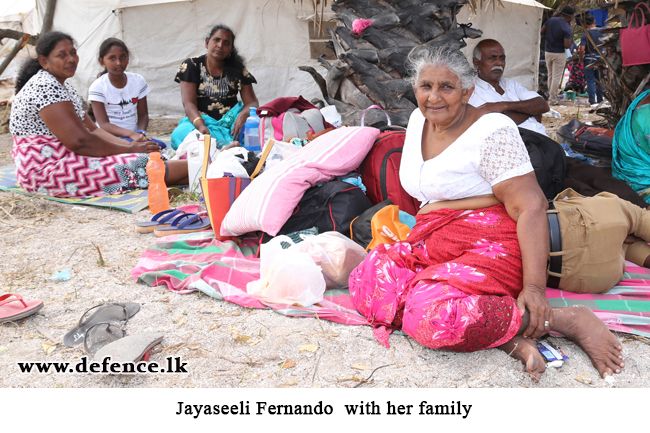 "I believe a lot in the miraculous power of Saint Anthony. He always helps poor people like us," Fernando, says while enjoying a lunch packet given free by the Sri Lanka Navy (SLN).
It is a four day journey to Fernando and the rest of 54 people, including her mother Siriya Pushpa (72), her sister and granddaughter who first invoked blessings at the Madhu Church in Mannar before starting the three-hour sea journey to Kachchatheevu.
"Me, my husband, who died in 2018 due to a cancer, and the younger daughter's family were living in our house just covered with wooden planks. Last year, we built our small house with bricks after we made a vow here at the church. We couldn't get a loan all those years but my daughter was able to get it. It is a miracle for us," Fernando smiles.
Mary Jaqulin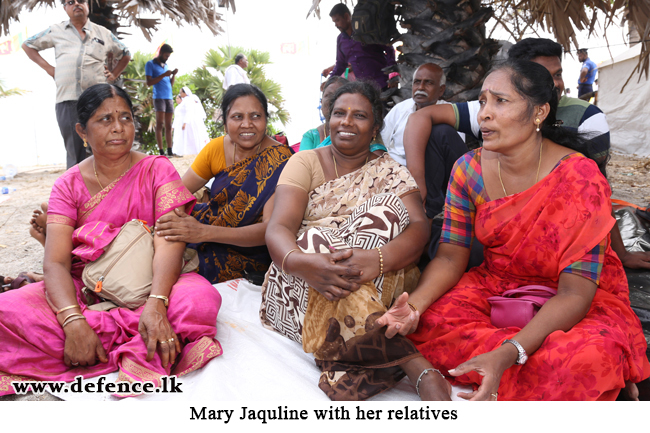 e, who took 12 hours journey from Madapuram to Rameshwaram to Kachchatheevu with her 17 relatives is happy that they have been given full protection during their stay in the island.
"I was worried about security and other facilities before coming here as some of our people warned us about some difficulties including security. Now I have a different positive picture about our visit," she says. Except for two days where pilgrims are allowed to spend during the festival, no one lives in the Kachchatheevu Island where SLN has a naval base. The new church was built by the SLN.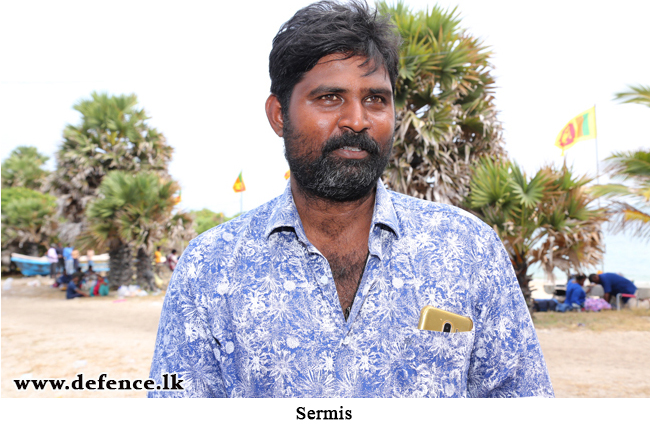 Sermis from Rameshwaram who visited Kachchatheevu for eight times is a boat owner that transports Indian devotees from Rameshwaram. "This festival is an annual feature in my calendar. I have brought over 250 devotees from India so far.
I am doing this free of charge and my devotion to Saint Anthony is growing each time I come here," he says while commending the improved facilities provided by the SLN each year. He says each year the SLN add some new facilities to look after the pilgrims well and also to provide a good service to them.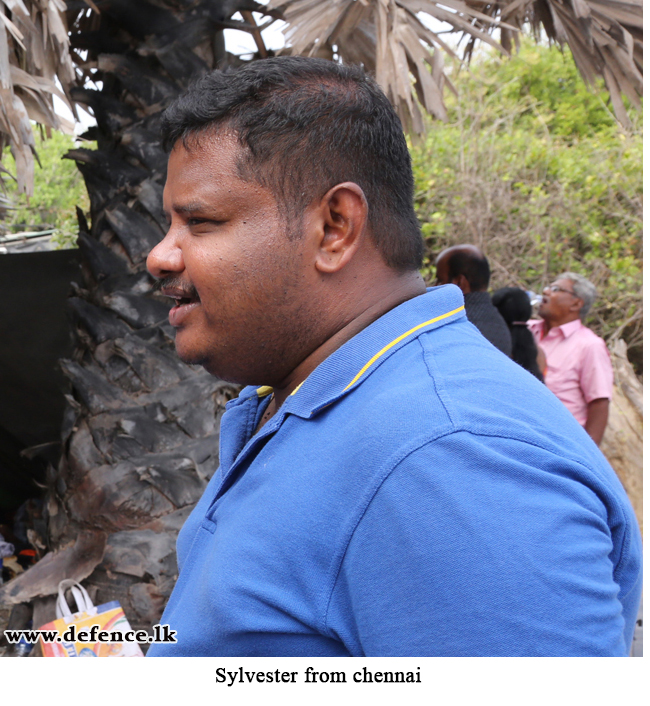 Sylvester, a Chennai based designing engineer, is looking forward to strengthening friendships with Sri Lankans apart from worshiping the Saint Anthony. He plans to visit Kachchatheevu with his family next year as security in the island is well organised.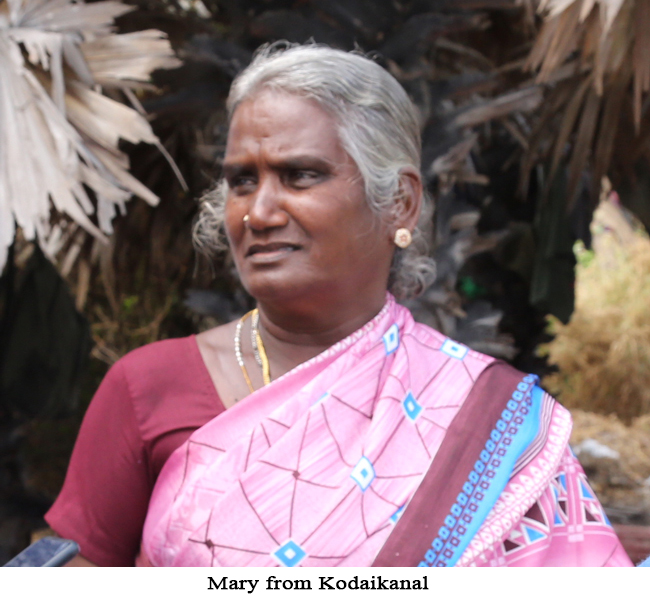 Sixty-five-years old Mary from Kodaikanal in Thinntukal district, India feels she is lucky and privileged to make this pilgrimage a reality.
"We should thank the SLN for looking after us well and providing meals for us. The security arrangements from both the sides were also good," she, who came with 31 devotees in a boat, says.
Rev. Fr. Simon Benjimin of the Selam Diocese, says over 100 pastors and nearly 2,500 pilgrims belonging to the Sivagangi Diocese from Trichi, Kumbakonam and Selam areas of South India have visited the Kachchatheevu festival, this year.
"This is my first visit and first experience at Kachchatheevu. The entire island looks pristine and beautiful. Now people can take part in church activities peacefully. The event is well arranged and seems like parties and governments involved in arranging the feast have cooperated well. We feel comfortable here," he says thanking the SLN.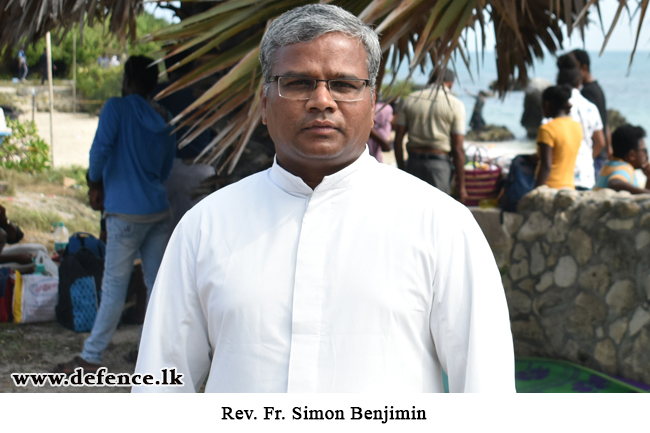 Fr. Benjimin, who came in a boat from Chengalpattu and Chennai to the island with 35 priests, says he has a message to take with him to convey his people to say how people interact, take care of each other, good hospitality and the security provided to feel them safe and secured.
"There would be more devotees from India, if not the COVID-19 fear," he says.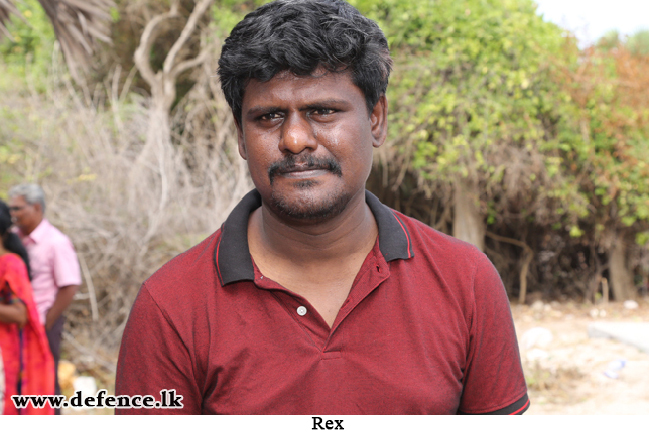 Rex from Thinntukal district , working in Chennai in an IT company, says everything went smooth.
"Sri Lanka received us well without an issue and hazel. We set off from Rameshwaram at around 10am and arrived here at 2pm. I'm convinced that I should return to this place next year as well," he says.
Bishop of Galle Diocese Rt. Rev. Fr. Raymond Wickramasinghe, addressing the devotees during the mass says that devotees are privileged to worship the God freely due to the peace dawned because of the commitment of the tri-forces including the SLN, which is committed to hold the Kachchatheevu festival.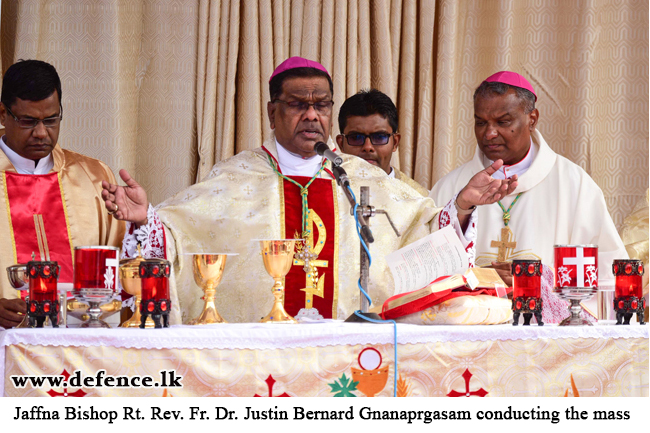 "We see the Navy's dedication for days within the island facilitating this annual feast organised for past couple of years in the history. We also extend our sincere thanks to Sri Lanka Army, Sri Lanka Police and their officers. I see your dedication as a symbol of coexistence, mutual respect and recognition towards each other and their ideas and observances," he says.
Jaffna Bishop Rt. Rev. Fr. Dr. Justin Bernard Gnanaprgasam says that he thanks, especially to former Chief of Defence Staff Admiral Ravi Wijegunratne, Commander of the Navy Vice Admiral Piyal De Silva and Rear Admiral Jayantha De Silva for building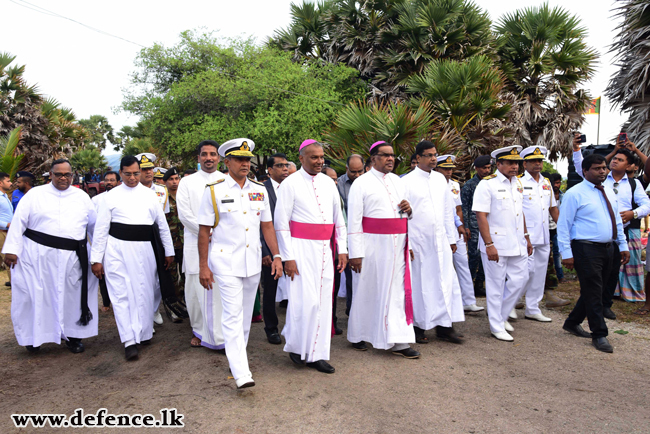 the new church in the island.
"We must thank these three people for building this beautiful church for us and joining with us to celebrate the festival every year," he says while thanking Jaffna Security Forces Commander Maj. Gen. Ruwan Wanigasooriya and all other officers who are committed to hold the festival successfully.
SLN Commander Vice Admiral Piyal De Silva explains the tedious process of getting prepar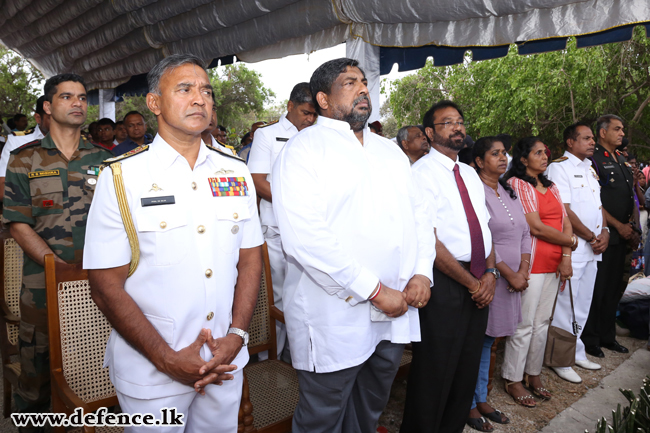 ed by the SLN prior to two months of commencing the festival.
"The Northern Naval Commander Rear Admiral Kapila Samaraweera and his team have worked tirelessly in making this annual event a success. Almost 500 Navy personnel are assigned for duty during the St. Anthony's Church feast. In addition, the Navy has also deployed ships and craft to meet the scale of logistics required to the Kachchatheevu island which is remotely located in the fringes of the western border of the International Maritime Boundary Line," he explains.
According to the SLN Chief, the SLN has transported over 500,000 litres of water from the mainland, facilitating drinking and sanitary requirements of the devotees.
"Last night we provided dinner for almost 9000 people. Meanwhile, I also would like to express my gratitude to the Jaffna District Secretary, the Army, Air Force, Police, Sri Lanka Customs and the Immigrations Department for the collaboration and cooperation extended in the smooth conduct of this event," he says.
He says according to available statistics, a total of 8,583 pilgrims including 2,510 Indian devotees in 86 boats have visited the Kachchatheevu island.
"It needs to be praised that despite the fear of Corona Virus outbreak, devotees visited the island to celebrate the feast," he says.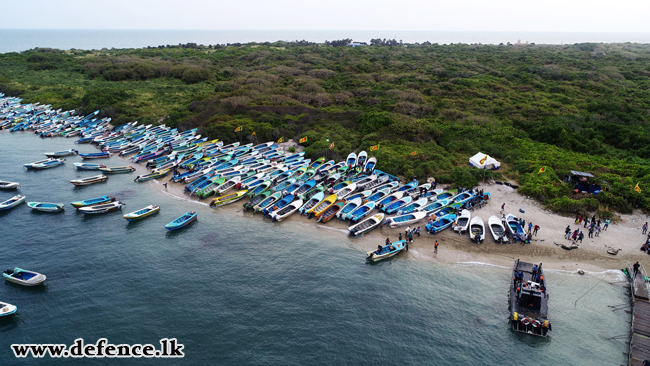 SLN provided devotees with all facilities including sea transport, food, water, medical and sanitation. Navy had taken stern measures to ensure security of people who stayed night from the day prior to the Mass. Everyone landed the island was subjected to medical screening due to present threat of COVID 19.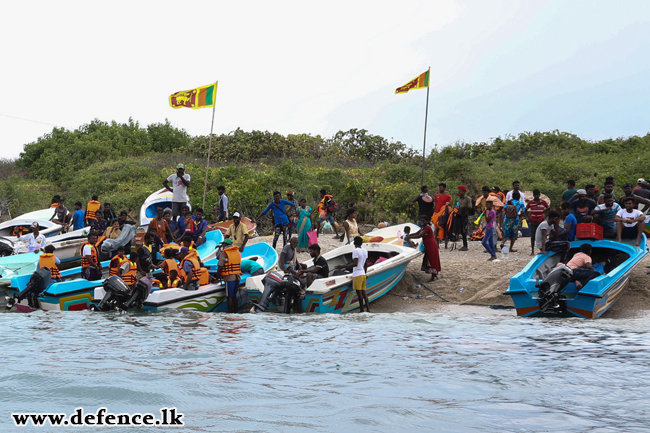 The Mass was conducted in Tamil, Sinhala and English by Jaffna Bishop Rt. Rev. Fr. Dr. Justin Bernard Gnanaprgasam, Bishop of Galle Diocese Rt. Rev. Fr. Raymond Wickrmasinghe and Vicar General of Sivagangai Diocese, India Rev. Fr. Joseph Lourdu Raja.
Like Fernando and Jaquline, thousands of devotees repeat visiting Kachchatheevu church as they feel there is a miraculous power in it.
Whether they are from Sri Lanka or India, all of them have a reason to visit Kachchatheevu, where the security is well guaranteed by the SLN and strengthening bonds between two nations.
"In this holy land, we are not Sri Lankans or Indians but we feel we belong to one family. We do not know each other's language but when we smile with each other by sitting under the same Palmyra tree, we feel we know each other," Fernando says.