General G.D.H. Kamal Gunaratne (Retd) WWV RWP RSP USP ndc psc MPhil
Secretary, Ministry of Defence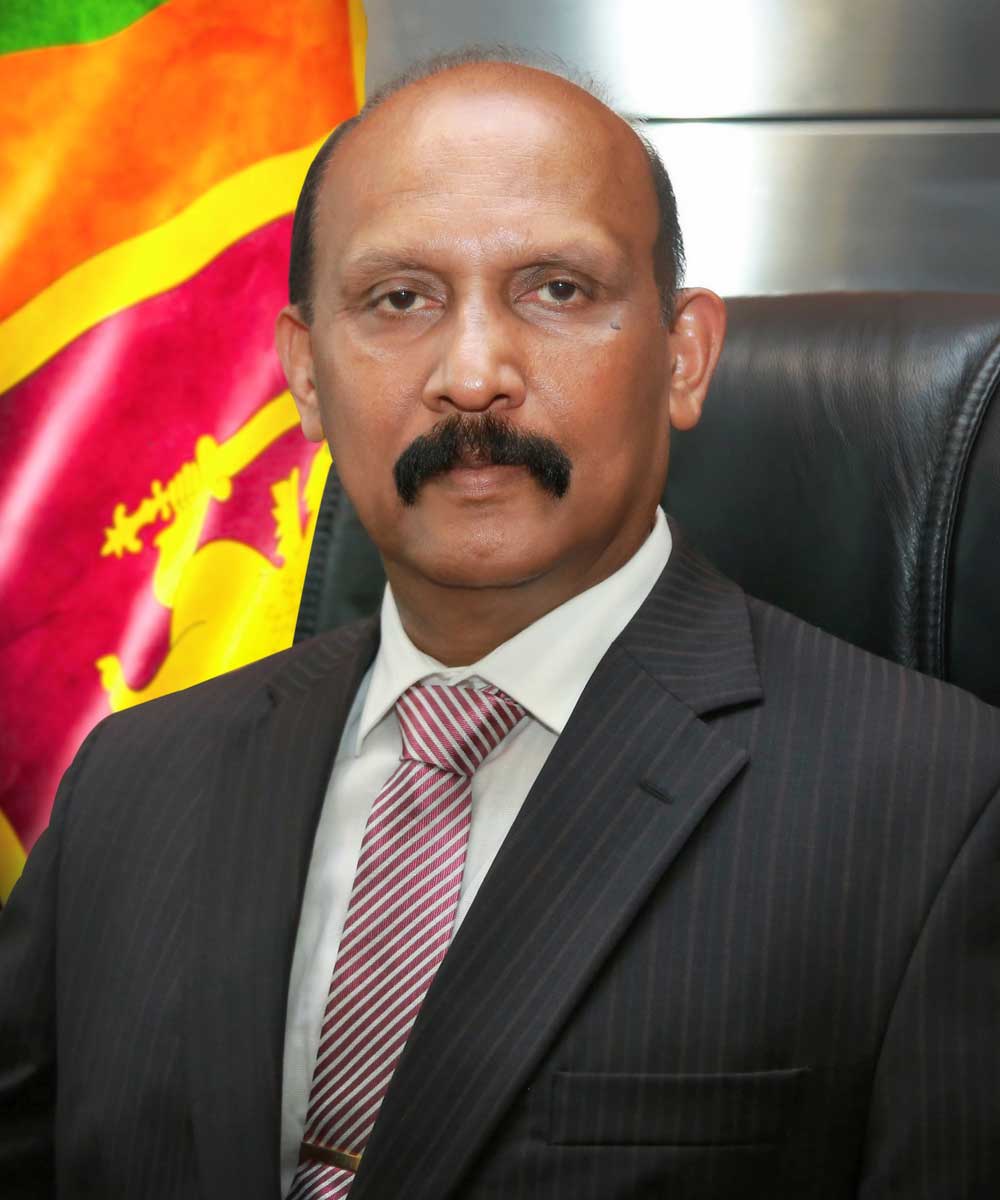 General G.D.H. Kamal Gunaratne (Retd), having a distinguished military career of over 35 years and holding many key appointments in all areas of Defence and Civil - Military Coordination, assumed duties as the Secretary of Defence Ministry on November 20, 2019.
Being a decorated soldier, he was the Master General Ordinance at Army Headquarters from 2015 to 2016. General Gunaratne (Retd), who was the General Officer Commanding of the 53 Division from April 2008 to July 2009, commanded his troops during the Humanitarian Operation of the final phase of the Eelam War IV, which completely annihilated the 30-years of terrorism by the Liberation Tigers of Tamil Eelam (LTTE) on May 19. He also served as the Commander, Security Forces Headquarters (SFHQ) Wanni.
General Gunaratne (Retd) had served as the Deputy Ambassador in Brazil from 2012 to 2015.
After retiring from active military service in 2016, he held top posts in the private sector and has authored books based on his 35-year experience in the military.
A past student of Dharmapala Vidyalaya, Pannipitiya and Ananda College, Colombo, General Gunaratne (Retd) joined the Sri Lanka Army as an Officer Cadet in August, 1981. After completing the basic military training and a commando course, he was commissioned as a Second Lieutenant of the Rajarata Rifles in December, 1982 and was one of the initial officers of the newly formed Gajaba Regiment (GR) following the disbandment of the Rajarata Rifles. He served as a Platoon Commander, Company Commander in the Gajaba Regiment and was subsequently promoted to the ranks of Lieutenant and Captain.
In 1987, he took part in the Vadamarachchi Operation. In 1990, he was the Officer Commanding of the Mankulam Army Camp when it came under intense LTTE attacks. In the same year, he was promoted to the rank of Major and subsequently appointed as the Second in Command of the 6th Battalion of the Gajaba Regiment. General Gunaratne (Retd) was the Commanding Officer of the Silawathura Army Camp, which came under siege by the LTTE but was able to successfully hold on to the camp amidst stiff LTTE fire for several days, before the 6 GR was relieved by reinforcements. After returning from operational duties, he was transferred to Army Headquarters as a Grade II Staff Officer in the Directorate of Logistics.
In 1994, having been promoted to the rank of Lieutenant Colonel, he took the command of the 6th GR, which fought in the Operation Riviresa. Thereafter, he was appointed as a Grade I Staff Officer at Joint Services Operational Headquarters, coordinating the Operation Jayasikuru.
He also held many command positions such as GOC 53 Division while overlooking as GOC 55 Division and Colonel of the Regiment of the Special Forces (SF), Gajaba Regiment and the Mechanized Infantry Regiment.
He did his MPhil at the University of Madras and obtained Masters in Art and Science of Warfare from the University of Baluochistan
General Gunaratne (Retd) has been awarded with several Gallantry Awards, Distinguished Service Medals, Campaign Medals and Service Medals for his acts of bravery and exceptional acts of valour in the battlefield. He is the recipient of the following medals.
Gallantry Awards :
Weera Wickrama Vibhushanaya - For individual acts of gallantry and conspicuous bravery of a military nature of a high order in the face of the enemy performed voluntarily whilst on active service without regard for his own security with the objective of safeguarding thereby the lives of his comrades or facilitating the operational aim of his force.
Rana Wickrama Padakkama - For individual or associated acts of bravery, in the face of the enemy and performed voluntarily
Rana Shura Padakkama - For distinguished conduct in the face of the enemy.
Distinguished Service Medals :
Uththama Seva Padakkama - For valuable service and devotion to duty marked by exceptional ability merit and exemplary conduct
Desha Puthra Sammanaya - For wounded whilst on operation by the enemy action and such injury is classified at least as 'moderately severe' by the medical authorities or are killed as a consequences of such injury of enemy action
Campaign Medals :
East Humanitarian Operation Medal – For participating in the East Humanitarian Operation, which was launched to liberate the Eastern Region of Sri Lanka.
North Humanitarian Operation Medal – For participating in the North Humanitarian Operation, which was launched to liberate the Northern Region of Sri Lanka.
Purna Bhumi Padakkama – For serving in the high intensity operational areas of the Northern and Eastern Regions for more than 6 months.
North and East Operations Medal – For serving in the high intensity operational areas, since July 23, 1983 for an accumulated period of 3 years.
Vadamarachchi Operation Medal – For actively involving in military operation, in the Vadamarachchi area.
Riviresa Operation Medal – Awarded for all military personnel in active service who took part actively in the execution of the operation Riviresa 1 during the period of October 17, 1995 to December 6, 1995.
Service Medals :
50th Independence Anniversary Commemoration Medal
Sri Lanka Army 50th Anniversary Medal
Sri Lanka Armed Service Long Service Medal
General Kamal Gunaratne (Retd) had undergone special training in Turkey on Civil Military Coordination and attended following training overseas:
Infantry Young Officers' Course - School of Infantry and tactics, Pakistan (1988)
Junior Command Course - College of Combat, India (1990)
Senior Command Course - College of Combat, India (1999)
Command and Staff Course - Army Command and Staff College, Pakistan (2000)
Defence and Strategic Studies Course - National Defence College, India (2011) Further, he attended to following conferences and workshops overseas:
East and South Asian Conference in Border Security – Washington DC and New Mexico, USA (2002)
Workshop on Non-Lethal Weapons – Port Dickson, Malaysia (2008)
Field Training Exercise – Inner Mongolia, China (2008)
Tokyo Defence Forum – Japan (2008)
Asia Pacific Senior Military Officers' Conference, Singapore (2009)
Humanitarian Deming Research and Development Programme - Washington DC, USA (2010)
Strategic Neighborhood Tour from National Defence College of India to Kazakhstan (2011)
Deputy Chief of Mission for World Military Games – Republic of Korea (2015)
International Integrated Safety and Security Conference - Moscow, Russia (2016)
General Gunaratne (Retd) is a prolific writer who has penned a number of books based on his experience in the military. He is married to Chithrani Gunaratne and they are blessed with a daughter.
Books authored :
'ROAD TO NANDIKADAL' – Sinhala and English translation.
'KADOL ATHTHU'
'UTHARA DEVI'
'GOTABAYA' Sinhala and English translation.
'PATHALAYOO'