Scars, forgiveness and long wait for justice
April 27, 2020
Scars, forgiveness and long wait for justice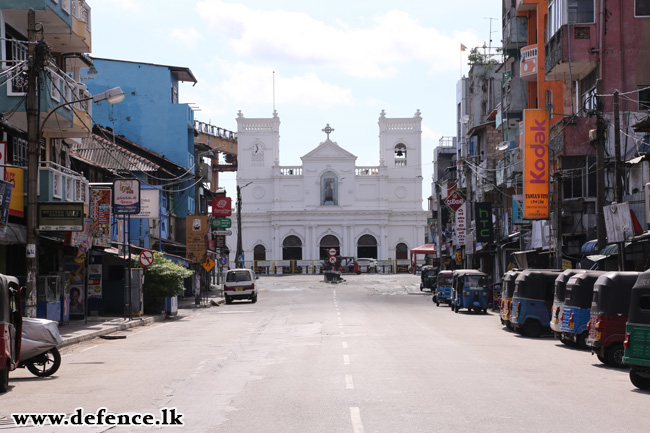 By defence.lk features desk
The Easter Sunday carnage perpetrated by a handful of fundamentalist extremist terrorists, on April 21, 2019, killing over 250 civilians and injuring over 500 has left us with many unanswered questions.
With all craze transpiring globally and locally, triggered by spread of the COVID-19 pandemic, some attention might have eclipsed the first-year commemoration of the 'Easter-Sunday' bombings.
While lives of many were devastated, ruined and shattered -those individuals and families urn for justice to be meted out against both the perpetrators and the neglectors. It was recently the Police spokesperson was on record stating that the fundamentalist terrorists had also planned for a second wave of attacks. This raise concerns that there is more to do in tracking and tracing the remaining nodes of this crime.
A year has gone by and defence.lk spoke to a few persons, who had become the victims of this bombing spree. At first glimpse their lives seem to have changed totally, in a twist of faith. And despite their losses, all were determined to rise against the odds in memory of their loved ones lost and in belief of God.
"We never thought something like this would ever happen. It's like a nightmare. People ran everywhere, not knowing what happened. It was like a miracle; St. Anthony's statue was saved. Many people died", said Gerad, who was among few who are fortunate enough to have escaped the carnage alive.
"It was April 21, the fateful Easter Sunday. Fr. Joy Mariyaratnam was to give prayers in Tamil when the deadly explosion went off at 8.45 in the morning. The bomb was exploded shattering the lives of many devotees and leaving lifelong scares in them," Fr. Jude Raj says.

For him, even after a year, it has failed to erase that dreadful memory and that tragic scene still repeatedly visualizes in front of his eyes.

" As a person who encountered such a cruel and fearful incident for the first time in life, I would never be able to repress it from my mind," Fr. Raj adds.

In his memory, how the ripped dead bodies of devotees were strewn on this blessed floor, how the hot blood wetted the holy floor, how the flames of fire swallowed the fallen columns of the holy shrine, and how people, who are severely injured were screaming painfully, are still haunting.
"our faith is more powerful than the harm caused by extremists" Fr. Jude Raj says.
"I wish such a catastrophe would never happen again. The support of the Tri-Forces and Police to safeguarded us and untiring efforts put-forward by the Sri Lanka Navy to restore the church to its former glory within 52 days are praiseworthy. I cannot imagine of any other expression other than "a big Thank You", and we owe for that," he says.
He says as Cardinal Malcolm Ranjith always says 'We forgive those who were involved in suicide bombing, spiritually' but anticipate true justice to the victims'.
We met Gerad who is a devoted Christian, at the St. Anthony's Church at Kochchikade- the first target of the Easter Sunday bombing.
"The bomber had come from that area" says Gerad pointing towards a section of the church which earlier had direct access from the road.
"The church was filled with people who came to the mass. I was at the other side and witnessed the explosion. I saw a large ball of fire and immediately ran outside of the church" Gerad says recollecting the horror he had experienced firsthand.
He says he never thought that a Muslim would do such a massacre as they also come to this place to pray for their children to excel in examinations," Gerad said with utter disbelief.
Like his unfettered devotion, Gerad finally said that he had confidence on the armed forces and expressed gratitude to President Gotabaya Rajapaksa and the Tri-Forces for protecting the country.
Thilina Harshani, was among many who not only sustained lifelong injuries but also lost their most dearests in the Kochchikade church bombing.

"I have three children. I lost one child in the Easter Sunday bombing. He was sitting next to me when the bomb exploded," she recalls.

The other two children had sustained minor injuries. "My entire family went to the mass to celebrate the resurrection of Lord Jesus Christ. Still unexpectedly we had to face a dangerous situation. When I recall, at that moment, I had no idea what had happened" Thilina says.
"Despite all this, I still believe we are a bit fortunate as we are still alive", Thilina Harshani says.
Indeed, like Thilina, the entire country had no idea of what transpired on Easter Sunday, except for the perpetrators, their inner circles and the Sri Lankan polity and a few individuals of the security apparatus who later were known to have received some sort of advance intelligence warnings internationally about the impending suicide attacks to strike in future.
"It is nearly a year that I am under treatment at a hospital. So far, I have recovered a lot from my injuries", she says trying to smile while hiding tears in her eyes.
Despite her injuries, she has not lost her grit and believes of recovery soon.
"I think I would recover more. Even though my recovery would not be hundred percent, I do believe to recover so that at least I could do my work alone.
Due to the explosion I sustained serious injuries to my spinal chord. Bomb blast has made my both hands paralysed and an eye is fully damaged," she keeps on explaining the damage that the bomb blast did for you.
"Despite all this, I still believe we are a bit fortunate as we are still alive", Thilina says.
During the three-decade war, Sri Lanka has left with many courageous souls like Thilina. Following the hard-earned peace in 2009, many believed an end to terrorism in the island. Contrary to these beliefs, a few radicalized groups have had other thoughts. The military was forced into a slumber and intelligence agencies were put in a disarray through a government sponsored witch hunt.
Religious entrepreneurs were offered red-carpet into the island and almost all were scot free. All these provided religious radical elements to multiply and spread their ideology exponentially in the far corners of the island.
Sharanya, the 25-year-old, mother of a baby boy believes in her future not to be a burden for her aging parents who are taking care of her.

"On that April 21, I went to the church with my husband. I was nine- months pregnant. We went to the church happily and it was just 11-months after our wedding," she says in a quivering voice.

Sharanya says in the bomb blast 'she lost her life, her husband died and she got lifelong injuries- Her arm and a leg are badly damaged.

"A Muslim person took me and admitted to the hospital. I was operated and weeks after I came to know that my husband had died," she says that Easter Sunday attack would not be erased in her mind as she lost her husband on April 21 and her son was born on April 22.
" My husband didn't see the son and son will never see his father" Sharanya says.

Sharanya is unable to stand and attend her day –to-day work alone. The bomb blast has devastated her life and her future making her a lifetime dependent.
Jesuraj is another survivor of the suicide bomb that ripped off in the St.Anthony's church.

"I had my right leg amputated following the 2019 bomb incident. With the explosion I fell on the ground unbalanced. My wife and my younger brother had rushed me to a hospital in a bus. At the hospital, the doctors did their best to save my life," he says how doctors amputated his leg to save his life.

He was to celebrate his first year wedding anniversary when he was caught in the bomb blast.
'Do justice for those who are dead and living by bringing culprits to book' Jesuraj says.
"It took some months for my wife and our families to recover from the devastation. She was mentally down as she couldn't bear up the loss," Jesuraj says.
He requests the Government to take precautions to ensure that such incidents would not be repeated the future.
Many of the survivors living with grief are still numb from the devastating bomb blasts that not only rock Sri Lanka but also the entire Asia.
Every one of these survivors of the Easter Sunday bomb attacks are pleading only one thing – 'Do justice for those who are dead and living by bringing culprits to book'.
---
What are human rights when they try to use such to cover up the perpetrators and associates of those who violated the basic right to life of so many innocent human beings – men, women and children? - Cardinal Malcolm Ranjith.
"On this occasion when we commemorate the dead and pray for the wounded of last year's Easter attacks, I wish to express our sincere gratitude to all those who stood by the victims showing their solidarity and for assisting them in every possible way. These victims belonged to all ethnic and religious groups in Sri Lanka and included foreigners," Archbishop of Colombo Cardinal Malcolm Ranjith said in a message.

"We honour especially all those who lost their loved ones and those who were injured, for their spirit of magnanimity in not reacting in anger and hatred. What was remarkable in that was the resolve to stay calm and peaceful so that an evil plot to destabilise Sri Lanka with racial or religious riots was defeated by all Sri Lankans.

We are aggrieved that those responsible for governance at that time did not take seriously the repeated warnings received concerning these attacks and so not only allowed this massacre to take place but also sought to hide their culpability in different ways after the attacks.
Archbishop of Colombo Cardinal Malcolm Ranjith
Still more serious is the responsibility of all those who masterminded these attacks by planning, funding and encouraging the perpetrators and deliberately covering up facts of the case. Some of them surely knew this was coming. We thank the incumbent President for his insistence in investigating these attacks thoroughly and for ensuring those responsible are brought to book.
We are indeed sad and shocked to hear that some educated and elitist people, some of whom are connected to the legal sphere, are trying to bring pressure on the President to cover up these investigations and possibly hide the authors. What are human rights when they try to use such to cover up the perpetrators and associates of those who violated the basic right to life of so many innocent human beings – men, women and children?".
---
Meanwhile, Defence Secretary Maj.Gen. (Retd) Kamal Gunaratne assured to expedite investigation process to punish culprits irrespective of their social status, political affiliations, ethnicity or religion to do justice for those who were killed and injured in the bomb blast.

"The Government would bring all culprits who planned, financed and supported the Easter bombing carnage that killed over 270 and wounded over 500 innocent people on last year's Easter Sunday, soon," he said.

He pledged not to leave room for Sri Lankans to die and suffer in such unfortunate incidents as the Government had taken all precautionary measures to identify such acts of terrorism or extremism at early stages.

"We will bring such culprits to book with the support of the country's intelligence agencies, which have been strengthened to counter terrorism and extremism," he said.
"All culprits, who planned, financed and supported the Easter bombing carnage, of last year's Easter Sunday, will be brought to book soon,"- Defence Secretary
---
Although it was bombed by radical Islamic extremists within few minutes, the sailors who are belonging to other ethnic and religious groups as Sri Lankans took 45-days to renovate the church - SLN Commander Vice Admiral Piyal de Silva

Sri Lanka Navy (SLN) Commander Vice Admiral Piyal de Silva recalling the incident, year ago, said he went to all the churches including the St. Anthony's Church to assess the amount of explosive used by the bombers for the destruction as he is an explosives expert.

"It was 10.45 am when I reached the St. Anthony's church, where I met Fr, Jude Raj. He held my hand and started crying as he couldn't bare up the damage caused by the explosion. I told him even though no one could give life to people who died, I would renovate the church for people to worship soon," he said.

Once the primary investigations inside the church were completed, the SLN had cleared debris and washed the blood strained floors. A contingent of sailors form the SLN's Civil Engineering and Electrical Engineering units and another team of sailors from the Welisara Naval Base were deployed to carry out renovation.

"The SLN's highly skilled team, who completed the walls of the Kachchathvu church, was also used to complete the walls of the St. Anthony's church," Vice Admiral de Silva said.
Meanwhile, one of his friends, Joe Ferral, the Chairman of a world renowned diving company, had seen SLN's involvement in renovating the church had donated USD 60, 000 – USD 50,000 to renovate the church and USD 10,000 for the welfare of the victims.
He has also donated a large organ, used in a church in Florida, USA to the St. Anthony's church. They planned to play it on this Easter Sunday remembrance but couldn't play it due to coronavirus threat.
"Although it was bombed by radical Islamic extremists within few minutes, sailors who were belonging to other ethnic and religious groups renovated it in 45-days as Sri Lankans," SLN Chief said.

The nine suicide bombers of the Easter Sunday carnage
One of the Shangri-La bombers was Zahran Hashim, the leader of the local jihadist group responsible for the attacks that were claimed by Isis. The other at Shangri-La was Ilham Ahmed Mohamed Ibrahim.
Ilham's elder brother Inshaf Ahmed was the man who bombed the nearby Cinnamon grand hotel.
The third hotel to be targeted, the Kingsbury, was bombed by a man identified as Mohamed Azzam Mubarak Mohamed. His wife was in police custody.
St Anthony's church was targeted by a local resident named Ahmed Muaz. His brother has been arrested.
The St Sebastian bomber was Mohamed Hasthun.
The Christian Zion church in the eastern district of Batticaloa was hit by a local resident, Mohamed Nasser Mohamed Asad.
Another man who failed to set a bomb off at a luxury hotel, but detonated his explosives at a guest house near the capital, was identified as Abdul Latheef who had studied both in Britain and Australia.
Presidential Commission appointed on:
1. April 22, 2019, President Maithripala Sirisena appointed the Presidential Committee to conduct investigations into the bombings. (Judge Vijith Malalgoda, former IGP N.K. Illangakoon, and former Law and Order Ministry Secretary Padmasiri Jayamanne)
2. Malalgoda Committee finally submitted its report to Sirisena on 10 June, 2019.
3. Select Committee of Parliament was appointed on 22.05.2019.( appointed by the parliament Speaker Karu Jayasuriya going by the wishes of the ruling United National Party (UNP) headed by Prime Minister Ranil Wickremesinghe.)
4. President Srisena Appoints a Five-Member Commission To Probe Easter Sunday Attack on September 21, 2019.