Center for Research and Development displays new innovations
May 28, 2020
Coronavirus boosts innovations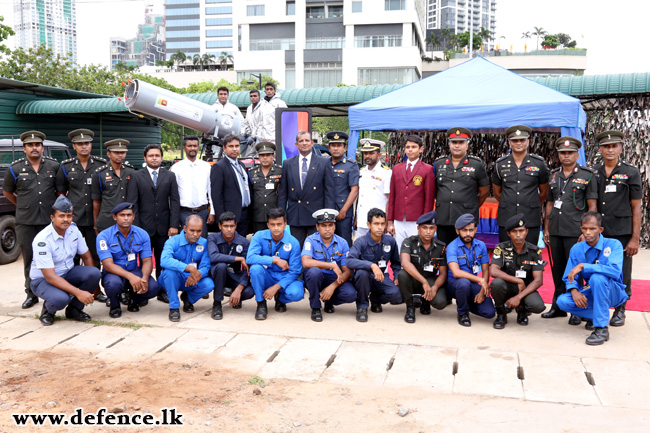 Thejana Dewumina, is a grade ten student at the President's College at Embilipitiya and the inventor of the 'Dr. Robot'.
'Dr. Robot' is an interactive remotely operated robotic platform which could assist health workers in reducing risks involved in dealing with patients in a contagious environment.
Despite being a tenth grader, Thejana demonstrates what many of his contemporaries and wannabe innovators lack - consistency, self-belief and drive. The inherent limitations of geographical remoteness, access to technology, let alone technical knowhow had failed to smother his indomitable spirit for innovation.
Dr. Robot was displayed among five inventions done by the Center for Research and Development (CRD), which displayed their new innovations developed as solutions to assist frontline workers and masses against the coronavirus at the Defence Ministry premises, recently.
A disinfection corridor and two mobile disinfection platforms were also displayed by the CRD, which is an umbrella institution under the Defence Ministry.
Since, its inception in 2006, as the pioneer defence research organization in Sri Lanka, the CRD had developed and produced a multitude of innovative solutions and new inventions for the next generation fighting forces.
Thejana, who was saddened by hearing the news of a Chinese doctor who had succumbed due to the COVID-19 infection while administering treatment to patients he turned his sorrow as inspiration in reducing life risk involved to health staffers working in a highly contagious environment. This led to the creation of 'Dr. Robot'.
CRD's Director General Maj. Gen. (Retd) Renuka Rowel, who is a key member of the committee for research and development under the Presidential Task Force appointed at steering responses against the pandemic, said the CRD was supporting and encouraging young inventors to come up with their inventions.
According to Maj. Wasantha Wijekoon, Thejana's invention slipped into his ears through a live radio program while on the driveway returning from work. Realizing the importance of the young child's innovation, Maj. Wasantha had immediately contacted the radio station and got hold of Thejana's whereabouts.
The CRD immediately facilitated Thejana to arrive at the center along with his father from Middeniya- a remote village in the Hambantota district.
"We use to walk for over two km just to get sufficient signal strength so that he could download the programs needed for coding," Thejana's father, who is also a teacher at the President's College at Embilipitiya, said.
"Even when he was in his tender age, Thejana used to break and reassemble his toys. We never ever tried to stop him doing this and I think that has also played a part for his creativity", his father further said.
In addition, he has won in several competitions for innovations and is looking forward in taking part in future events too.
On May 10, the World Health Organization was on record commending Sri Lanka's ongoing efforts and response to contain COVID-19, as per local news sources. In its statement, the WHO had further commended local innovations for easing off the stress for front-line workers.
Indeed, as supply chains were disrupted worldwide with unfolding of the pandemic, fragile economies as Sri Lanka needed homemade solutions for life support until the prevalence of normalcy or foreign aid.
While we witnessed a spike of innovations as solutions to issues from tracking and tracing of patients to disinfections from individuals to masses to public places, a unique organization took the lead in driving the process.
These innovations had gone beyond prototyping and could be scaled-out for production and although the CRD had no intention to commercialize these innovations, interested parties could collaborate for large scale manufacturing with the CRD.
"We do not intend to discourage potential commercial production of these innovations. Anyone or organization could replicate our products and we would happily share our blueprints as we see this as a way to stimulate innovation and production in Sri Lanka," Maj. Gen. Rowel said.
Most of these inventions were initially brought to my attention as drawings. I'm indeed lucky to have an able and competent team who sat along with me to scrutinize the potential of these ideas as products and solutions to issues that has risen due to the pandemic.
He appreciated the contribution by Anuruddha, Prasanna and young Thejana Dewumina who had come forward as innovators.
"These young and upcoming innovators are further, provided with an opportunity to collaborate with the Sri Lanka's Inventors Commission," Maj. Gen. Rowel said.
Anuruddha had constructed a disinfection chamber which already has got demands for commercial production. Prasanna, who is employed with FINEX Engineering Pvt Ltd, had produced the 'disinfection mobile area gun'. The product has already received orders and is to be gradually deployed for operations.
Maj. Nissanka's innovation- a disinfection chamber has also drawn attention from many commercial enterprises for its inherent efficiency.
"We at CRD have changed the dimensions how we look into driving innovation in Sri Lanka, Dr. Chandana Perera said.
Apart from being a consultant at the CRD, Dr. Perera an ex-navy officer is also the current Dean of the Engineering Faculty at the NSMB in Homagama.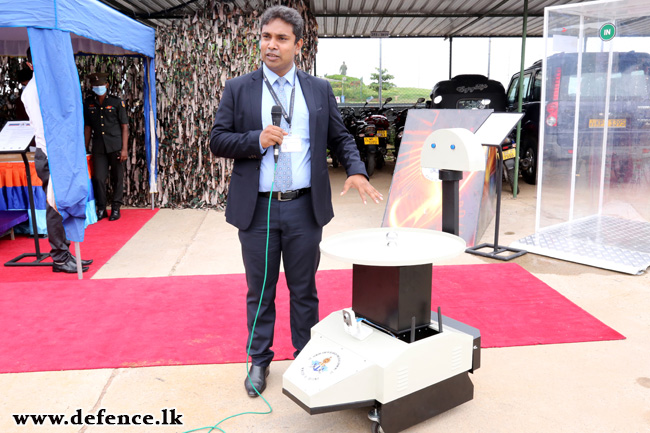 "If one considers where innovations are blooming in the island, predominantly it's from the rural areas. This phenomenon has been quite evident lately and our approach (CRD) is aimed at selecting and providing much needed expertise and resources assistance to young innovators in remote areas, he said.
The CRD sternly believes in taking technology to children in rural villages rather than bringing them to Colombo. There is a vast wealth of untapped entrepreneual promise in the rural and remote areas, and my salient advice to potential innovators and children is to look around your own environment more closely at identify existing issues and thinking along the ways of providing technology based solutions, Dr. Chandana stated.
Moreover, we also look into futurists and cost-effective solutions that have potential marketable and real world demand. All these products in display today, could be scaled out for mass production, Dr. Chandana further said.
Maj. Gen. Rowel he said Sri Lanka has enough young talent and promise to substitute for our inherent vulnerabilities.
"Despite living in a rural area, I believe that if anyone has a will and desire to succeed, everything is possible," Thejana said adding that he has developed quite a bit of innovations; mostly technology based over the years.