'Beyond call of duty'; True marvels around us
July 10, 2020
By Lt. Com. Chaminda Walakuluge
On June 26, four persons who had demonstrated and acted beyond their call of duty were felicitated and awarded with cash prizes by Defence Secretary Maj. Gen. (Retd) Kamal Gunaratne.
Chief Inspector (CI) Ruwan Fernando, Inspector of Police (IP) Varuni Bogahawatte, Police Constable (PC) Selvaraj Kandaruban, PC P.G.M.P Karunathilake, PC A.A.S.D Yomal (posthumously) and W.W.A. P Fernando, an employee at the National Hospital was honoured for their gallantry deeds.
CI Ruwan Fernando serves as OIC of the Talawakele Police.
Recalling the defining day, where he risked his life to save a young woman who had jumped into the Upper Kotmale reservoir, CI Ruwan says that he is happy and contained that he could save a life.
A father of four children now residing in Bandarawela, CI Fernando hails from Ampara.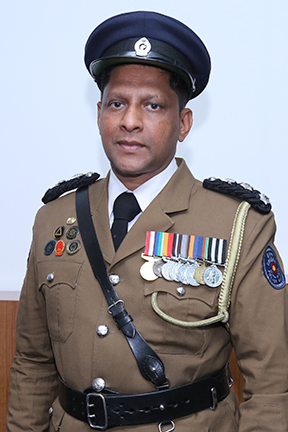 CI Ruwan Fernando
During his 30- years of service in the Police, CI Fernando has served in many parts of the country including Jaffna, Trincomalee, Ampara, Kurunegala, Buttala, Tirukkovil, Hambegamuwa and Bandarawela.
He has also served in UN Peacekeeping missions from 2007 to 2009 in Haiti.
It was Sunday, May 31, when CI Ruwan got an emergency call about a young woman who had jumped into the Upper Kotmale reservoir.
"The depth of the waters at the Upper Kotmale reservoir is about 60 to 70ft and hardly one survives", CI Ruwan stated, adding that the site has become a fatal point for those attempting to commit suicide.
"As I arrived at the location along with PC Kandaruban, we heard that a young man who had attempted to save her had unfortunately disappeared into the deep water. He was later identified as Nevil Shabdeen Rizwan, a 32-year-old and a father of two children", CI Ruwan said.
"Eyewitnesses said that once Rizwan swam closer to the woman and grabbed her, both of them had disappeared as the woman was struggling desperately for her life" he said.
With the woman struggling for life, CI Ruwan realized it would be just moments before she would also be lost in the waters forever. He plunged himself into the water and swam over 80feet towards the woman along with an inflated tube.
On seeing that his CI was swimming to save the woman, PC Kantharuban understood that his superior officer would indeed require assistance to approach the woman, who is struggling for her life.
"I am no expert swimmer, nor have I ever done any lifesaving course", said CI Ruwan.
"The only thing that made me commit to saving the woman was that I was confident enough I could save a life and that I am going to do it", CI Ruwan added.
Both CI Ruwan Fernando and PC Kantharuban ensured that the woman was brought ashore safely.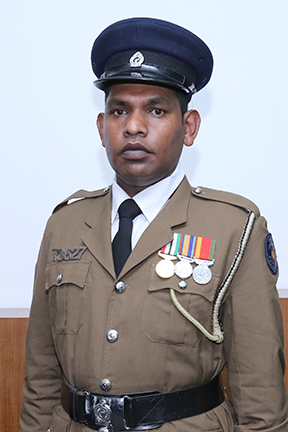 PC Kantharuban
On June 9, 2020, IP Varuni Bogahawatte was passing by the National Hospital when she noticed something suspicious with a man who was hurriedly dashing along the road with a parcel in his hand. She also saw that the man was pursued by three more persons.
Suddenly, the suspected man got into a Trishaw in a bid to flee the scene.
Trained and experienced at identifying offenders, IP Varuni sensed that she had to do something to stop the suspect and drove her vehicle to pass the trishaw blocking any further passage to flee.
By this time, PC Sithum Alahapperuma and PC P.G.M.P Karunathilake along with a staffer at the National Hospital W.W.A.P Fernando who was in pursuit of the suspect had arrived at the scene.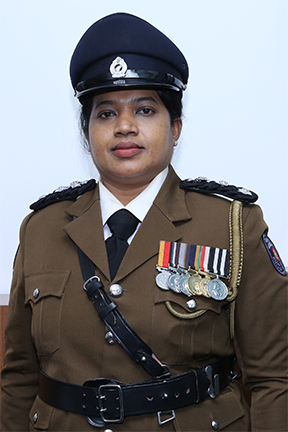 IP Varuni
Just two days after his gallant effort thwarting a broad daylight robbery, PC Sithum Alahapperuma succumbed to injuries following a tragic roadside accident at Bambalapitiya.
They assisted IP Varuni who at the time was wrestling with the suspect who had also drawn out a pistol to intimidate her (this was later identified as a toy pistol). The suspect, a doctor by profession was arrested along with Rs. 7,780,226 robbed from the Colombo National Hospital
IP Varuni hails from Matara and had joined the Sri Lanka Police Department in 1996, which as she says was a dream came true. Her father too was a Police officer. She recollects memories working in Anuradapura and Medawachchiya areas during the height of the war.
During her career, she had solved many cases that were extremely challenging and daunting, IP Varuni said. She had also received many awards for her exemplary conduct especially during her tenure at the Children and Women's Bureau at Matara Police.
Indeed, we are fortunate that officers like CI Ruwan Fernando and IP Varuni Bogahatte are among us at times when the entire society needs inspirations.