Twin Major Generals to enter Guinness Book
July 31, 2020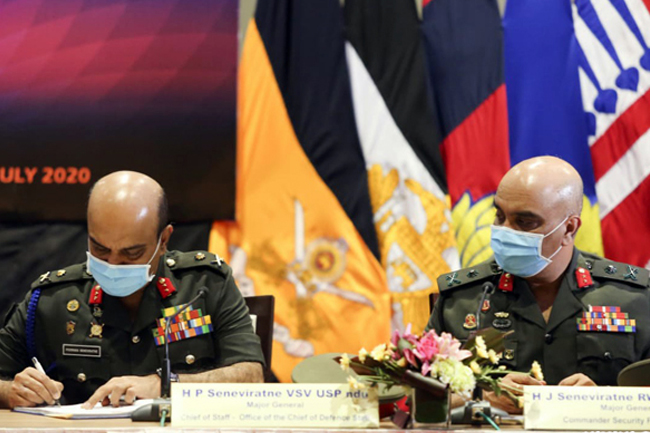 The identical twins - Major General Pooraka Seneviratne and Major General Jayantha Seneviratne signed the document to include their names to keep a record in Guinness Book of World Records, yesterday.
Creating special event in the 71-year-old SLA's history, the twin brothers signed the documents with before the acting Chief of Defence Staff and Sri Lanka Army (SLA) Commander Lt. Gen. Shavendra Silva and Sri Lanka's authorized representative for Guinness Book records Saman Amarasinghe, at a formal ceremony held at the Army Headquarters.
Major General Pooraka Seneviratne of Sri Lanka Signal Corps, Chief of Staff, Office of the Chief of Defence Staff and Major General Jayantha Seneviratne of Sri Lanka Sinha Regiment, Commander, Security Forces - West and Colonel of the Regiment Sri Lanka Sinha Regiment, are Sri Lanka's only twin brothers in the SLA.
"A special tribute should be paid to the parents of these twin brothers at first for their parenthood and nurturing of those two sons, and I am happy to congratulate both of them for being Majors General in the Army, reaching the apex of their military career at the same time," SLA Chief said.
Hidellana Pooraka Seneviratne and Hidellana Jayantha Seneviratne were born in Ratnapura were born on September 6, in 1965 to Hidellana Janaseeha Seneviratne and Mother is Singhawatte Leela Seneviratne.
Studied at Seevali Central College, Ratnapura, they joined SLA as officer cadets in Intake-22 on October 31, 1985 and were trained in the Sri Lanka Military Academy in Diyatalawa and the Officers' Training School, Mangla, in Pakistan.
Commissioned as Second Lieutenants on July 24, 1986 together they had also followed the Infantry Young Officers' Course in Quetta, Pakistan.
After their commissioning, Pooraka Seneviratne was posted to the Sri Lanka Signal Corps and Jayantha Seneviratne to the Sri Lanka Sinha Regiment but they served together in various capacities in different formations and headquarters.
From the rank of second Lieutenant to Major General, both were promoted together and will shed their uniforms on their birthday on September 6, 2020 after serving in the SLA for 35-years.