Those who commemorate terrorists should be given maximum punishment : Terrorism expert Dr.Rohan Gunaratna
September 16, 2020
He was commenting on former MP M.K. Shivajilingam's commemorating the 33 rd anniversary of the fast-unto-death undertaken by Thileepan, a member of LTTE chief Prabhakaran's inner circle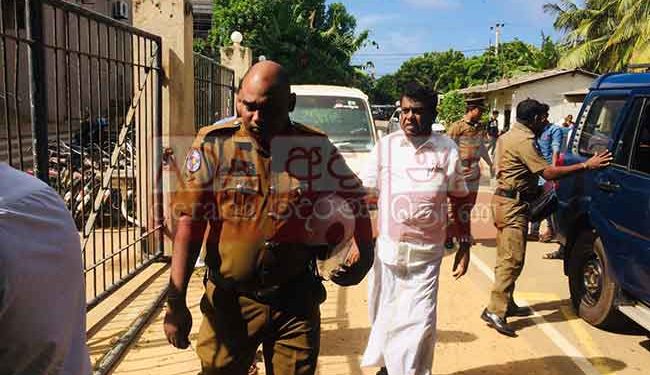 Colombo, September 16 (newsin.asia): Dr.Rohan Gunaratna, an international expert on terrorism who is now Honorary Professor at the Sir John Kotelawala Defense University, Sri Lanka, has called for the arrest and trial of pro-LTTE Tamil leader and former MP, M.K.Shivajilingam and others who glorify terrorists.
"They should be given the maximum punishment to deter others from following their destructive path," he told newsin.asia on Wednesday.
Dr.Gunaratna was commenting on Shivajilingam's arrest in Kondavil in Jaffna for defying a court injunction and commemorating Thileepan's fast-unto-death against an alleged failure of the Indian and Sri Lankan governments to implement certain provisions of the India-Sri Lanka Accord of July 1987.
"Maximum punishment should be given as there is a public interest in this case. It will deter others funded by LTTE front organizations in the Tamil Diaspora from reviving the separatist agenda of the LTTE. Collective and decisive leadership is vital to restore stability and security, the foundation of ethnic and religious harmony in Sri Lanka," Dr.Gunaratna argued.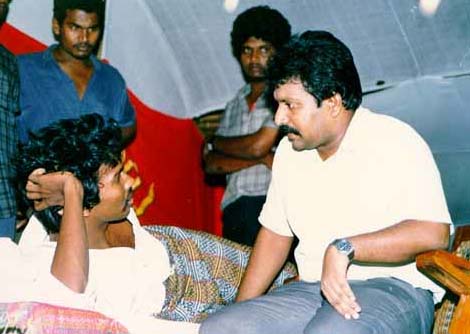 LTT supremo Prabhakaran with the fasting Thileepan
The LTTE's propaganda and paraphernalia should remain banned forever just as Germany banned Nazi symbols and activities after World War II, he suggested, pointing out that it is LTTE propaganda that fosters an environment for LTTE plots, plans and preparation aimed at revival.
Fast-Unto-Death
Thileepan had sat on a fast-unto-death on September 11, 1987, to secure a five-point charter of demands including the setting up of an LTTE-dominated Interim Administrative Council for the Tamil dominated Northern-Eastern province as part of the India-Sri Lanka Accord to resolve the ethnic issue.
With both Colombo and New Delhi going by the letter of the agreements already entered into, and refusing to accept the LTTE's fresh demands, Thileepan refused to give up his fast and died after 11 days on September 26, 1987.
Shivajilingam, who is related to Prabhakaran, had sought permission to hold the commemoration ceremony of the fast-unto-death at the Thileepa memorial in Nallur, but the Jaffna police got a court order banning it on the grounds that a leader of a banned organization like the LTTE could not be commemorated and glorified.
The argument that the previous United National Party (UNP)-led government had allowed the commemoration, did not cut ice with the Jaffna magistrate, who acceded to the police request to ban it.
However, Shivajilingam secretly changed the venue of the commemoration to Kondavil and performed a ceremony there on Tuesday. He was arrested and was subsequently released by a court on bail.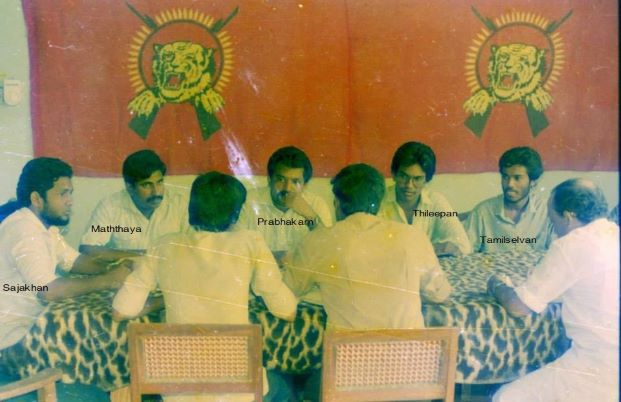 LTTE top brass in September 1987. Thileepan is on Prabhakaran's left
How democracy is exploited
Commenting further on the incident, Dr.Gunaratna said: "After the US declared victory in Afghanistan and Iraq, terrorism re-emerged because the terrorists' support infrastructure remained intact. The tolerance of democracies revived violence."
Therefore he recommended that the security and intelligence platform in Sri Lanka's north and east should continue for one generation until the separatist ideology disappears.
"Research demonstrates that if there is looseness (government neglect) as opposed to tightness (government vigilance), terrorist groups exploit the gaps and loopholes and come back. The groups and personalities that glorify terrorism should be identified and punished to deter future violence," Dr.Gunaratna said.
Most terrorist groups abuse the freedom of expression to promote their vicious ideology to radicalize the youth into a culture of hate and violence, he added.
"If a democracy permits display of terrorist paraphernalia and allows the dissemination of propaganda, the next step will be protests and demonstrations breaking out into violence. Like the Islamic State and al Qaeda, LTTE glorified death. If commemoration and celebration of death is permitted, it will lead to a culture of destruction."
According to Dr.Gunaratna, there have been a dozen plots by the LTTE to revive since the end of Eelam War IV in May 2009. Most of the LTTE plots were supported by LTTE fronts overseas. The number of plots increased due to the delisting of LTTE fronts overseas by the Yahapalanaya government in 2015, he pointed out.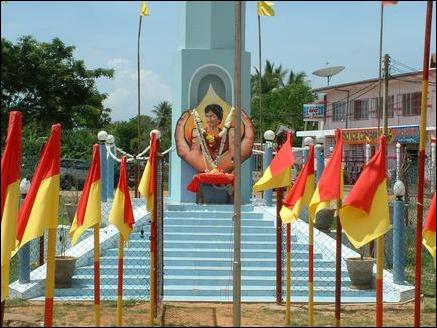 Thileepan memorial

Relist the Delisted Entities
Dr.Gunaratna noted that the ideology of separatism is fading but there are a few trying to revive it. "Most Tamils both in Sri Lanka and overseas have left the LTTE and its erstwhile proxy the Tamil National Alliance (TNA). However, a few racist politicians continue to promote the separatist agenda," he said.
It is essential for the government to relist the delisted LTTE fronts overseas as some of them are operating in Sri Lanka, the expert stressed
Need for economic development
Dr.Gunaratna recommended that the Northern and Eastern provinces be economically developed and the Sri Lankan identity should be promoted.
"The best strategy to counter racism is for Sri Lanka to develop a proper national education policy where Sinhalese, Tamils, and Muslims study together," he said.
He warned that without regulating the ethnic and religious space, Sri Lanka can never have social harmony, political stability and economic prosperity.
(The featured image at the top shows Shivajilingam after he was released on bail by a Jaffna magistrate)
Courtesy : newsin.asia
-The Ministry of Defence bears no responsibility for the ideas and views expressed by the contributors to the Opinion section of this web site -