Past, Present and Future Pandemics: Think Globally, Act Locally
February 17, 2023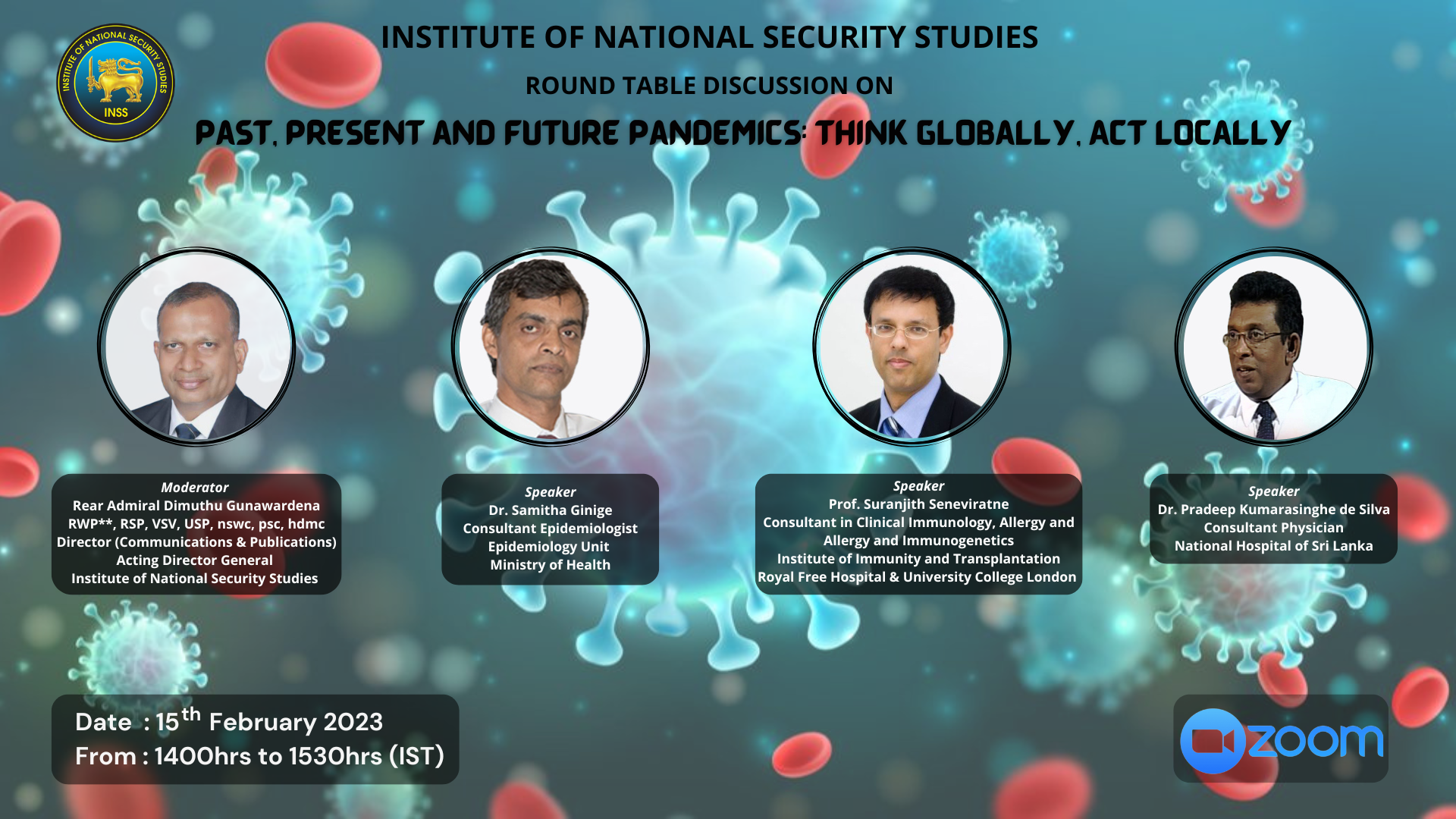 Institute of National Security Studies
Round Table Discussion on
"Past, Present and Future Pandemics: Think Globally, Act Locally"
Post-Event Press Release
Institute of National Security Studies (INSS), the premier think tank on national security established under the Ministry of Defence organized a Round Table Discussion on "Past, Present and Future Pandemics: Think Globally, Act Locally" on Wednesday, the 15th of February 2023 from 1400hrs to 1530hrs via Zoom. The three esteemed Guest Speakers for the event were, Dr. Samitha Ginige, the Consultant Epidemiologist, Epidemiology Unit, Ministry of Health, Dr. Pradeep Kumarasinghe de Silva, the Consultant Physician, National Hospital of Sri Lanka, and Prof. Suranjith Seneviratne, the Consultant in Clinical Immunology, Allergy, and Immunogenetics, Royal Free Hospital and University College London, United Kingdom. The moderator for this informative and timely session was Rear Admiral Dimuthu Gunawardena RWP**, RSP, VSV, USP, nswc, psc, hdmc, Acting Director General and Director (Communications and Publications), of the Institute of National Security Studies. The audience comprised of ministry officials, academics, researchers, policymakers, representatives from Sri Lanka Armed Forces, Sri Lanka Police, and Civil Security Department.
Subsequent to the introduction given by the moderator, the first speaker Dr. Pradeep Kumarasinghe de Silva commenced his presentation by giving a detailed analysis on past epidemics in the history which caused millions of deaths. In addition, he also discussed about the emergence of COVID-19. Finally, he elaborated the difference between COVID-19 and Severe Acute Respiratory Syndrome (SARS). In supporting, the points highlighted by Dr. Pradeep Kumarasinghe de Silva, the second speaker, Prof. Suranjith Seneviratne delivered his presentation focused on the lessons to be learnt for the future from COVID-19, along with the Pandemic Response Action Plan which is implemented to take positive and correct actions for future pandemics. Finally, he highlighted the approach of United Kingdom to stand against COVID-19. Moving on with the third speaker, Dr. Samitha Ginige presented on the emergence of pathogens. During his presentation he discussed how pandemic is a global issue in the current context. Furthermore, he highlighted the strategies to prevent the current situation of the pandemic.
Following up, several timely related questions under the discussed topic of concern were posed by the audience in the Q and A segment, where each speaker was directed with a question as per their topic of discussion. The speakers responded constructively along with adequate facts as well as realistic concerns of the current context. Finally, Ms. Minoshi Perera, Research Assistant of the Institute of National Security Studies, delivered the Vote of thanks, marking the end of yet another insightful and engaging Round Table Discussion conducted under a timely theme of debate.