Air defence legacy at SLAF Palavi
April 06, 2023
By Dishan Joseph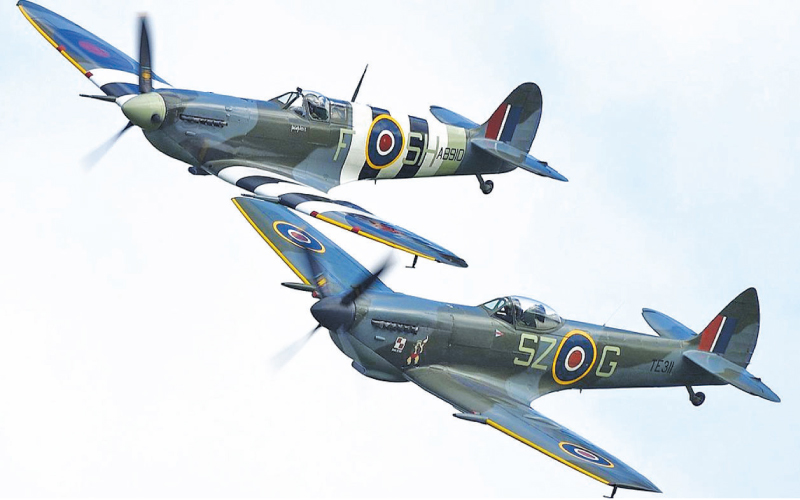 Supermarine Spitfire in action
The history of Ceylon is bestowed with chapters involving the British military. In December 1941, Ceylon was transformed from a backwater into a key Allied military base when Japan went to war. During the first and second World Wars the Royal Air Force and Royal Navy had a strong presence in this island. Interestingly the Royal Navy had its own flying squadrons which we will discover in today's narrative. Tactical air doctrine states that the primary mission was to turn tactical superiority into complete air supremacy. Close air support to ground units on the battlefront consisted of bombing targets identified by ground forces and strafing exposed infantry.
RNAS Rajaliya
In order to discover these chapters of history I set off from Colombo, with an Air Force team to Puttalam. We reached SLAF Station Palavi by afternoon. Delving into history we found that the Fleet Air Arm (FAA) operated all the Royal Navy's aircraft decades ago. In 1911 the Royal Navy graduated its first aeroplane pilots at RAF Eastchurch. By July 1914 the Royal Navy reformed its air branch, under the Air Department of the Admiralty, naming it the Royal Naval Air Service (RNAS). The role of the RNAS was fleet reconnaissance, patrolling coasts for enemy ships and submarines, attacking enemy coastal territory and defending from enemy air raids.
The history in Puttalam must be appreciated by stepping into the past. The 729 Naval Air Squadron was formed on January 1, 1945 at RNAS Hinstock, Shropshire, as an Instrument Flying Training squadron. It was an offshoot of 758 NAS, the Royal Naval Advanced Instrument Flying Training Unit, for service in the Far East. RNAS denotes Royal Naval Air Station. It made use of 758 Squadrons Harvard and Airspeed Oxford aircraft.
These aircraft and pilots were initially stationed at RNAS Tambaram in South India. Due to operational requirements the squadron relocated to Ceylon and was stationed at the RNAS Puttalam, in 1942. This air station was later renamed RNAS Rajaliya. Its commanding officers were from the Navy, the first being Commander J.E. Bristall followed by Lieutenant Commander D. Webster, Captain F.M. Walton and Commander J.C. Cockburn. Apart from its air defence duties this vintage air station functioned as the School of Malaria Control of the Royal Navy. The initial camp had accommodation for 140 officers and 1,635 other ranks. This cadre was supplemented by 240 Ceylonese civil staff assisting in various duties. The hastily constructed airstrip of RNAS Rajaliya was carved out of dense jungle at Puttalam and the metal Somerfield tracking enabled heavy Corsair aircraft to use the runway. There is an oral tradition that elephants were used to pull the aircraft during periods of heavy rain which created thick mud in the airfield.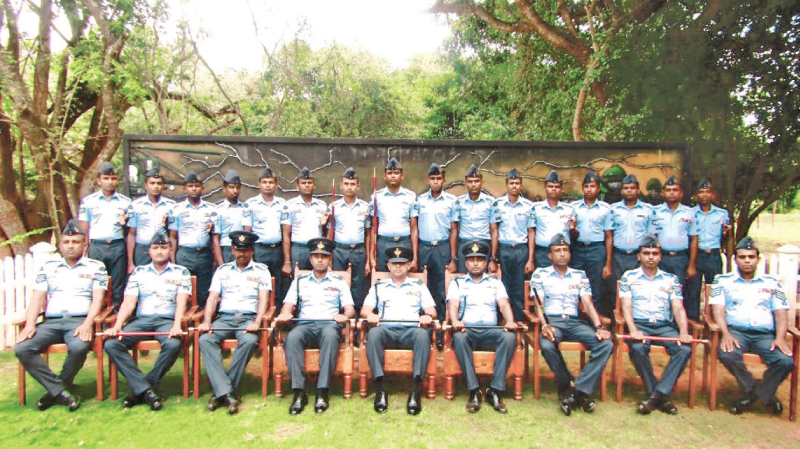 Staff of the EOD school
The large armouries could store ammunition for use by 18 squadrons. A Medical Station has been operated close to the Puttalam Lagoon with a capacity for 60 patients. The massive fuel stores could hold 72, 000 gallons of aviation fuel, 4,000 gallons for motor transport and 6,000 gallon of oil. In order to train and update pilots the RNAS also had operated firing ranges in close proximity to Puttalam for air to air, air to ground and dive bombing. The aircraft attached to the Naval Air Station at Palavi were Corsair, Hellcat and Supermarine Spitfire from 757 Fighter Squadron and 808 Fighter Squadron. In addition they also flew the De Havilland Tiger Moth aircraft. Other aircraft occasionally flew in after escorting ships at sea. Meteorological records show that aircrews were warned of the period between October and December where there was intense rain. I came across another stunning fact in my research of the RAF/RN presence in Ceylon. In order to support their flying formations the Royal Navy Fleet Arm had set up a Technical Training School called RNACTE Monara, at Maharagama. Its task was training of Ceylonese recruits as Aircraft mechanics and Motor Transport mechanics. It was commanded by Lieutenant Commander L. Orman.
When the Japanese surrendered in August 1945 the situation was reassessed, the need for large numbers of combat pilots had passed and on August 30th, the 729 Squadron moved for the final time to RNAS Katukurunda, further south along the coast. In December 1945 RNAS Rajaliya was formally closed and its air operations ceased.
It is also recorded that RNAS Ukussa- a Royal Naval Air Station (RNAS) at Katukurunda (Kalutara) took up a new strategic position during the Second World War. Established in 1944 by the Fleet Air Arm, at its peak RNAS Ukussa was the largest Royal Naval Air Station in Ceylon, with a posted strength of 300 Officers and 3,000 sailors along with 100 women from the Women's Royal Naval Service. This Naval Station had the capacity to service 100 aircraft. After gallantly serving Ceylon the 729 Squadron disbanded at Katukurunda in July 1946. Today SLAF has its base at the same venue in Katukurunda. During that era Colombo also had a flying station called RNAS Colombo Racecourse commanded by Captain A. F. Campbell. Their posted strength was almost 1,700 personnel.
Corsair- vintage aircraft
During its glory days of air defence the Royal Naval Air Station at Puttalam had many buildings including hangars, workshops, air defence towers and facilities for the airmen. I spent one hour with two SLAF officers trying to locate some of these vintage buildings but unfortunately they had vanished with time. We walked along the vintage runway still maintained. We were delighted to find one imposing tower, with red bricks. The walls were about 4 feet thick. We climbed an iron ladder of 25 feet and reached the top. This is probably a test firing box- meaning a safe place where the aircrafts guns were suspended on the concrete ceiling. Checks were done for the fighters centrally-mounted guns, synchronized to fire through the propeller. This was cutting edge technology in that era. A similar building can be seen at RNAS Anthorn in England. In the year 2000 the Sri Lanka Air Force began using Palavi Air Station.
EOD School
The main branch at SLAF Palavi in operation today is the Explosive Ordnance Disposal School. The school was initially set up in Sigiriya and relocated to Palavi. It is the cradle of learning for all SLAF- EOD personnel. According to Squadron Leader Priyanth Amarasiri (Chief Instructor) the school conducts two courses. The Basic Course and the Advanced Course, each lasting five and a half weeks. Aspiring recruits must have a clean service record and basic technical knowledge for pre-selection.
Each course intake has 30-40 airmen and airwomen, including officers. The syllabus includes introduction to explosives, chemistry of explosives, search and disposal techniques and everything about IEDs (improvised explosive devices). The advanced course teaches PBI (Post Blast Investigation) and control blasting among other topics. EOD staff are also updated with annual refresher courses to enhance their knowledge. We walked around the training school and workshops. Samples of dangerous explosive ingredients were neatly displayed including an assortment of grenades and mines captured during the war. The instructors told me that in their work security is a constant mindset. The senior staff had pooled their knowledge and made a bomb detection robot, as part of their Research and Development initiative. This is a brilliant achievement, and is made at a nominal cost compared to a foreign made robot. All EOD staff have a strong spirit of team work and trust which has sustained them in their dangerous duty. SLAF Station Palavi is presently commanded by Group Captain Kolitha Weerasekera. The vintage legacy at this former RNAS station continues with honour and pride under the Sri Lanka Air Force.
The EOD robot built by SLAF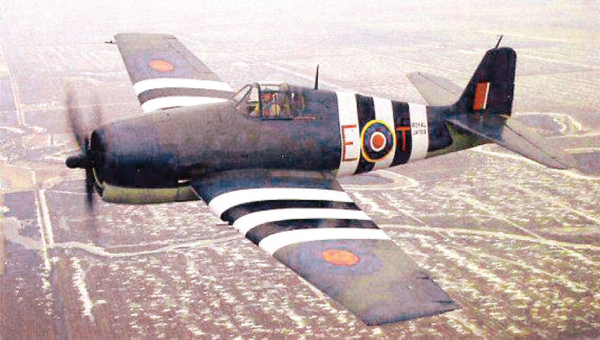 Airborne Hellcat fighter
Courtesy - www.dailynews.lk