Balancing Domestic Imperatives / Global Dynamics in SL
November 08, 2023
by Lieutenant Colonel Nalin Samaranayake
Sri Lanka, a strategically positioned island nation in the Indian Ocean, grapples with multifaceted security challenges that demand constant adaptation and a holistic approach to safeguard its national interests. This article examines the intricate interplay between domestic imperatives and global dynamics in Sri Lanka's national security landscape, incorporating diverse perspectives and the most up-to-date data available.
The complex humanitarian landscape
Sri Lanka's national security is intrinsically linked to its complex history, particularly the three-decade-long ethnic conflict between the Sinhalese and Tamils (South Asia Journal, 2020). While the conflict officially ended in 2009, addressing its aftermath is crucial for stability and reconciliation. Recent statistics reveal that over 290,000 people were displaced during the civil conflict, with 74% of displaced families having been resettled (Office of the United Nations High Commissioner for Human Rights, 2021). This displacement has disrupted lives, strained resources, and exacerbated social and economic inequalities.
Environmental security in a changing climate
Sri Lanka's vulnerability to climate change and natural disasters adds a layer of complexity to its national security considerations. The country's strategic location in the Indian Ocean exposes it to rising sea levels, extreme weather events, and the potential displacement of coastal communities. Incorporating environmental security measures into its national security strategy is vital for ensuring long-term resilience.
The evolving cyber security landscape
In the digital age, cyber security is paramount for national security. Sri Lanka must address cyber threats and protect critical infrastructure from potential cyber attacks. Enhancing cyber security capabilities and collaborating with international partners on cyber security initiatives are essential for safeguarding the nation's digital assets.
Regional dynamics and collaboration
Beyond bilateral connections and SAARC engagement, Sri Lanka's national security plan encompasses a larger range of regional dynamics and collaborations with security-focused organisations. Sri Lanka works with organisations in the South Asian region such as the Indian Ocean Rim Association (IORA) and the Bay of Bengal Initiative for Multi-Sectoral Technical and Economic Cooperation (BIMSTEC). These organisations are crucial for tackling common security concerns, maritime safety, and economic cooperation. Participation in regional dialogues and forums also promotes multilateral engagement on topics such as counterterrorism, intelligence sharing, and disaster management, improving Sri Lanka's regional security posture even more. Balancing these joint efforts within the framework of South Asia is critical to Sri Lanka's complex national security strategy.
Public perception and involvement
Understanding public opinion and sentiment regarding national security is crucial. The government's efforts and policies in this realm should align with the expectations and concerns of its citizens. Public engagement and transparency can enhance the effectiveness of national security measures.
Global dynamics: Navigating the Power Play
Sri Lanka's strategic location in the Indian Ocean region has attracted global players seeking influence. Its strategic position along major international shipping routes makes it a maritime trade and connectivity hub. Its proximity to sea lanes like the Strait of Hormuz and the Strait of Malacca offers an advantage for countries seeking economic and geopolitical interests. The growing competition among major powers in the region, such as China and India further emphasises Sri Lanka's strategic importance. The country's geographic location and interest in important world powers like India, China, and the United States significantly impact its foreign policy decisions. India's economic and military prowess, along with its regional influence, make it a crucial player in India's strategic calculations. The country's relationship with China, a global economic powerhouse and rising military force, also plays a pivotal role in shaping its foreign policy decisions. Maintaining a delicate equilibrium between these relationships while safeguarding Sri Lanka's autonomy and independence is a significant challenge. China is Sri Lanka's largest trading partner, with a bilateral trade value of over USD 5 billion. Total investment under China's Belt and Road Initiative (BRI) in Sri Lanka reached USD 8 billion, contributing to infrastructure development and economic growth.
Counterterrorism and security measures
Sri Lanka faces a pressing threat of terrorism, which poses significant challenges to its national security landscape. The Easter Sunday bombings in April 2019 highlighted the need for comprehensive and effective counterterrorism strategies. The attacks targeted churches and luxury hotels, causing the deaths of hundreds of innocent people and causing injuries to a large number. It is believed that the attacks were carried out by the local extremist group National Thowheed Jama'ath (NTJ), with support from the Islamic State (IS). To effectively combat terrorism, Sri Lanka must strengthen intelligence-sharing mechanisms, enhance border security, and promote interfaith dialogue. These strategies help authorities avoid potential threats and identify terrorist networks more efficiently. By implementing advanced technologies for screening procedures at airports, seaports, and land borders, Sri Lanka can effectively monitor and control the movement of people and goods across borders, preventing the infiltration of terrorists and the smuggling of weapons and illicit materials. Sri Lanka allocates approximately 20% of its Annual Defence Budget to counterterrorism efforts, demonstrating its commitment to safeguarding its citizens.
Maritime security and geostrategic concerns
The maritime domain of Sri Lanka is a crucial aspect of the country's development, offering significant economic opportunities while also posing certain security challenges. With its strategic location in the Indian Ocean, Sri Lanka's maritime territory encompasses a vast area that includes important shipping routes, valuable natural resources, and potential for maritime trade and tourism. Economically, Sri Lanka's maritime domain plays a vital role in the country's trade and commerce. The Port of Colombo, located in the commercial capital, is one of the busiest ports in South Asia. Foreign investments in strategic ports, including Hambantota, have garnered special attention due to their potential military implications. Notably, China has been a prominent investor in these ports, which has raised concerns among various stakeholders. The Hambantota Port in Sri Lanka has been a focal point of this investment trend. China's interest in Hambantota Port dates back to 2007 when the Sri Lankan Government sought assistance to develop the Port's infrastructure. In 2010, China Merchants Port Holdings (CMPort) entered into a 99-year Lease Agreement with the Sri Lankan Government, acquiring a 70% stake in the Port. This move was part of China's broader Belt and Road Initiative (BRI), aimed at enhancing connectivity and trade across Asia and beyond. The Hambantota Port's strategic location, situated along major international routes, and effectively managing investments to maximise economic benefits while safeguarding national sovereignty are complex and pressing tasks. Sri Lanka's maritime trade accounted for approximately 30% of its GDP in 2021, underscoring its economic significance.
Future challenges and strategies
As we look ahead, it's imperative to anticipate future challenges. Emerging threats, such as hybrid warfare, transnational terrorism, and cyber espionage, require proactive strategies. Sri Lanka's national security apparatus should be agile and adaptable to navigate these evolving challenges.
Conclusion: A holistic vision for Sri Lanka's national security
Sri Lanka's national security landscape is marked by its rich history, diverse challenges, and evolving global context. To ensure the nation's stability and prosperity, it must adopt a holistic approach that addresses humanitarian concerns, environmental security, cyber security, regional dynamics, public perception, and emerging threats. Balancing domestic imperatives and global dynamics remains the key to guarding national security in Sri Lanka.
Link to the original source : Click here
About the Author: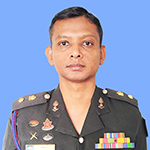 * Lieutenant Colonel Nalin Samaranayake is a Military Research Officer at the Institute of National Security Studies (INSS), the premier think tank on National Security established under the Ministry of Defence. The opinions expressed are his own and not necessarily reflective of the institute or the Ministry of Defence.
-The Ministry of Defence bears no responsibility for the ideas and views expressed by the contributors to the Opinion section of this web site-