Co-operative maritime diplomacy to curb transnational maritime crimes in Sri Lanka
March 01, 2021
By Lt.Com. Roshan Kulatunga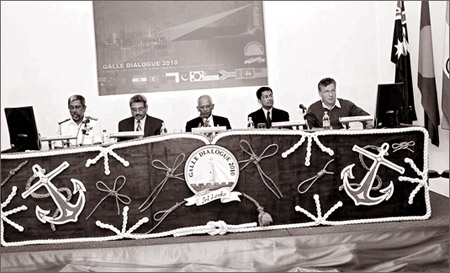 Navy Commander Vice Admiral Thisara Samarasinghe, Defence Secretary Gotabhaya Rajapaksa, Secretary to the President Lalith Weerathunga, External Affairs Ministry Secretary Chrysantha Romesh Jayasinghe and US National Defence University, NESA Centre Senior Research Fellow Professor James Clad at the Galle Dialogue 2010 Maritime Conference
'Diplomacy' is a term widely used in both the analysis and practice of international relations. As an approach to the topic, it's worth understanding a few definitions in the launch. 'Diplomacy' is basically the management of international relations. Therefore, maritime diplomacy is the management of international relations through the maritime domain (Miere, 2014, p. 7). The co-operative maritime diplomacy could be further elaborated as an attempt to support soft power through the use of hard power assets. It is not only naval components engaged in these events; coast guard; maritime constabulary agencies can also undertake maritime diplomatic operations. In my opinion, co-operative maritime diplomacy could be used as a tool to curb transnational organized crimes. This area of study encompasses a spectrum of activities such as maritime conferences, port visits, combine maritime exercises, civil maritime activities, combine operations, combine patrol, intelligence operations, maritime surveillance etc.
According to the readings, maritime diplomacy is largely neglected in academic literature and rarely witness studies relevant to the Sri Lankan maritime domain in present day literature. The use of maritime diplomacy can reflect the international order changes and reduce the international tension. This area has specifically put on attention over combine maritime operations and sharing maritime intelligence to conduct operations. Therefore, co-operative maritime diplomacy could be a valuable tool to curb transnational maritime threats to the country.
With the geographical location of Sri Lanka, all the main sailing lanes in the region are running closer to her. Adams Bridge is a barrier for sailing which connects Sri Lanka with Indian sub-continent. These geographical features of Sri Lanka faced horrific consequences when transferring people and goods to the country from the history. The "Easter bomb blasts" in Sri Lanka on 21 April 2019 have become an eye-opener for better maritime protection to curb the smuggling of weapons and explosive and illegal migration to the Island.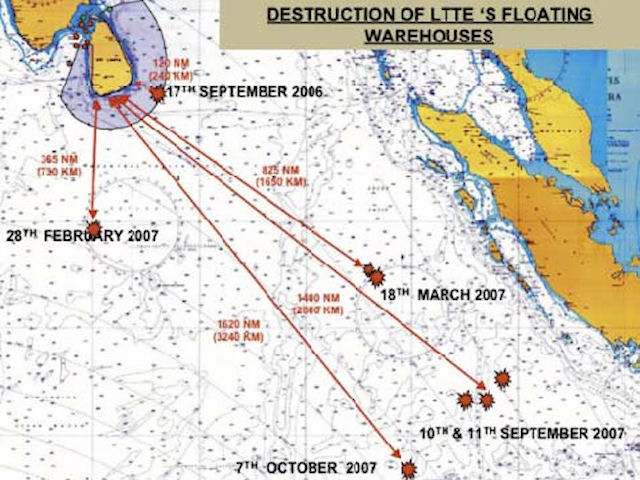 Courtesy: https://www.globalsecurity.org/
Further, the existing COVID 19 pandemic has had a more significant impact on its national security. The Island nature of Sri Lanka is given the advantage to restrain from the border crossing. However, any potential transmitting of diseases through the maritime borders cannot be neglected at this juncture. Therefore, the responsibility lies over Sri Lanka Navy being the most vital maritime security component in the country. Further, navies and coast guards are some of the main constituents of sea power. Sri Lankan maritime strategies are needed to develop with understanding of the priority of the requirement for national security. The Sri Lankan maritime strategies must inculcate with maritime diplomatic approaches to garner political and international relation advantages.
It seems that Sri Lankan geo-strategic location in the IOR has given the most suitable platform for contraband to pass to another part of the world. This has harmed the international image of the country and it has had a direct effect on the Sri Lankan national security and national security of the countries in the region. On the other hand, Sri Lanka faced significant implications by affecting the political, economic, cultural and societal stability of the country.
Under the Organized Crime Convention in United Nations Office on Drugs and Crime (UNODC), Transnational Organized Crime (TOC) is an any serious transnational offence undertaken by three or more people with the aim of material gain. According to the report of 'Globalization of Crimes,' UNODC (2010), Human trafficking, migrant smuggling, drug trafficking, firearm trafficking, environment resource trafficking, product counterfeiting, maritime piracy, and cyber-crimes are the most notable transnational crimes in the globe. Therefore, Sri Lanka is also vulnerable to these crimes and island features and geostrategic locations gain keen attention from non-state actors.
The narcotic menace to the country could mainly witness through the directions of 'Golden Crescent.' Iran, Afghanistan and Pakistan are the main source countries for the opium trade and India is the leading source country for the cannabis (Kerala Ganja) trade. Both the threats are mainly lying over the maritime environment where the concept of co-operative maritime diplomacy has to apply as joint maritime security operations. This would achieve the goals of confidence and coalition-building measures. Therefore, it is compulsory to discuss the threats to the Sri Lankan maritime environment and co-operative maritime diplomatic strategies in in-depth which could apply as a possible solution.
A few years back, the security situation was developed with the catastrophe of the 'Easter Bombing' and created the attention of the world with the growth of Islamic extremism. The existing threat could be identified as a radicalization of humans to conduct violent extremist activities against another human being and spreading their wrong religious interpretations or ideologies in transnational nature. Human Security is the most vulnerable aspect of security in this context. Therefore, human security implication has become a more significant challenge to domestic security with violent extremist activities. The regional extremist groups could use the maritime environment to transport people and goods which could definitely impact human security.
The violent extremist activities relate to Radicalisation. Radicalization is a process. It does not happen overnight. According to Hafez (2015), Radicalisation has legitimized the use of violence as a method to affect societal and political change. The possibility for Sri Lanka being an island nation for smuggling explosives, chemicals, biological components which could spread epidemics, radioactive materials, underwater sabotage, weapons smuggling and illegal migration to the country through sea transport to carryout extremist activities cannot be ruled out.
Maritime stakeholders can operate more freely overseas, allowing them to create interaction with maritime forces in adjacent waters. This would be an ideal opportunity to perform together while enhancing maritime partnerships. The individual interest and commitment of maritime security policymakers towards domestic and international security will determine the effectiveness of these activities.
India, Pakistan, Bangladesh, Myanmar, Afghanistan and Maldives are the closest countries to Sri Lanka sharing maritime environments. Regionalism is a newly discussed topic under 21st century international relations. South Asian countries have more similarities and share interconnected maritime boundaries. Moreover, transnational maritime crimes used the maritime environment interconnected to the above countries. Therefore, regional countries have a greater responsibility for co-operative maritime security networks.
The Sri Lankan maritime environment is vulnerable to drug trafficking, illegal transportation of items and illicit migration. All these activities combine or rather linked to each crime. Bilateral or multilateral diplomatic ties to share intelligence and conduct combined operations would be more effective than working in isolation. Sri Lankan intelligence units could visit the locations where these activities and crimes are originated. We must build a strong intelligence network to enhance interoperability in maritime operations. According to the great Chinese warrior and philosopher 'Sun Tzu's book of Art of war', it signifies the importance of intelligence to warfare and a kingdom. This teaches the value of intelligence and makes any kind of adverse situation into a favorable position, and identifies the opponent's particular psychological weaknesses. Therefore, it is essential to share intelligence with maritime stakeholders since there is a common enemy/adversary to face. Further, Combined maritime patrol and operations could be conducted as a result of sharing intelligence.
When the Easter Sunday blasts happened in Sri Lanka, many world leaders pledged to support Sri Lanka to curb transnational crimes. At this moment, it is essential to analyse the maritime security requirement for the country, establish bilateral and multilateral discussion, especially with her neighbour, India and propose our operational condition to identify possible illegal maritime transportations and movement. Co-operative maritime diplomacy is the tool that could help both countries at this juncture. Defence and maritime conferences such as 'Galle Dialogue' are the method of cohesion to address transnational issues related to maritime security.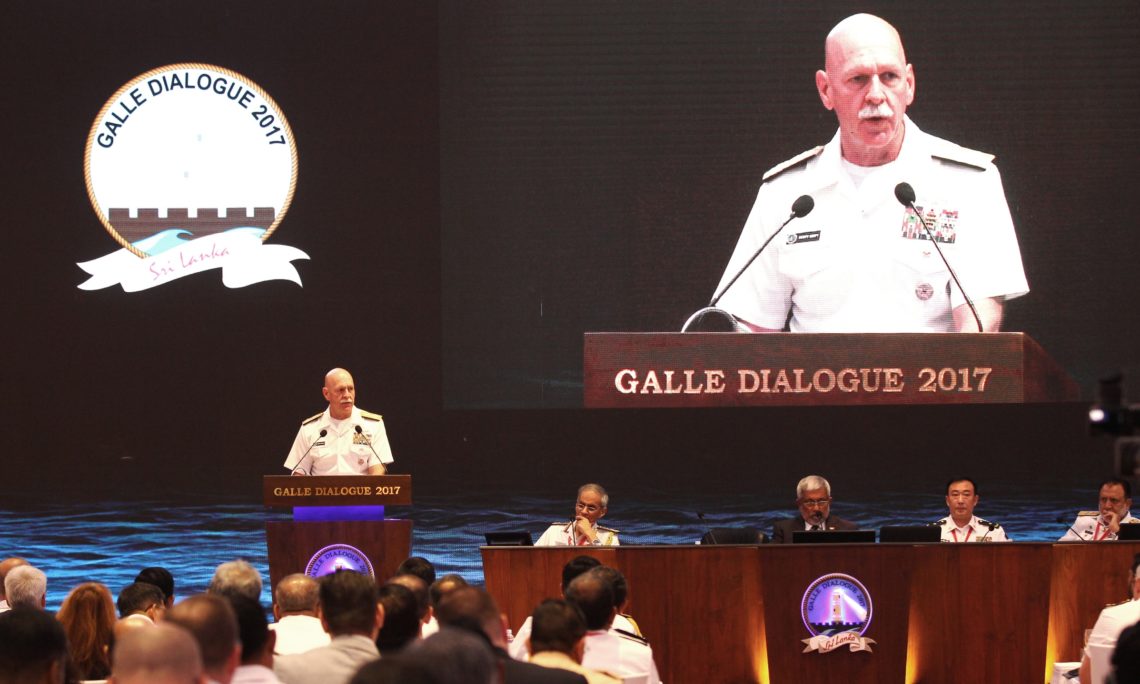 Courtesy: https://lk.usembassy.gov/u-s-pacific-fleet-commander-admiral-scott-swift-speaks-galle-dialogue/
U.S. Pacific Fleet Commander Admiral Scott Swift Speaks at Galle Dialogue
On the other hand, this is high time to get the productive output from online conference diplomacy where the COVID-19 pandemic has diverged the gathering. Meantime, strategies could be discussed and take prompt decisions through networking as a means to address transnational crimes. Similarly, non-military maritime security components could take the initiative to create a person-to-person contact and discuss their organizational/unit requirements and inculcate them to national security. Therefore, it is highly essential to give prominence to the subject area of maritime diplomacy in Sri Lankan maritime security studies.
-The Ministry of Defence bears no responsibility for the ideas and views expressed by the contributors to the Opinion section of this web site -