Strategically located on the maritime map, Sri Lanka commands an important segment of the majestic Indian Ocean. Maritime security is a vital part of our overall national security objective. The Sri Lanka Navy has faithfully guarded our island for seven decades, and continues to augment its deep sea capacity. Cruising majestically at a speed of 28 knots is the formidable addition to the naval fleet, the SLNS Gajabahu. I went onboard this amazing vessel which has nine floors and two masts. As she cut through the waves, she unleashed a ripple on the waterline and the spray covered her pennant number P-626. This vessel once belonged to the American Coast Guard and was named USCGC Sherman.
She was subsequently handed over to the Sri Lanka Navy. Enhancing the goodwill between both nations the first batch of Sri Lankan officers and sailors visited the port of Honolulu in Hawaii where they trained for almost eight months with their American counterparts. This was undoubtedly an inspiring experience for our Navy's sailors. They had to sail this massive vessel to Colombo. Incidentally, the sea passage from Hawaii to Colombo took 40 days and is the longest recorded sea passage of the Sri Lanka Navy. This voyage had the distinction of crossing the International Date Line (IDL) on April 6, 2019. This remarkable achievement was celebrated at sea in keeping with naval traditions. The ship sailed 8,455 nautical miles to reach Colombo, having crossed the Pacific Ocean, South China Sea, Singapore and Malacca Straits and the Andaman Sea.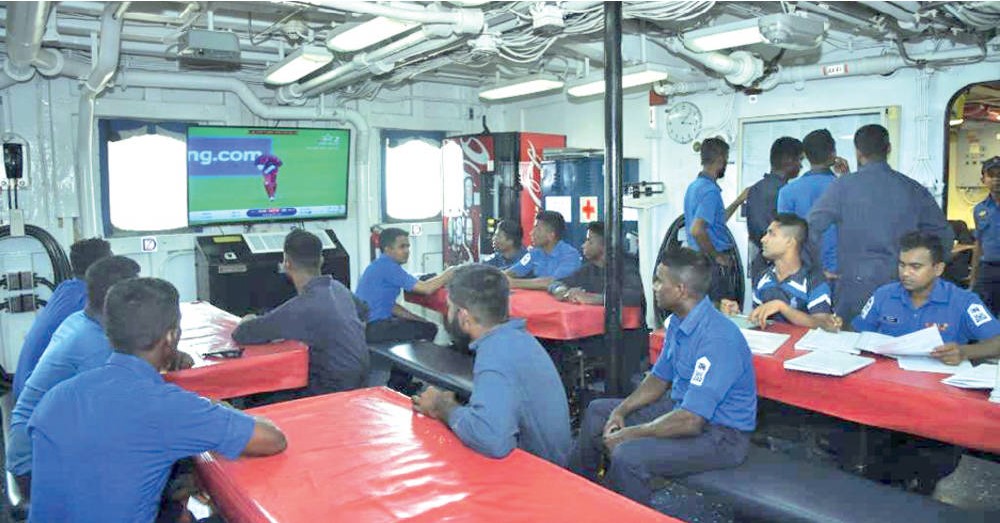 Today, the vessel proudly displays the crest of a tusker symbolizing the power of King Gajabahu. The elephant is synonymous with the armies of our ancient monarchs. Commanding Officer of SLNS Gajabahu, Captain H.S.E. Silva leads a crew of 21 officers and 114 sailors. A senior officer explained, "This vessel has a displacement of 3,300 tons. She is 115 metres long and has a beam of 13 metres. She is also equipped with a helipad." I walked the length and breadth of this floating armed fortress along with her Executive Officer and Navigation Officer. The AOPV (Advanced Offshore Patrol Vessel) has five levels below deck and four levels above deck. The flight of ladders is quite confusing for a first timer and only accentuates the magnitude of such a large ship, almost equal to a frigate. Young sailors were moving back and forth through the hatches. The bosun's pipe sent out its high pitched signals above the winds. We walked on to Level Two where the ship's main gun is mounted in a sealed dome-like turret. This is a MK 76mm gun which can accurately fire salvos from a remote controlled firing system. Unlike other vessels in the fleet, this main gun does not require a gunner to be physically present on deck.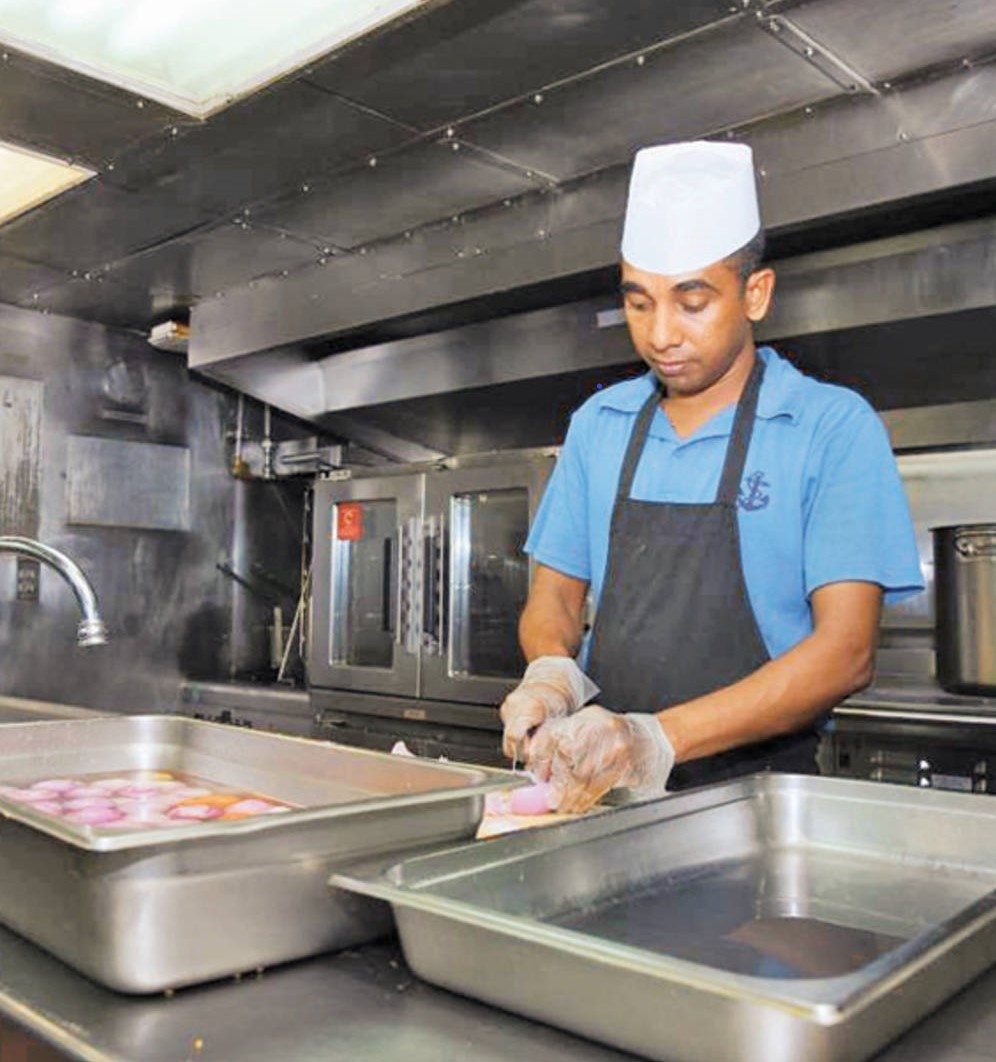 The target acquisition and firing is done from the Combat Information Centre (CIC) under the command of the Principal Warfare Officer. In addition, the vessel has medium and small guns fitted to enrich her firepower at sea, including a 23mm double gun at the rear. Life on SLNS Gajabahu has its own rewards for the crew. This is the first naval vessel in the Sri Lankan fleet that comes with her own mini cinema and salon. The cinema has cozy blue cushioned seats. We stopped by at the galley (ship's kitchen) where cooks were setting up lunch. Cooking on a ship is not like cooking on firm land. The pitch and roll of the vessel impacts the galley, for which naval cooks are well trained.
Some sailors were on their tea break and shared their experience of being in Hawaii, USA. It had been a rewarding experience for these young men, though for the first few days they missed their rice and curry. However, soon they were able to indulge in Sri Lankan food onboard, with the Americans also happily enjoying some spicy food. During their training, the Sri Lankan crew had to suddenly prepare for an incoming hurricane, which was another new experience. The men also recollected seeing dolphins on their long voyage from Hawaii.
We mounted some ladders and were in the MCR- Main Control Room which is the heart of the ship with her engines and roaring turbines. This vessel has two Fairbank Morse 12 cylinder engines and two Pratt & Whitney gas turbines. Technical crews in blue overalls were busy checking the many valves and indicators. From here we safely passed through a hatch and entered the cabin of some junior sailors. Each air conditioned cabin had space for 14 men with bunk beds. One must learn to live in close quarters, unlike on land. Working on a ship amplifies teamwork which fosters camaraderie. These sailors undertake deep sea patrols that last 11 days and if required can be at sea for 21 days. The ship is well stocked with food and water.
The crews train every week maintaining their safety and firefighting drills. The bosun's pipe delivered another shrill signal, as we found our way to the medical station. This room has the equipment required for basic surgery. After enjoying some tea, we visited the wheel house. This location has a clear vantage point of the forecastle (where the main gun is positioned). An officer explained, "We have two kinds of radar onboard. One is the X-Band radar which can scan the horizon for 96 nautical miles and picks up the heat signatures of any vessel."
Small luminous yellow blips appeared on the screen, indicating the presence of fishing boats and trawlers. The double masts fitted on SLNS Gajabahu have an array of antennas. One of the masts had an unusual green garland. It was later explained that this was a naval tradition, to indicate that one of the ship's young officers was getting married on shore.
This was a simple but beautiful gesture of naval brotherhood. After her commissioning parade at Colombo, SLNS Gajabahu set out on her maiden deep sea patrol for 11 days. During this time she was able to rescue a sick fisherman at sea and transfer him to hospital. Over the past year the AOPV has engaged in numerous deep sea narcotic detections, foiling various smuggling operations. This vessel represented Sri Lanka at the AMAN 2021 multi-national maritime exercise in Pakistan.
This magnificent vessel has specialized sailors on board – divers, marines and members of the Navy's Special Boat Squadron (SBS). She is fitted with a rubber boat that has an endurance of 220 nautical miles. This boat can be launched by automatic hoists while the ship sails holding a cruising speed of five knots.
The naval boarding party is armed and ready to approach and investigate suspicious vessels encountered at sea. It was an awesome experience to be on this vessel and meet her motivated crew. SLNS Gajabahu is fitted with a stabilized electronic horizon that can enable a pilot to land a helicopter on the rear heli deck at night. With her motto of 'One Ship, One Crew' this formidable vessel is the pride of the Sri Lanka Navy and our nation's first line of defence.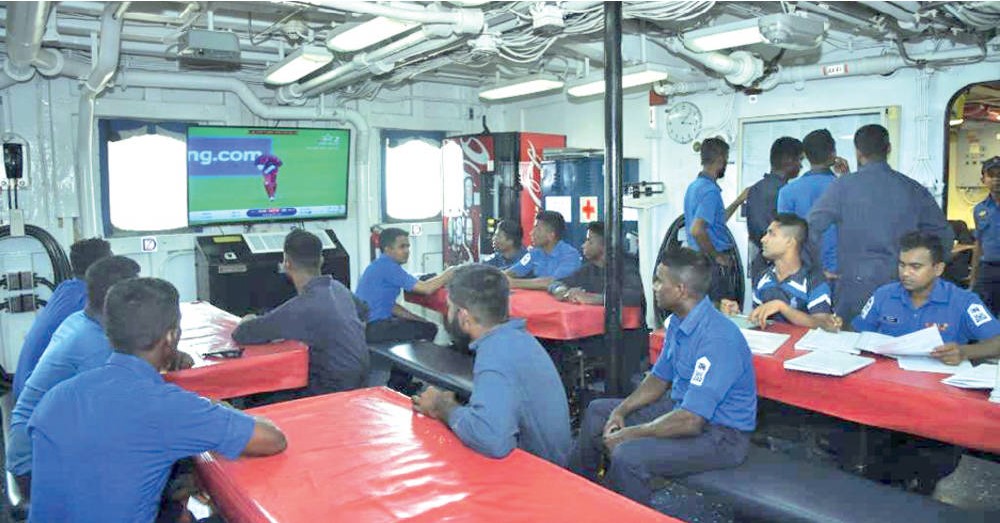 The flight of ladders is quite confusing for a first timer and only accentuates the magnitude of such a large ship, almost equal to a frigate.
We walked on to Level Two where the ship's main gun is mounted in a sealed dome-like turret. This is a MK 76mm gun which can accurately fire salvos from a remote controlled firing system.
SLNS Gajabahu at sea