The Confluence of Indo-Pacific Region : Sri Lankan Perspective
June 16, 2021
By Commander Roshan Kulatunga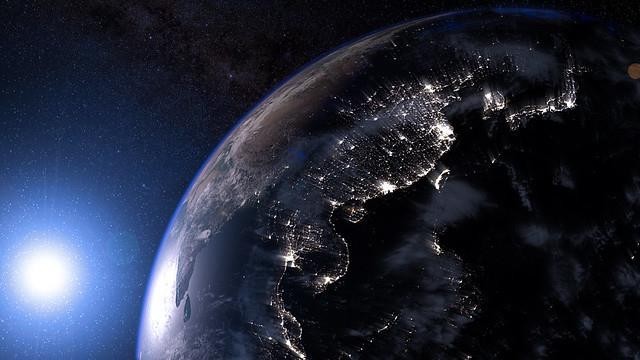 Courtesy : The Strategist (Australian Strategic Policy Institute)
Indo - Pacific region is an area of concern in the present-day geopolitical context. In the contemporary scenario, island states in the Indo-Pacific region face political, economic and societal spears of influence from the larger states. There are 35 Littoral States and 12 landlocked countries, and 47 countries in the Indian Ocean region. In the present day context, China's Belt and Road initiative has headed to 21st-century maritime civilization. China's white paper discusses this maritime strategy's mutual benefits, especially the Indian Ocean (IO) region's island states.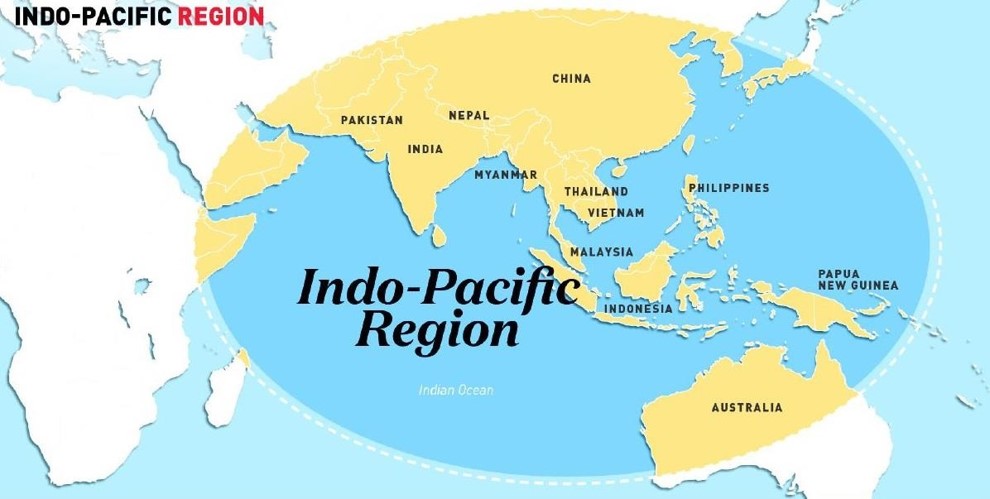 Courtesy : Dr. Syama Prasad Mookerjee Research Foundation
According to Kaplan, in his book Monsoon, China is expanding vertically while India expands horizontally in its maritime power projection. Apart from that, many extra-regional countries such as the US (United States), Japan, and Russia are dependent on the IO and expanding their maritime power. The US sphere of interest is spreading from the Western Pacific to greater maritime Asia in the 21st century and renamed its Pacific Command to Indo-Pacific Command to recognize the IO's growing importance. This could be a containment strategy that limits the maritime expansionism of China.
However, there aren't any notable maritime power rivalries of conventional wars within IO nations themselves. Countries are well aware of security in chokepoints, sea lanes, and strategic waterways in the IO. Trade security is the major substantial security factor in their developing economies. Therefore, countries are reluctant to disturb in good order at sea.
Sri Lanka is an island nation and could be categorised as a small state in the international system. According to Baldur (2014), there are four traditional variables in a country to call as a small state, namely, the number of inhabitants, the size of the territory, gross domestic product, and military capacity.
In my opinion, according to the qualitative features of her, Sri Lanka comes under the category of small island states and could incorporate with the shelter theory, which is described by Thorhallsson (2010) as "Small states are dependent on the economic, political, and societal shelter provided by larger states and international organizations to survive and prosper."
Further, the importance of shelter is related to three interrelated features: reduction of risk in the face of a possible crisis event, help in absorbing shocks during a crisis situation and assistance in dealing with the aftermath of the crisis.

In the realistic paradigm, it appears to me that Sri Lanka provides an ideal background to use shelter theory with her strategic location, size of the territory, gross domestic product, and military capacity when compared with the regional and extra-regional large states.
Meantime, international and regional organizations could influence the security of island states in the IOR. Economic exports, political and military protection and cultural desires from large polities are vital areas to be considered to a small state. It seems that bilateral relationships of smaller states with larger states sharpen the shelter's safety in this region's geopolitical context.
Extra regional larger states such as USA and China, have a historical bilateral relationship with Sri Lanka. According to Menzies (2003), Great Chinese voyager Admiral Zheng He visited Sri Lanka with his armada in the 15th century. Buddhism is the best example of peaceful means of implementing Indian (the largest state in the South Asian region) culture to Sri Lanka. In the seventeenth century, the moors migrated to Sri Lanka with the development of maritime trade from the Middle East (Arabs and Persians). These historical events signify the behaviour of regional and extra-regional larger states towards the island state of Sri Lanka.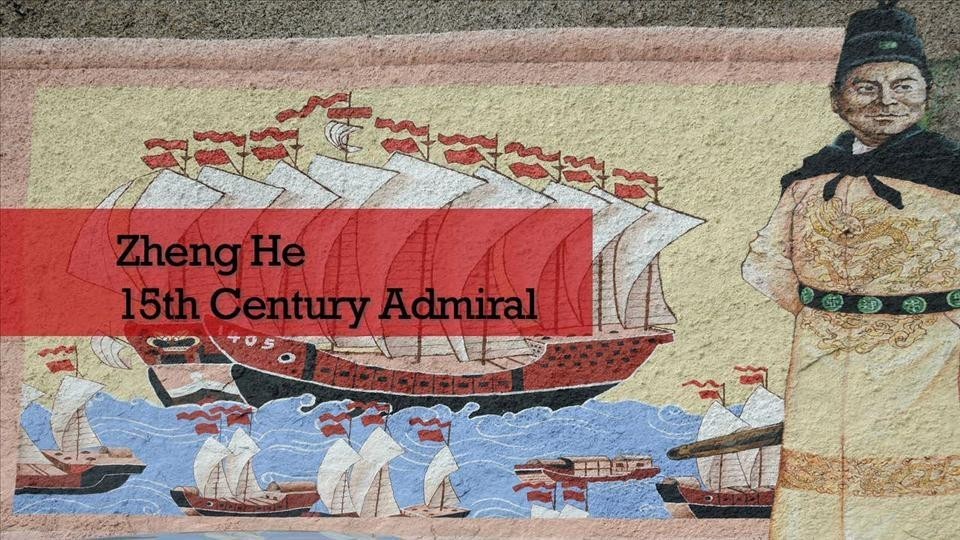 Courtesy : https://www.wsj.com
Note - In the early 15th Century, the Ming Dynasty's Yongle Emperor dispatched an unprecedented series of naval expeditions to the Indian Ocean. Commanded by Admiral Zheng He

Interdependency was developed with the time for trade and investment, creating mutual dependency among different national economies. However, globalization conveys something more than economies, and it extendes to a borderless world. In the book 'The Borderless World and The End of the Nation-State,' Ohmae argues that economical and technological trends are overwhelming and the nation-state is increasingly irrelevant and impotent.
In my opinion, even though Sri Lanka is an island, she owes to live mutually with other regional and extra-regional larger states. Sri Lanka won't sacrifice the national sovereignty but places her at the mercy of supranational forces, actors, and institutions.
India, US, and China are the main power blocks in IO, and they intend to extend their maritime power in pursuit of their national interest. When looking into the balance of power in IO, China seeks maritime expansionism through the South China Sea to IO. The US is more allied with India in the present day context than earlier times. According to Morgenthau, alliances are a necessary function of the Balance of Power when nations competing with each other have three choices to maintain and improve their relative power positions. They can increase their power, add to their ability through the power of other nations, or withhold the power of the other partner nations of the adversary. Small states like Sri Lanka, Maldives, and Seychelles have to consider their alliances with larger power states as they are players in a larger competition.
When linking this setup into the IO, China and the US compete with each other, and India is also competing with China. China has its issues with the South China Sea, and the security dilemma in Malacca Strait significantly affects her. Therefore, aligning with Myanmar and Bangladesh is essential to China to transport energy if any rivalry worsens. Further, they have considerable interests in the ports of Hambanthota, Gwadar, and Chabahar. The US, on the other hand, has common interests with India. India has its maritime strategy involving relationships with the smaller states like Sri Lanka and the Maldives. IO alliances' evolving nature could be further strengthened by constructing oil pipelines for refueling and oil transportation in deep seaports by India and China in Chabahar in Iran and Gawadr in Pakistan, respectively.
The Chabahar, Hambanthota and Gwadar ports are strategically important to India and China for their maritime expansion. Along with Japan, India introduced the Growth Corridor, which links Africa to Asia and the Far East. Sri Lanka is situated along both the SLOCs for the Growth Corridor and One Belt One Road in this juncture. It means she has to seek shelter in economic, political, and societal contexts. Therefore, as a smaller coastal state, Sri Lanka has to open up trade with many parties to benefit from competing trade routes and economic projects.
The recent visit of the US Secretary of State Mike Pompeo to Asia denotes the strategic interest of the US towards Indo - Pacific region. He has pressed Sri Lanka to guard against lending and investment by the Chinese, which he described as a "predator", whereas the USA comes as a friend and a partner. His message comes a day after signing a defence pact with India, urging closer cooperation to counter Beijing's threats. China has replied to the USA on their official Twitter account of the Chinese embassy in Sri Lanka 'Sorry, Mr. Secretary, we are busy promoting China - Sri Lanka friendship and cooperation, not interested in your Alien vs. Predator game invitation; the US can play two roles at the same time as always'. This was a crucial period for Sri Lanka's foreign policy, in which two giants in world politics and economics and country are between the competition and clashes of two giants.
Larger states, international and regional organizations have bilateral and multilateral agreements with Sri Lanka in security, political, military, and economics. Indo - Sri Lanka Free Trade Agreement (ISFTA), Pakistan – Sri Lanka Free Trade Agreement (PSFTA) and Agreement on South Asian Free Trade Area (SAFTA), Asia - Pacific Trade Agreement (APTA) South Asian Association for Regional Cooperation (SAARC) are the examples of bilateral and multilateral agreements Sri Lanka already signed and proceeded.
Sri Lanka recently hosted the fourth National Security Adviser (NSA) level trilateral meeting on Maritime Security Cooperation with India and the Maldives. This was designed to initiate collective action on maritime security, including Maritime Domain Awareness (MDA), Search and Rescue (SAR), maritime pollution response, information sharing, curbing piracy drugs, arms, and contraband trafficking in the Indian Ocean Region (IOR).
Hence, this event was a cornerstone to two island states to strengthen maritime partnerships with the IOR's larger state. When applying the situation into the shelter theory, Sri Lanka and the Maldives have small defence capacity and limited resources to utilize maritime security to IOR. (Theory of Shelter explains the inevitability when dealing with larger states and organizations due to their fluctuating and small market, limited defence capacity, small diplomatic corps, and limited economic resources).

In my opinion, traditionally, the Pacific and Indian Oceans were seen as largely conclave strategic spheres. South Asia and the Pacific operated together as economic, political, and security dynamics, with the Indian Ocean. Interactions between the two were relatively more extensive. Therefore, Sri Lanka and small island states in the IOR have to manage the versatile partnerships with larger states in an appropriate, truthful, and archetypal way to keep maritime aspiration in the IOR.
-The Ministry of Defence bears no responsibility for the ideas and views expressed by the contributors to the Opinion section of this web site -