SLNS Shakthi: Sailing to Save Lives
August 21, 2021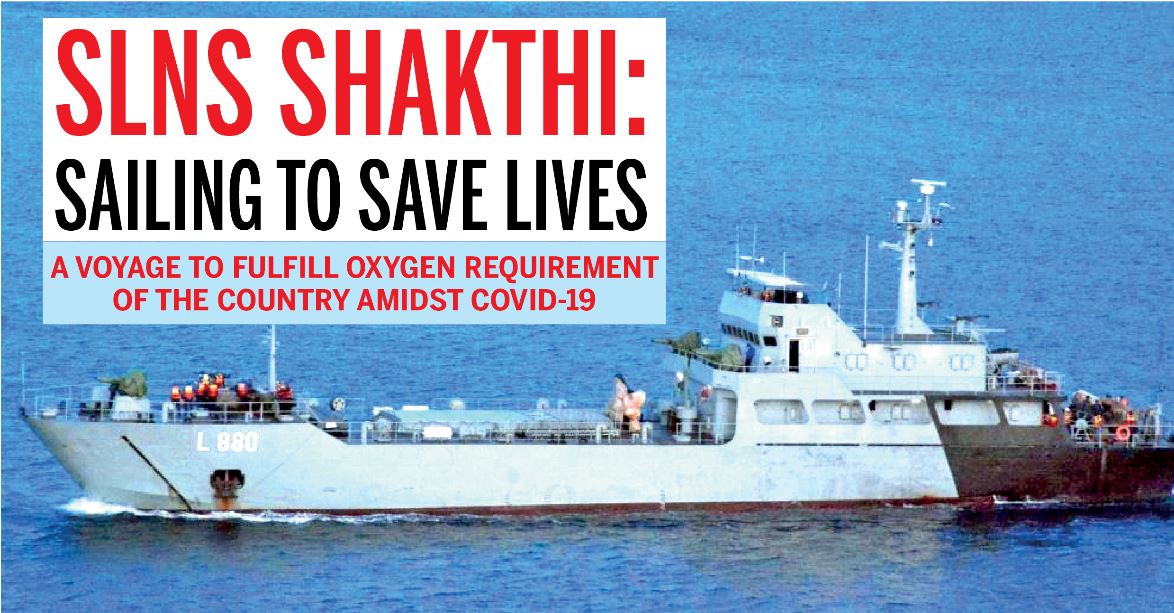 Dishan Joseph
For 70 years, the guardians of our island's seas, the Sri Lanka Navy has served the nation with steadfast devotion. Over these seven decades, the Navy has steadily inducted many sailing vessels into her fleet.
Most Sri Lankans are quite familiar with the Fast Attack Craft (FAC) which race with speed and the larger Offshore Patrol Vessels (OPV) which patrol the deep sea. However, a naval fleet has a mix of auxiliary support vessels, which collectively facilitate seagoing operations and other naval maritime security objectives. Among these lesser-known ships are the Landing Ship Tankers (LST) and Landing Craft Utility vessels (LCU). These unique ships have crews specialised in their roles and tasks.
One of these landing ship tankers, SLNS Shakthi (L880), responded to the nation's clarion call and her crew set sail to Chennai, India from the Eastern Naval Command Harbour in Trincomalee. This was done on a directive of President Gotabaya Rajapaksa who instructed Navy Commander Vice Admiral Nishantha Ulugetenne to urgently deploy a naval ship for this task. This voyage is very different from routine naval supply missions. This ocean journey undertaken by the Sri Lanka Navy signifies an important mercy mission, as this ship will return to Sri Lanka transporting a precious cargo of medical grade oxygen. This vital supply of oxygen
kindly obtained from our neighbour, India, will offer a new chapter of life for many patients afflicted with the COVID-19 virus.
A fresh dose of oxygen will change a life and death situation for many COVID patients. The kind gesture of India during this hour of need, when Indian medical teams are waging a great battle to contain the spread of COVID in their own districts, is a symbolic act of the goodwill which both our ancient nations have cherished and fostered for centuries. This act of sharing much-needed oxygen should and will be remembered by all Sri Lankans for decades to come. On August 14, a special discussion took place between the Sri Lanka Navy Commander and the Indian Navy Chief Admiral Karambir Singh, and they agreed to strengthen the bonds between both navies and be ready to assist in fighting the COVID pandemic together.
SLNS Shakthi
The Sri Lanka Navy ship Shakthi was originally built at the Qingdao Shipyard in China. She was inducted into the Sri Lankan naval fleet on December 12, 1995 and commissioned on May 22, 1996. This class of landing ships is capable of making oceanic voyages in moderate sea states. SLNS Shakthi has a displacement of 800 tonnes. The ship was used for tactical beach lodgement, and can carry up to 150 tonnes of cargo. Indicative maximum loads include either three main battle tanks, or six light amphibious tanks, or 350 fully-equipped troops. The overall length of SLNS Shakthi is 58.4m and the length of the waterline is 54m. Her breadth is 10.4m. The ship has a draught of 3.63m. She has been used extensively for naval supply and replenishment tasks during her long service. In the prolonged period of conflict in the past, this landing ship tank conveyed much-needed food supplies to both soldiers and civilians in the Northern and Eastern Provinces. The vessel also transported thousands of military personnel coming to Colombo and returning to operational areas.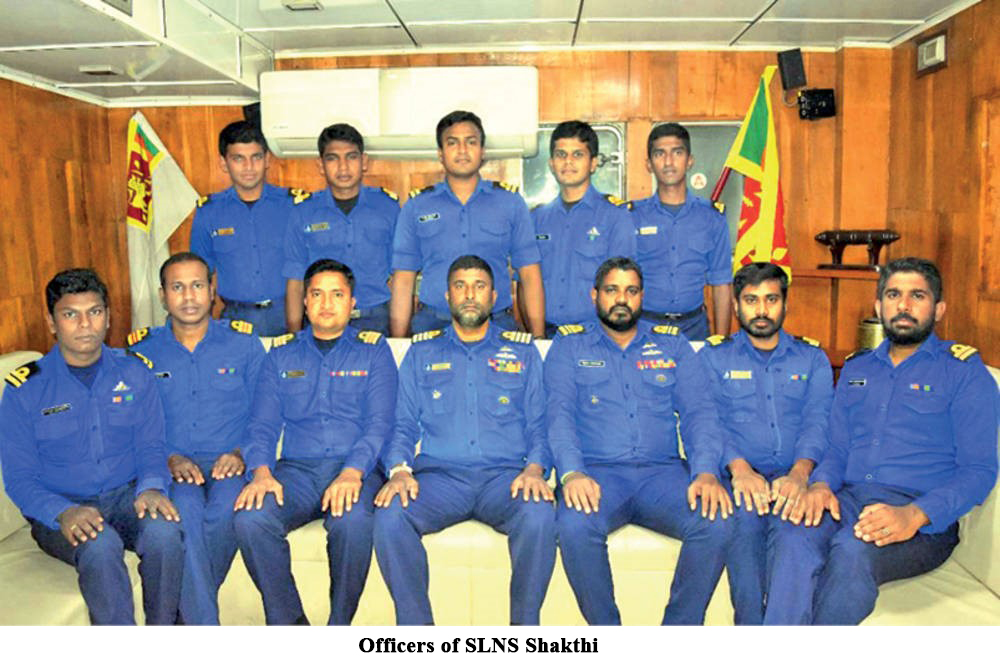 SLNS Shakthi set sail to India on the morning of August 17 (Tuesday) with a crew of 100 (officers and sailors) under the dynamic command of Captain D.M. Mumullage. This voyage lasted around 32 hours, covering a distance of 542 nautical miles (one way). At sea, the ship kept in touch with the Operations Room at the Navy Headquarters, Colombo. SLNS Shakthi reached the Chennai Port by the evening of August 18 (Wednesday) where she was given priority berthing, and received by the Indian Navy and other Indian officials. Naval ships display a set of flags on their mast in keeping with protocol as they reach foreign ports.
Like all Sri Lankan naval ships, the crews have their routine duty and work on shifts. They regularly engage in fire fighting and emergency preparedness drills. The ship's galley (kitchen) turns out nutritious food to feed these hardworking men. Loading and unloading cargo on a ship is a different task. The sea is turbulent at times, and the ship will pitch and roll as the waves rise and fall with the force of the wind. In this backdrop, the safety and storage of cargo is an important factor. One must realise that presently, all these tasks are done under strict health guidelines amidst the COVID pandemic for the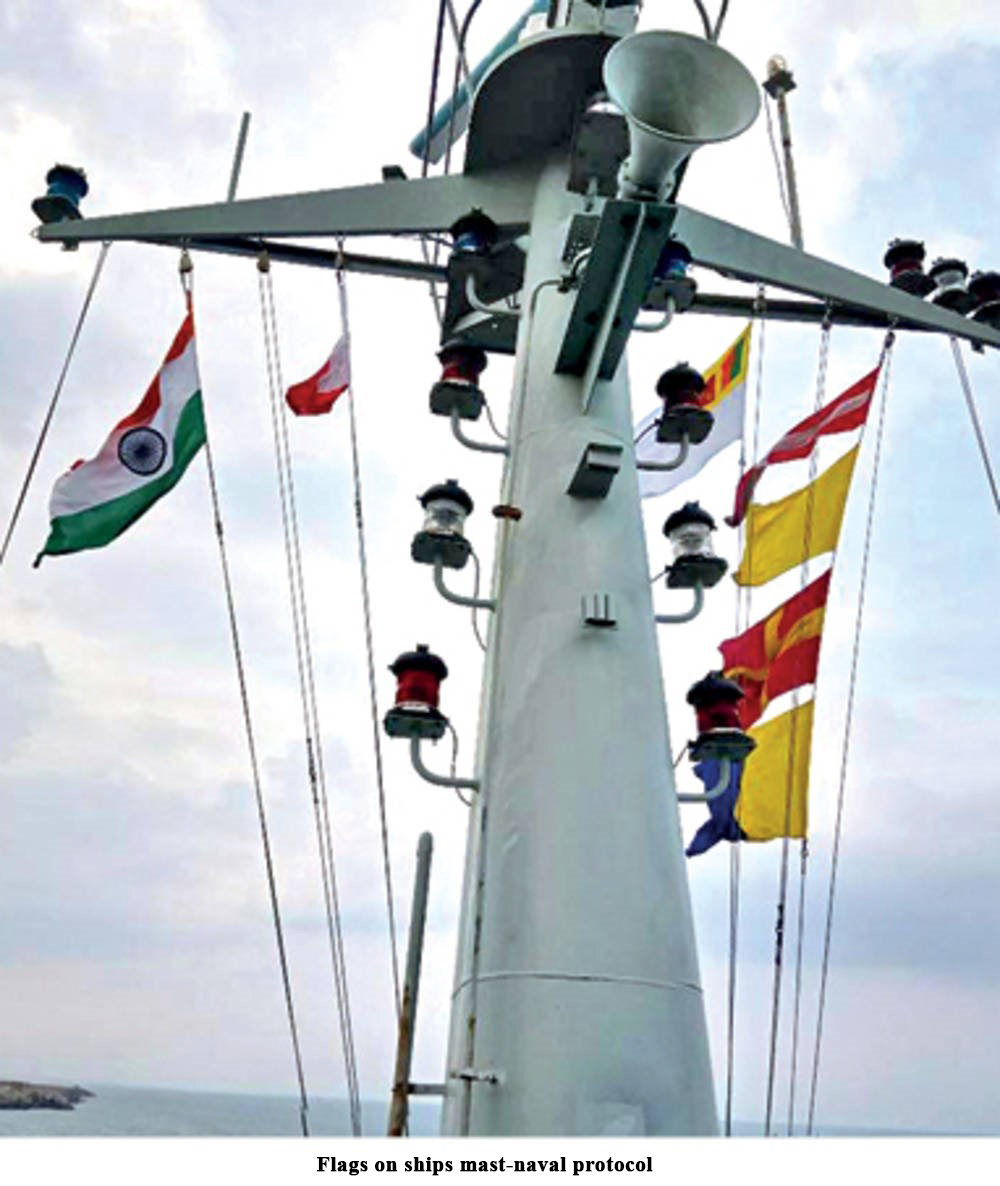 safety of all involved.
INS Shakti
It has been reported that the Indian Navy has come forward to enhance this oxygen transport project by deploying their fleet tanker INS Shakti (A-57). This is a massive 27,500-tonne floating warehouse-like ship belonging to the Deepak class of the Indian Navy. She was commissioned on October 1, 2011. INS Shakti can refuel four ships at a time, with a discharging speed of 1,500 tonnes per hour. The ship has a length of 175 metres and a beam of 25 metres. The ship's crew consists of 200 personnel including 30 officers. INS Shakti can reach a speed of 30 knots. Cargo operations are facilitated by a 30-tonne crane. The vessel can carry 17,900 tonnes of cargo including 15,500 tonnes of liquid cargo. The heavy ship is fitted with AK-630 Close-in Weapon System.
Navy Commander Vice Admiral Nishantha Ulugetenne said "On the instructions of President Gotabaya Rajapaksa, the Navy joined this effort to augment the supply chain of our country's need of surgical oxygen. Until the sustainable supply mechanism is established through available means, the Sri Lanka Navy is determined to assist health authorities to get surgical oxygen supplied expeditiously. I would like to thank Naval Staff Chief of India, Admiral Karambir Singh, and the Indian Navy for the swift response by sending Indian Naval Ship Shakti, a fleet tanker with another stock of surgical oxygen on my personal request made over the phone. The Indian Navy has been assisting the Sri Lanka Navy in every possible way all the time like in the recent cases of two merchant ships that caught fire near Sri Lanka. I admire his leadership traits and compassion towards the service of humanity. The Indian Navy also helped SLNS Shakthi turn around as quickly as possible with expeditious loading at the Chennai Port. This bears testimony to the strong bond the Sri Lanka Navy has with the Indian Navy and the synergy between regional partners."
Thus in a show of solidarity, the Indian Navy's fleet tanker INS Shakti will sail on a mission from Visakhapatnam to the Colombo Harbour carrying medical grade oxygen. This caring gesture from India will galvanise the spirit of unity between India and Sri Lanka. This benevolent act will be appreciated by all Sri Lankans. Having safely loaded their important cargo, the Captain and the crew of SLNS Shakthi set sail to Sri Lanka, amidst the blessings and prayers of the people of India and the wishes of the Indian Navy. Once the unloading and distribution of this high priority cargo is completed, thousands of Sri Lankan lives would be saved. I quote from Mahatma Gandhi "Where there is love there is life". This naval mission by both countries is a celebration of life and humanity.
(The writer wishes to express his sincere thanks to the Sri Lanka Navy Commander, SL Navy Media Directorate, Indian Navy and the Indian High Commission-Colombo)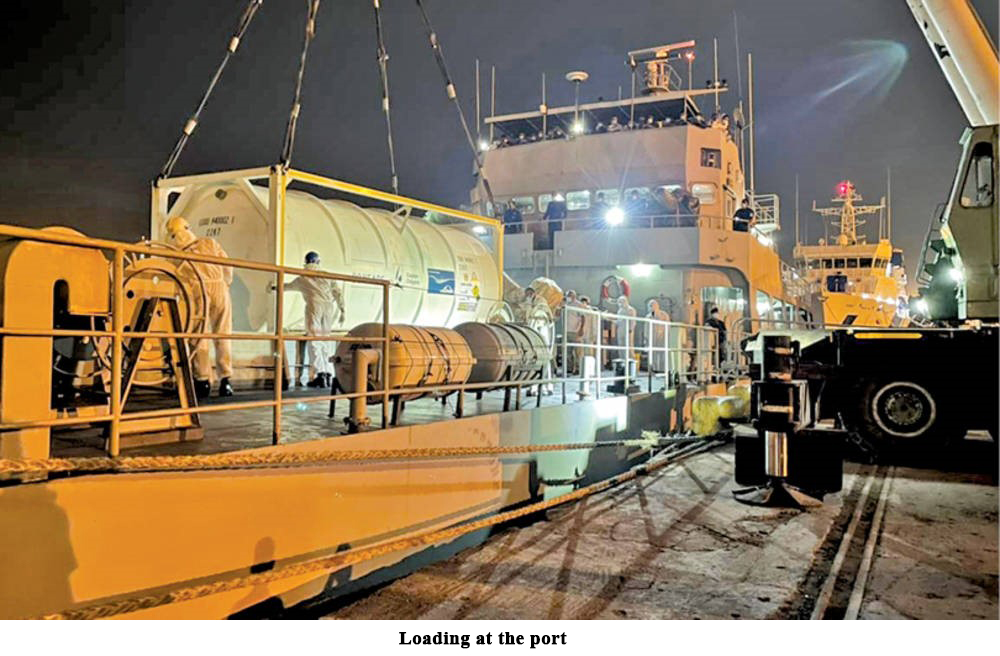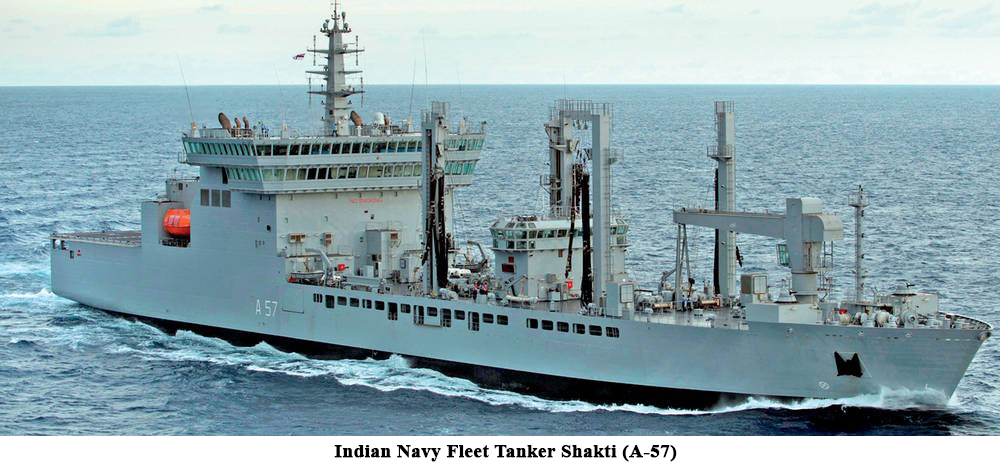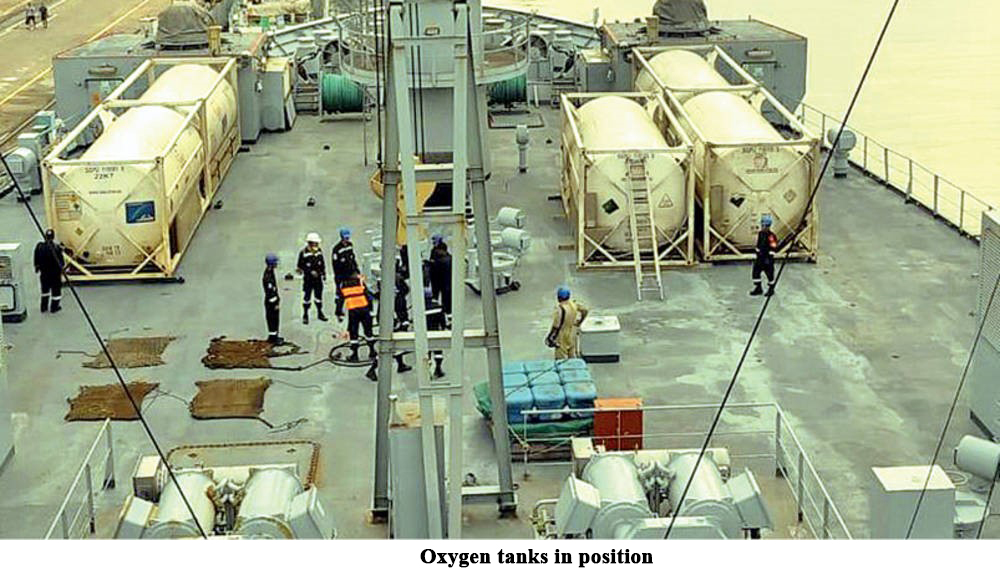 Courtesy - www.dailynews.lk