The cradle of Sri Lanka Air Force aviators
September 01, 2021
By Dishan Joseph
| | |
| --- | --- |
| | |
| Instructors, Engineering and Technical teams | |
70th Anniversary of NO-01 Flying Training Wing:
The cradle of Sri Lanka Air Force aviators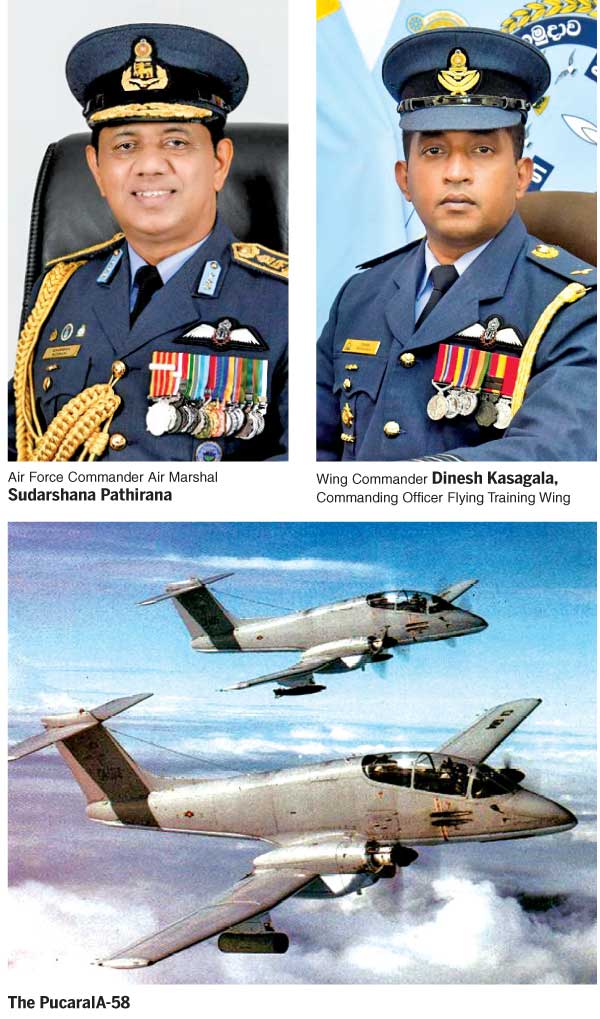 The Sri Lanka Air Force (SLAF) has an impressive fleet of fixed wing and rotary wing aircraft. For seven decades the SLAF has produced many pilots. When these pilots were aspiring officer cadets they were all trained at the No-01 Flying Training Wing, which is presently located at SLAF Base China Bay, Trincomalee.
This school of military aviation is respected and affectionately remembered by all pilots of the Sri Lanka Air Force. This is where their ambitions and dreams were fulfilled. The school also conducts the Flying Instructor training course for awarding QFI (qualifying flying instructor) status and basic course for Air Traffic Controllers.Every successful journey begins with one bold step. The roots of this training school can be traced to the Royal Ceylon Air Force. It was established as a Flying Wing on September 1, 1951, at SLAF Katunayake. In those formative years four Canadian DHC-1 Chipmunk aircraft were inducted for flying duties. In 1952 the wing received another five Chipmunk aircraft.
The first Commanding Officer was Flight Lieutenant Norman Lush of the Royal Air Force (RAF). By 1953 the officer cadets were bestowed with three British Oxford Airspeed Aircraft. Subsequently the Ceylonese aviators were given six British made Balliol aircraft. This was a significant milestone, in 1954, for the instructors as they could now provide Advanced Flying training to the diligent pilots. Enhancing the fleet, the Flying School was able to get a Prestwick Pioneer and a DH104- Dove aircraft in 1955. With innovation and determination, the Flying School was able to add 12 new Hunting Jet Provost aircraft from Britain. This was the advent of jet type aircraft for aspiring Air Force pilots in 1959.
Change is a part of expansion. The Flying Wing was relocated to China Bay, Trincomalee in 1963. As the Chipmunk aircraft were gradually phased out, the Air Force augmented the fleet with six American Cessna-150 aircraft. By 1984, the SLAF obtained a new set of aircraft in the form of the Siai Marchetti Warrior, the Siai Marchetti 260 TP and the Cessna Sky Master. These planes were used for training and operational requirements.
Due to the escalating security threats in the Eastern Province in 1988, the Flying Training Wing was safely shifted to SLAF Base at Anuradhapura. Subsequently the wing was enriched with Argentinean Pucara IA-58 aircraft. In 1999 the incumbent Air Force Commander Air Marshal Sudarshana Pathirana served as a Flying Instructor at Anuradhapura, in the rank of a Squadron Leader. He is remembered by the cadets as a pragmatic teacher and was an inspiration to them.
In recognition of its immense contribution to the SLAF and the nation the No-01 Flying Training Wing was awarded the Presidents Colour on March 1, 2000, by President Chandrika Bandaranaike Kumaratunga. In 2001 the Air Force inducted 10 Chinese PT-6 aircraft.
The tentacles of terrorism reached across the island. In June 2007, the LTTE launched a surprise attack on the SLAF Base at Anuradhapura. The aircraft hangars were targeted. In the attack the Flying Training Wing lost four aircraft. After the culmination of the Humanitarian Operation, this premier military aviation school was shifted once again to SLAF, China Bay, in January 2009.
In 2010 the 14 Squadron of the Air Force which was operating the K-8 aircraft was merged with the Flying Training Wing. By 2018, six more Chinese PT-6 aircraft were added to the fleet. The crest of this school displays a yellow eagle guiding two white eaglets with wisdom, and an oil lamp casting light in the darkness.
In order to gain a better insight into the training of the cadet pilots I met up with Wing Commander Dinesh Kasagala, Commanding Officer of the No-01 Flying Training Wing. He explained, "All officer cadets do their Basic Training at Diyatalawa for six months. After this those who are in the flying stream come to the Flying Training Wing, China Bay, for six months of Administrative Training. They learn about aviation related topics which include aircraft engines, air frame, instruments, aerodynamics, navigation, airmanship, avionics, aero electrical, meteorology and aviation medicine."
"Once they are proficient in these subjects, they learn to fly using the Chinese PT-6 or Cessna Sky Master. In this training phase, aspiring pilots must log in 100 flying hours. Initially after 16 hours of flying with a SLAF instructor onboard (the training aircraft has two seats), the cadet pilots begin to fly solo, doing Circuit Flights above the airfield – basically taking off and landing safely. The QFI (instructor) is an Air Force officer holding the rank of Flight Lieutenant or above."
Cadet Pilots have an early start at China Bay. They come to the hangar by 5.00 am and after changing into their flying attire have to do flight planning, weather check, sign flight authorization book and accept the aircraft from the Technical crew after checking the Technical log. They then follow a checklist that tells them about the physical condition of the aircraft including fuel and oil levels prior to start up. Then they take off from the runway by 6.00 am.
The early morning serenity is conducive for flight training. During this crucial period (nearly six months) SLAF instructors monitor the performance of the students. At the end of flying training phase, a flying test is conducted by an independent officer nominated by Air Force Head Quarters. Upon successful completion of their basic flying training the cadet pilots will be selected to fly fighter jets, helicopters and transport aircraft after careful analysis of the individual's performance in flying.
Accordingly, cadet pilots thus selected will be assigned to SLAF Hingurakgoda (helicopters), SLAF Ratmalana (transport planes) and jet fighter trainees will remain at SLAF China Bay. The Flying Training Wing produced the first two female pilots in the Air Force in 2020. Presently another six female cadets are undergoing advanced flying training on the Y-12 aircraft at SLAF Ratmalana. Whatever aircraft flown, all SLAF pilots serve the nation with pride and valour.
Those undergoing jet fighter training will learn high speed aerodynamics, advanced meteorology, turbine engines, advanced navigation and must complete 100 hours of flying on a K-8 aircraft. This consists of 40 hours (advanced training) and 60 hours (fighter conversion). During this fighter conversion, the pilots will learn battle formation, tactical navigation and aerobatics.
"Towards the end of this course, we take the cadet pilots for live bombing and strafing practice. We keep our training very real – like a combat scenario sortie. We take off from SLAF Base Katunayake and fly over our air-to-ground firing range at Kalpitiya where pilots engage in live firing. After this phase these pilots will proceed to do their conversion training on the F-7 jets, which takes a few months," Wing Commander Dinesh Kasagala said.
After nearly four years of training, officer cadets will become commissioned pilots of the Sri Lanka Air Force. All these aircraft must be well maintained. This task is supervised by Wing Commander Navin Gunaratne, Officer Commanding Maintenance. There is a dedicated crew of technicians. In addition a Supply Officer and Avionics Officer are also part of this operation.
The Flying Training Wings command structure consists of the Commanding Officer, Officer Commanding Flying, two Chief Instructors (for Basic Training and Advanced Training) assisted by 10 flying instructors. All officer cadets have access to recreation facilities and a library. In 2018 the instructors at China Bay launched the Blue Eagles Aerobatic Team.
Having served Sri Lanka for 70 years, the No-01 Flying Training Wing at China Bay will proudly and diligently continue to create air warriors for the Sri Lanka Air Force.
Courtesy - www.dailynews.lk