Nature under Army's protection
October 21, 2021
By Nisal Rukshan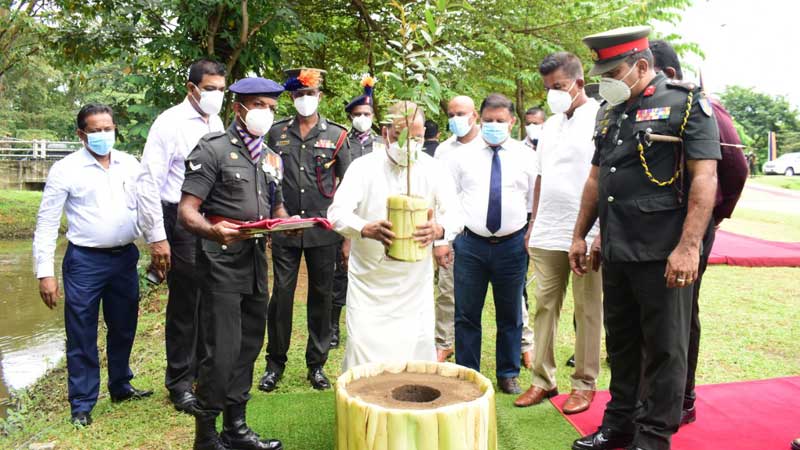 'Look deep into Nature, and then you will understand everything better.' - Albert Einstein
***********
'Study Nature, Love Nature, Stay close to Nature, It will never fail you.' - Frank Lloyd Wright
************
'If you lose the relationship with nature, you lose the relationship with humanity.'- Jiddu Krishnamurti
************
Nature, the phenomenon of the physical world, is invaluable to all human beings. All human activities

are co-related to nature. At the beginning of civilisation, the life journey of man started with the blessings of nature. But gradually the nature was cursed by humans, with certain transformations in behaviour, such as the industrial revolution, the destruction of nature began in numerous ways.
Harmful activities of humans pave the way to various hazards. The Ozone layer, the protective shield of the Earth, which has been damaged by man-made Chloro Fluoro Carbons (CFC) results in climate changes (E.g., droughts, floods, hurricanes, landslides, wildfires, melting glaciers etc.) With the increase of natural hazards around the globe, the world community realised that it is high time to take necessary precautionary means to protect nature to make a better tomorrow for the younger generation.
Montreal Protocol is one of the important outcomes which marked the phasing out of chemicals such as CFC. Various campaigns and awareness programmes were conducted and communities in continents and subcontinents, irrespective of colour, race or caste, joined hands to protect Mother Nature.
As an island nation enriched with high biological diversity, Sri Lanka also actively contributed to the global nature protection campaigns in different ways. The novel concepts of Surakimu Ganga and Husma Dena Thuru Dasathinma are only a few projects inaugurated by President Gotabaya Rajapaksa around the country. Strengthening these national projects, as the most disciplined, effective, efficient and the largest human resource organisation, the Sri Lanka Army launched a mega green drive named Thuru Mithuru Nawa Ratak, a concept of Defence Staff Chief and Army Commander General Shavendra Silva.
The green drive, Thuru Mithuru Nawa Ratak project was empowered by 'Protectors of the Nation' - Sri Lanka Army around the island through tree-planting campaigns, shramadana campaigns, beach cleaning programmes, and mangrove sapling planting campaigns conducted by the six Security Forces Headquarters and Reserve Strike Corps (RSC) and many other programmes like eco-friendly agricultural cultivations using organic fertilizers in farms of Sri Lanka.
Coinciding with its 72nd anniversary (October 10), the Sri Lanka Army, together with the Environment Ministry planned to plant 10,000 Kumbuk saplings at the premises of each Security Forces – Security Forces Jaffna, Security Forces Wanni, Security Forces East, Security Forces Mullaitivu, Security Forces West, Security Forces Central and Reserve Strike Corps. The inauguration of this programme was held in the vicinity of the Army Headquarters on Sunday (10) and Environment Minister Mahinda Amaraweera, Environment Ministry Secretary Dr. Anil Jasinghe graced the occasion. Several senior military officers including Brigadier Manjula Kariyawasam (Director Staff Duties), Brigadier Arosha Rajapaksha (Director Agriculture and Livestock), Brigadier Janaka Wimalarathna (Director Army Recruiting) and Brigadier Rasika Kumara (Director Human Rights and International Humanitarian Law) also attended the event. It is intended to enhance the green shade of Sri Lanka enriching the biodiversity, conserve the river banks and prevent environmental pollution in order to have a better tomorrow.
Kumbuk (Terminalia arjuna) is an endemic species grown at river banks and its roots have the ability to purify water; wood is used as timber (broad base and smooth, grey bark). Leaves are placed in near opposites and are about 5–13 cm long and 2–5 cm broad, oval with a rounded base and blunt tip, short-petiolated with a pair of glands about one mm immediately below the base of lamina. Leaves turn bright red when old. Flowers are small, sessile, cream to greenish-white, on rachis about 9-13 cm of branched inflorescences borne terminally or at nodes. The fruit is elliptic 3-5 cm long, 2-3 cm wide, five-winged, woody structure. (dilmahconservation.org)
Under this mega green drive, 1,600 saplings by Reserve Strike Corps of the Sri Lanka Army (in Kilinochchi), 400 saplings by Security Forces Jaffna, 1,600 saplings by Security Forces Wanni (in Vavuniya), 1,600 saplings by Security Forces Mullaithivu, 1,600 saplings by Security Forces West (in Panagoda) and 1,600 saplings by Security Forces Central (in Diyathalawa) were planted.
These programmes were conducted simultaneously with the main programme held in Battaramulla, supervised by the Commanders of the Security Force and the Commander Reserve Strike Corps under the direction of Defence Staff Chief, Army Commander and National Operation Centre for Prevention of COVID-19 Outbreak (NOCPCO) Head General Shavendra Silva.
The Earth is like our mother; if any damage is caused to her, we also have to face the repercussions which have no limit. Hence, as a prime duty to protect biodiversity in Sri Lanka, the Army stands and will stand as real 'Protectors of the Nation'.
Courtesy - www.dailynews.lk