Paddy Mendis: The storied career of a Flying Ace
January 24, 2022
By Camelia Nathaniel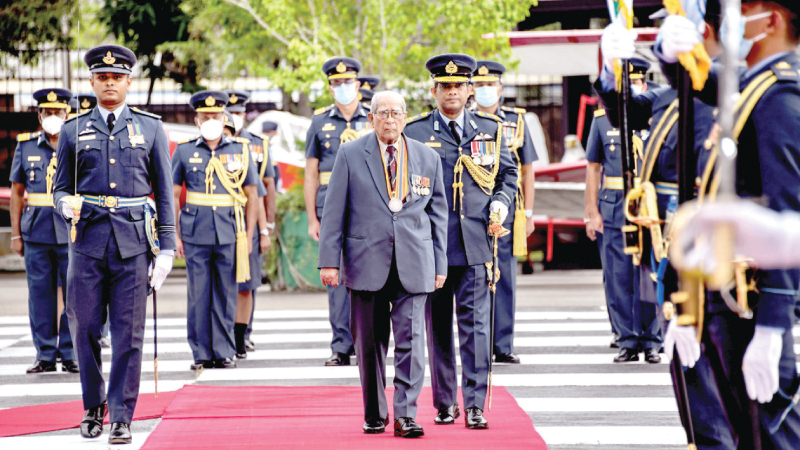 A guard of honour was accorded to Air Chief Marshal (Retd) Paddy Mendis at a special felicitation ceremony on January 1 at the SLAF Base, Ratmalana
For the 4th Sri Lanka Air Force Commander, Air Chief Marshal Pathman Hariprasadha Mendis, flying was his main passion from a very young age. He is popularly referred to as "Paddy Mendis" and was born on January 24, 1933, as the middle child in a family of five.
"I was not very interested in studies, but during my school days, I played cricket, hockey, football etc. Although I was not very focused on studies, somehow I did that too. I passed my SSC in the first round itself. I was in S. Thomas boarding those days and when I travelled home, I used to watch the airplanes land and take off from Race Course and I was so fascinated. The Korean War was on those days and these fighter planes really interested me. Rakitha Wickramanayake and I used to bunk school and go to the Ratmalana Airport. We used to plead with the training pilots to give us a ride and sometimes they obliged. Although my father and older brother were both doctors and my parents expected me to follow in their footsteps, when it came to university entrance, I refused. That was not my calling. I would faint if I saw blood," Air Chief Marshal Mendis said with a mischievous smile.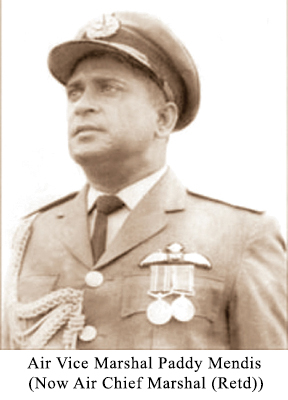 He noted that back then his father was not happy, but I told him I would do a course in accounts. "But I barely completed three months there, when there was an advertisement out calling for trainee pilots and I jumped at the opportunity and applied. But my parents were not impressed as flying was considered a dangerous occupation. Somehow a relative of mine managed to convince my father and finally, I obtained their approval. I was the fifth Sri Lankan to be recruited."
On March 2, 1951, the Sri Lanka Air Force was born. The novel force was looking to expand its wings, and it was a golden opportunity for the aspiring aviator. Though young, Mendis was selected as an A-list from the interviews.
He joined the newly-formed Royal Ceylon Air Force (RCyAF) as its fifth recruit, 1005 AC2 (Cadet) on August 8, 1951. After the enlistment, Officer Cadet Mendis and his colleague Officer Cadet D. De S. Seneviratne were sent to Britain for their training at the prestigious Royal Air Force (RAF) College Cranwell UK where they joined the No 61 entry. Officer Cadets had to follow rigorous training in three wings: flying, military and academic studies. Yet the determined Officer Cadet Mendis continued to study anywhere possible, for hours after the lights were put out at 10 o'clock.
He said that many Sri Lankans were recruited to the Royal Air Force at the time. "People who were in school with me such as Jonklaas, De La Haap and Weerasinghe, who were about one year senior to me in school, had joined the RAF before the Ceylon Air Force started. I applied to the Royal Ceylon Air Force, but we all trained at the same place at RAF Cranwell. But while there they would not even talk to me as I was considered a 'Podiyan'," he joked.
After six months of training at the RAF College Cranwell, young Cadet Mendis started his basic flying training in the Chipmunk aircraft and flew 110 hours. Later he went on to fly the Harvard aircraft for another 110 hours. Young Mendis was commissioned on April 6, 1954, in the rank of Pilot Officer. Pilot Officer Mendis was posted to RAF Merryfield for his operational conversion and continued training on the De Havilland Vampire for 70 hours. He returned to the country in October 1954.
When the government decided to deploy more transport aircraft instead of the Vampires, Flying Officer Mendis did his conversion training for Airspeed Oxfords. "The Vampires were very advanced aircraft at the time and I am happy I had the opportunity to fly them." When the No 2 Squadron was formed in 1957, young Flight Lieutenant Mendis was the first to command it. "The Oxford was a war-time aircraft which was made of wood. One of the things that amused me was the way the engine was started. It was a pre-war aircraft and an airman would get up onto the wing, open a small cover, pull a crank handle and crank the engine until the propeller would start up. The same was done with the other side. This was around 1954–55."
Reminiscing the day he almost lost his life during his first flight, Paddy Mendis said, "One engine stopped just on takeoff from Katunayake around 400–500 feet off the ground which is the most dangerous part. However, God willing, I managed to bring the aircraft back and land it. I saw a sergeant on a bicycle when I landed and he got into the aircraft and asked, 'Sir, did you put the Auxiliary Cox on?' I was clueless and I had no idea what he was talking about. Basically, I learnt that the aircraft had stopped as there was no fuel. It so happened that I had not switched to the auxiliary tanks and the main tanks had run out of fuel, resulting in the stalling of the engine. So, I was up before the CEO and I explained that I was unaware of such a procedure. But he gave me a good lecture and as I was leaving, I heard him say, 'Well-done Mendis, good show'. I figured this was because I had somehow managed to save the aircraft and myself and land safely. But, unfortunately, my instructor who went in after me was not so lucky and he was relieved of his duties and sent back as he had failed to instruct me properly."
Wedding bells rang for young Flight Lieutenant Mendis in 1957 tying the knot with Charmaine, and the newlyweds were blessed with three children subsequently. In 1959, Flight Lieutenants Mendis and Situnayake were sent to the RAF Central Flying School (CFS) to be trained as flying instructors at RAF Little Rissington in Gloucestershire. He was the first Ceylonese to be trained as a Qualified Flying Instructor. On completion of his flying instructor training at Royal Air Force Central Flying School, Flight Lieutenant Mendis took over the command of the Royal Ceylon Air Force No 1 Flying Squadron at Katunayake. By this time, the young officer had displayed his potential both as an aviator and a leader.
Wing Commander Mendis executed whatever the tasks assigned to him with utmost dedication and commitment which allowed him to progress steadily in his career. He reached the rank of Group Captain soon afterwards. In 1968, Group Captain Mendis was selected and sent to the Imperial Defence College which is now known as the Royal College of Defence Studies (RCDS) in the UK, where he was developed to take up bigger responsibilities. After the successful completion of Imperial Defence College, he returned to the country to take up the appointment of Chief of Staff in December 1969. He continued to perform the duties in the appointment till October 1970, where Group Captain Mendis was entrusted with more responsibilities and continued to perform duties of the Commander under the guidance of AVM ER Amarasekara.
Air Commodore Mendis assumed the responsibilities of guiding the Royal Ceylon Air Force on January 1, 1971 as its 4th Commander. He was the first Ceylonese officer to command RCyAF, who started the career as well in the same organization. On January 15, 1971, soon after the new commander's appointment, No. 1 RCyAF Trade Training School at Katunayake was established as a separate formation which consisted of three main wings; Planning and Control, Instructional and Examination, to provide formal training for officers and men in their branches/ trades. The same day, No. 4 Helicopter Squadron was established to provide VIP transport, reconnaissance flights, cargo flights, Air/Sea and Jungle Rescue flights, CASEVAC and other operational flights with its Bell Jet Ranger helicopters.
On March 15, 1971, RCyAF Diyatalawa was renamed RCyAF Ground Combat and Recruit Training Unit Diyatalawa and entrusted with the authority of handling all initial training courses for both regular and volunteer Officers and Airmen. In addition, ACM Mendis established the Air Force Academy at SLAF China Bay for officer training. Also, the Electronic Maintenance and Training School at SLAF Ekala was established. Further, the engine and propeller overhaul bay was established at Katunayake, by which a considerable amount of foreign exchange was saved for the country.
AVM Mendis's commanding abilities were challenged with the outbreak of a full-blown insurrection just three months after his appointment. The RCyAF mobilized her troops under the young commander to first ever operational call, when the 1971 Janatha Vimukthi Peramuna (JVP) insurrection commenced. Though unprepared for a full-scale insurrection, with a limited number of aircraft under ACM Mendis' command, the Air Force responded effectively.
A 14-day vigil which drained Air Force resources to the maximum strenuous limits began with a hasty summoning of the Security Council on April 5. By midnight, SLAF Electronics Base in Ekala was under attack, and the battle had begun.
"I knew that the JVP may have arranged with the airmen at the main security points and I immediately ordered that all the guards at these entry points be shuffled. I do not know why I did it but instinctively I had it done and it worked. When they came to attack the bases, the guards were different and they could not get in smoothly," he said.
Initially, the RCyAF had to carry reinforcements and supplies to stations under threat. With three Bell 206A Jet Ranger helicopters and to fly them with just six pilots, the airlift commenced on April 6 and went on for five days round the clock, providing ammunition to all police stations under threat.
Later three Doves were also assigned for air transport operations. By the end of April, these aircraft had airlifted 900 troops, over 100,000 lbs of cargo and over 36,000 lbs of ammunition. In addition, the RCyAF had carried out air to ground surgical strikes providing Close Air Support on selected targets, using five Jet Provost aircraft.
Understanding the necessity of supplementing the regular force, AVM Mendis decided to establish a volunteer force. Authority was granted immediately and on April 14, 1971, a volunteer corps was formed and recruitments began immediately.
Scrutinizing the situation, AVM Mendis comprehended the necessity of platforms. With the consultation of the government, quick diplomatic initiatives were executed, resulting in a swift induction of six Bell 47G helicopters from the USA and six MIG 15 and MIG 17 aircraft along with two Kamov KA 26 helicopters and a heap of military aviation-related arsenal from USSR.
Those Bell 47s went on to give birth to No 5 Squadron on April 17, 1971 and Russian Jets along with already existing jet provost went on to form No 6 Squadron.
As a result of the combined efforts of all three Forces and the Police, the youth insurrection was brought under control in just two months. The Royal Ceylon Air Force became the Sri Lanka Air Force (SLAF) following the Republican Constitution of 1972.
In recognition of this proud history, Air Force Commander, Air Marshal Sudarshana Pathirana arranged a special felicitation ceremony on January 1, 2021 for Air Chief Marshal PH Mendis (Retd) at the Air Force Museum located at the SLAF Base Ratmalana.
A ceremonial guard of honour was awarded to Air Chief Marshal PH Mendis (Retd) by the SLAF Colour Wing. Defence Secretary General Kamal Gunaratne (Retd) participated in the event as the Guest of Honour.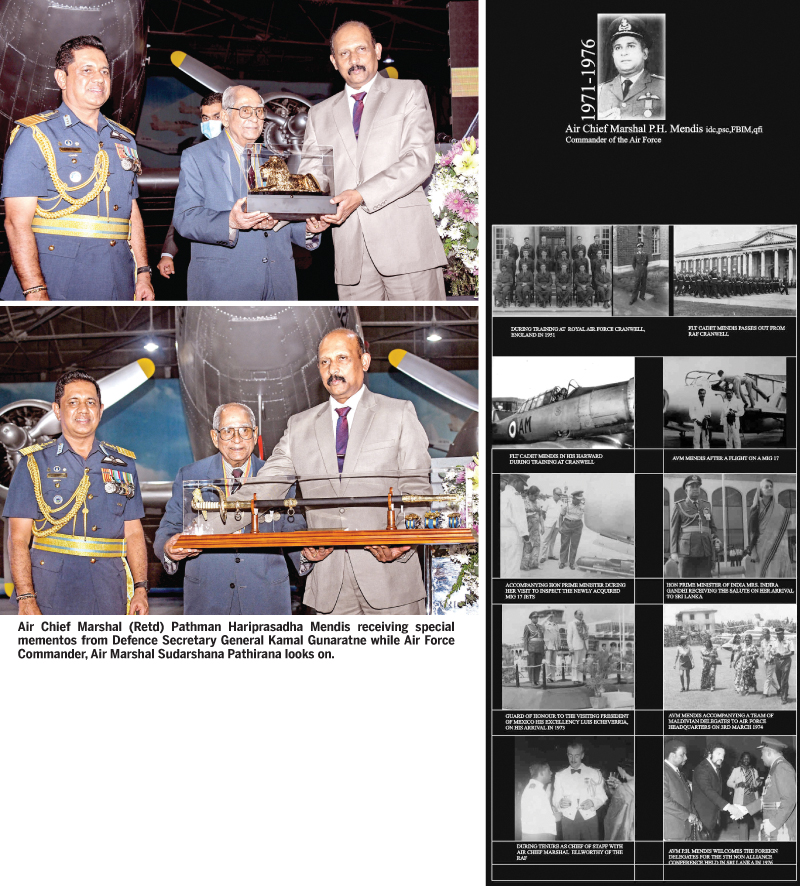 Courtesy - www.dailynews.lk