SLAWC Women on the Frontlines
March 08, 2022
By Manohari Katugampala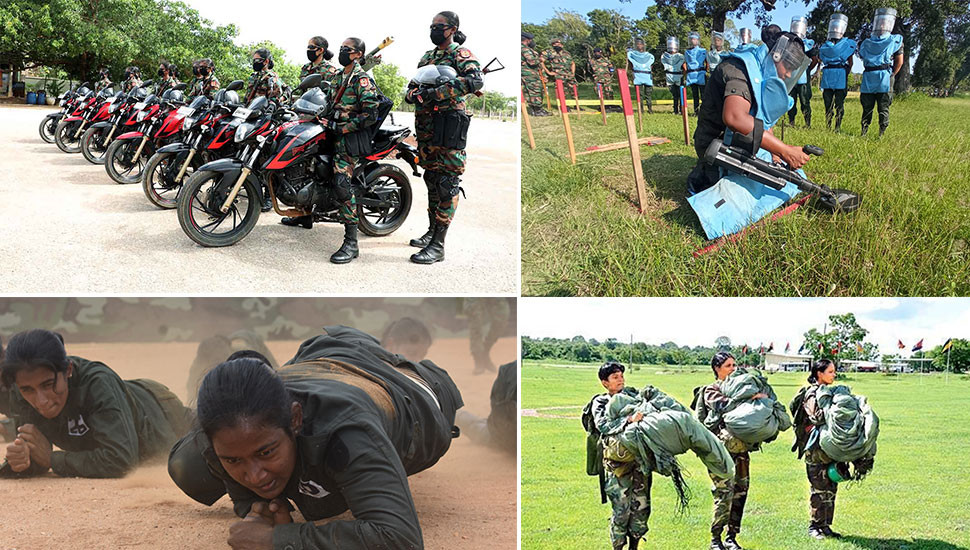 It was not long ago that women were confined at home to be full-time housewives and their spouse was the family's bread-winner. The role of women in the 21st Century has changed and they share equivalent responsibilities with their male counterparts. It is undeniable that employed women are more self-seeking, tougher and intellectual. However, empowered women are not trying to overpower the opposite sex, but to endure and override the difficulties confronted in their ever-growing competitive surroundings.
The women's contribution in every sphere of life is huge. They contribute to the lives of their family members, as well as the country. Women's Day is celebrated globally on 8 March. All women deserve respect, love, care and happiness and they are given equal opportunities at work.
The Sri Lanka Army Women's Corps (SLAWC), one of the most prestigious women's battalions in the South Asian region, has steadily marched forward for 43 years since its establishment in September 1979 and contributed immensely to the achievement of organisational goals and the victories of the Sri Lanka Army. Having upheld the motto, "The powerful mind is the strongest weapon", members of the Women's Corps bravely assisted troops on the battlefield during humanitarian operations.
There are many female soldiers who sacrificed their lives when serving the motherland. Sergeant P.B.S. Pushpamala, Corporal H Ariyawathee, I.M.B. Padma Kumari, Lance Corporal H.M. Rupawathee, U.P.D. Kumuduni, R.C. Swarnalatha, I.N. Silva, R.M. Ajantha, A. Sriyani Deepika, N.A. Kaluvillaarachhci, K.P.N. Abeysinghe, N.B.P.S.K. Dharmawardena, U.D. Nayana Thushari, R.M.T.K. Dilini Rathnayake, W.P. Wijesundera, R.M.P. Rathnayake, P.R.S. Malkanthi, H.W. Damayanthi, D.S.S.P. Gunathilake, P.N. Piyadasa, M.K.A. Dilrukshi, R.M. Nilanka Kumari, H.M.L. Sewwandi, S.M.P.K.D. Godakumbura, P.V.D. Wijewardena are among the valiant female soldiers.
The SLAWC women accomplish numerous responsibilities whilst enacting multiple roles as a mother, daughter, wife, leader or soldier amply demonstrating their strength to achieving their prime goal of gaining professionalism. Though the Women's Corps was initially established as a service unit to carry out administration duties, it is now equipped with additional units. They have the female military para team, the female Quick Reaction Rider Team; they are International female medallists in athletics and a team of Field Engineers and a humanitarian demining trainer team.
At the inception the SLAWC comprised of professional female soldiers in the field of telecommunication, health services, military intelligence services, nursing duties, military police duties, lawyers, accountants, English instructors, psychologists, physiotherapists, veterinary surgeons, speech therapists, agriculture officers, software officers, software engineers, quality control engineers, cyber security officers, civil engineers, architects, surveyors, Technical Officers etc. and presently they have been transferred to support the respective regiments performing those professionalised services at Sri Lanka Signal Corps, Military Intelligence Corps, Sri Lanka Army Medical Corps, Sri Lanka Corps of Military Police, Sri Lanka Army General Service Corps, Corps of Engineer Services, Sri Lanka Army Ordnance Corps, Sri Lanka Army Service Corps.
In the post-humanitarian operation, the women troops were employed in many circumstantial situations for the provision of services including cordon and search operations. Manning roadblocks where necessary and cannot be filled by the male cadre itself. Further, the women troops were employed in the civil-military coordination activities, internal security duties, rehabilitating Ex-LTTE cadres, maintaining harmony centres, provision of food and other necessary items, conducting women empowerment programmers for Tamil civilians and Ex-Tamil female combatants.
Stepping on a new milestone some lady officers have been trained and qualified as paratroopers as well as skydivers. A special operation support group has been established to support VVIP security and the territorial integrity of the motherland. The first woman paratrooper (woman officer) Basic Parachute Course is Captain V.N.S. Vidanage while the first woman paratroopers (other ranks) are Corporal Hemanthi and Corporal Kahawala. Field Engineering Basic Module and Humanitarian Demining Course have also been implemented to women soldiers by the Sri Lanka Army Corps of Engineers.
Moreover, the first woman officer of SLAWC was Lieutenant Colonel K.C. Weerasekara (Retd) who was enlisted in the Army in 1979 and she was the first Commanding Officer of SLAWC. The first female soldier was Corporal M.L.K.R. Wilson (Retd) who was enlisted in 1980. The senior-most serving officer of the Sri Lanka Army Medical Corps is Consultant Radiologist Brigadier D.T.N. Munasinghe while Major Dishanthi Mendis of Sri Lanka Army General Service Corps was the first lady officer to fly for the Central African Republic for UN Peacekeeping Missions. Not only do these gallantry women perform on the battlefield, but also in the sports arena.
They have left an indelible mark in the sports world with many Gold, Silver and Bronze medals. Susanthika Jayasinghe, Dilshi Kumarasinghe, Nilani Rathnayake, Sarangi Silva, Lakshika Sugandhi, Nadeesha Lekamge and Lakshani Vidusha are some among the best in the international sports arena.
The role of the mother and the wife never changes because the existence of life depends on them. With the utmost dedication, they made sacrifices by sending their sons and daughters to the battlefront. But their commitment as a mother and a wife is invaluable and must be remembered especially during this Women's Day. In paying gratitude to all the support they have provided till now, the Army has not forgotten to pay back. In this context, under the guidance of Chief of Defence Staff and Commander of the Army General Shavendra Silva and the Army extends its fullest cooperation and unfailing commitment to uplift the living standards of the spouses of the family members of the fallen war heroes, differently-abled war heroes, and the city staff workers of the Sri Lanka Army, to enrich their lives.
Courtesy - www.dailynews.lk