P-627: Sri Lanka Navy's Floating Fortress
November 14, 2022
By Dishan Joseph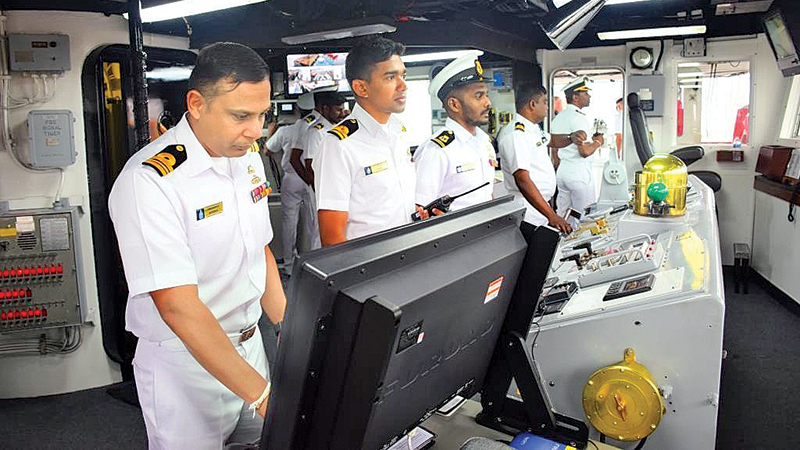 The oceans and seas still play a vital role in the prosperity and protection of the world's population. A coastal Navy is focused on protecting a country's territorial waters and adjacent international waters. The maritime domain is generally subdivided into two primary categories: littoral (coastal) and open ocean (blue-water). The littorals are defined by relatively shallow waters and close proximity to the coasts. Open-ocean operations are marked by waters beyond the maritime boundaries of nations. Maritime patrolling is essential in peacetime due to piracy, terrorism, smuggling, protection of fishing areas, securing the Exclusive Economic Zone (EEZ) and sea lines of communication. Sea control allows a Navy to use the sea area for their national security objectives and denies access to a potential adversary.
Navy Commander, Vice Admiral
Nishantha Ulugetenne

Captain Lanka Dissanayake
For years Naval vessels relied primarily on organic radar and electronic support measures (ESM) systems to locate and target adversary Naval vessels at over-the-horizon (OTH) ranges beyond the line of sight. Maritime patrol craft and carrier aviation early-warning aircraft were able to extend the ability of these warships to locate and swiftly engage adversaries in surgical combat strikes. Navies face evolving threats at sea, the most new being the USV. A USV (uncrewed surface vehicle at sea) that has been designed for stealth, with a limited surface profile, may be able to slip through a well-watched area. Normal vessel traffic can obscure it. Swarms of USVs could also be used (with a greater risk of early identification) but also a high probability that some of them get through due to saturation of defenses. This calls for more surveillance and deep sea patrols by Navies across the world. Globally Navies must connect to enhance interlinking of existing maritime surveillance systems. Timely intelligence and close coordination are vital to effective maritime security.
USCGC Douglas Munro is a Hamilton-class High Endurance Cutter of the United States Coast Guard, named for Signalman First Class Douglas A. Munro (1919–1942), the only Coast Guardsman to be awarded the Medal of Honour. Following its decommission, USCGC Douglas Munro was transferred to the Sri Lanka Navy on October 26, 2021 at the USCG Station Seattle, where it was assigned the pennant number P-627. She becomes the second Hamilton-class vessel to be donated to the Sri Lanka Navy. During her brief transfer ceremony in USA, Rear Admiral Y.N. Jayarathne (then Chief of Staff) represented the Sri Lanka Navy and Rear Admiral Melvin Bouboulis, Commander of Coast Guard District 13 represented the US Coast Guard. Presently P-627 has a crew of 23 officers and 107 sailors of the Sri Lanka Navy. She is commanded by Captain Lanka Dissanayake. This vessel has a displacement of 3,300 tons. She is 115 metres long and has a beam of 13 metres. The ships motto is "Strength by Unity".
I had the privilege to go on board this magnificent ship when she was berthed at Colombo. After exchanging greetings with the Commanding Officer and officers I understood the sedulous team effort and determination of this Naval crew. The selected crews to work on this vessel were sent in four batches to Seattle. The first challenge to these officers and sailors was the cold climate, with adverse spells of snow. After basic orientation about the ships systems, the Sri Lankan crew had to work to a planned schedule to refurbish the entire vessel. The cost of this refurbishment was borne by the US Government, which is a gesture of their goodwill towards Sri Lanka. The Sri Lanka Navy had wisely selected a crew representing all trades, including divers. The men scraped, painted and polished various sections of P-627.
The work continued amidst rain and snow. Divers did their checks underwater. Taking over a ship is not as simple as taking over a land vehicle. In addition to their duties the sailors had to learn (as per this ships specifications) and practice their Naval drills such as firefighting, damage control, man-overboard drill, lowering the life rafts in an emergency, replenishment at sea and working in all kinds of inclement weather. The entire crew has special immersion suits (orange) to wear and enter the sea in a dangerous emergency. This special kit keeps you warm and dry until rescue arrives. One of the other areas to adapt in the first few weeks was a Western menu, before the logistics team was able to order logistics and the cooks prepared their cherished rice and curry- to the delight of the crew. The Sri Lankan Naval crew was in USA for almost 10 months undergoing training and preparations to takeover this ship.
The long voyage from Seattle to Colombo, a distance of 10,656 nautical miles took three months of planning by the Navigation team. The course was plotted, using the Great Circle Navigation method (used for voyages over 1,000 nautical miles) to save time and fuel. The course was subsequently approved by Sri Lanka Navy Headquarters. On receiving the green light to proceed P-627 sailed from Seattle through to Hawaii, followed by Apra (Guam), Manila (Philippines), Changi Naval Base- Singapore and the final phase to Colombo. The ship sailed through the North Pacific Ocean, West Pacific Ocean, Philippines Sea, South China Sea, Malacca Strait and Bay of Bengal. This is the longest voyage undertaken by a ship of the Sri Lanka Navy. The voyage took 60 days.
On this long voyage the ship sailed through the IDL (International Date Line). The IDL (established in 1884) passes through the mid-Pacific Ocean and roughly follows a 180 degrees longitude North-South line on the Earth. Globally, sailors celebrate the crossing with a party based on the ancient traditions associated with King Neptune's domain. The mythological god of the seas, Neptune is usually portrayed by a senior member of the ship's company. King Neptune is accompanied by an entourage of other senior members of the ship's company who dress in colourful attire for the occasion. We looked at these photos onboard P-627 and enjoyed a round of laughter.
P-627 has a modern armament system. Naval guns have evolved over the decades. P-627 has a modern weapons system that enables the firing of its main 76 mm gun, without the gunners having to come on deck to the turret. The target acquisition and firing is done from the Combat Information Centre (CIC). In addition to this the vessel has medium and small guns fitted to enhance her firepower at sea. The OTO Melara 76 mm radar- controlled gun is a Naval gun built (effective range 16Km) and designed by high rate of fire and the availability of several types of ammunition make it capable for short-range anti-missile point defence, anti-aircraft, anti-surface, and ground support.
The ship has an array of radars. During World War II, at night when all ships were darkened, radar was the military vessel's primary sensor for detection of surface targets, station keeping information and for accurately intercepting targets. Onboard P-627 the X-Band radar can scan the horizon for 96 nautical miles and picks up the heat signatures of any vessel. The twin masts on this ship have an array of antennas. The ship's bridge has advanced navigation and communication systems. The Electronic Chart Display and Information System (ECDIS) is a development in the navigational chart system used in Naval vessels and ships. With the use of the electronic chart system, it has become easier for a ship's navigating crew to pinpoint locations and attain directions.
For intervention of suspicious vessels or responding to another vessel in distress P-627 is fitted with two rubber boats. This boat can be launched by automatic hoists while the ship sails holding a cruising speed of 5 knots. P- 627 is fitted with a stabilized electronic horizon that can enable a pilot to land his chopper on the rear heli-deck at night. The ship has a helicopter hangar. This vessel has two Fairbank 12 cylinder engines and two Pratt & Whitney gas turbines. Technical crews in blue overalls were busy checking the many valves and indicators. From here we passed through a hatch and entered the cabin of some junior sailors. Each air conditioned cabin has space for 14 men with bunk beds. This ship has 9 levels. The crew will undertake deep sea patrols that last 21 days (sea endurance of 14,000 nautical miles) and if required can be at sea for 30 days. The vessel can sail at a speed of 26 knots.
Commander of the Navy, Vice Admiral Nishantha Ulugetenne said "Sri Lanka being an Island sitting in the middle of the Indian Ocean is blessed with a plethora of opportunities and prone to challenges alike. Protecting vast maritime resources within the Exclusive Economic Zone (EEZ) that is more than seven times of the landmass is no easy task by any means. In this endeavour, P 627 will surely augment the Navy's capabilities with its inclusion to the Sri Lanka Navy fleet. In addition, the Navy will be able to utilize this vessel efficiently in Search and Rescue (SAR) operations for the assistance of Naval and fishing community in distress at sea. On the other hand she will prove her mettle in future, responding to a wide-range of unconventional security challenges by the nature of Illegal, Unreported and Unregulated (IUU) fishing, drug trafficking, human trafficking/human smuggling, sea piracy, arms smuggling, marine pollution, contraband and illegal fishing activities. As the First Line of Defence of the island nation, it is mandatory for the Navy to be equipped with ships having higher endurance and operational capabilities. Thus, acquisition of high endurance vessels to the SLN fleet will enable the country to achieve its maritime security aspirations resourcefully. Apart from that, the ship's high endurance which enables it to continue operating under specific conditions, coupled with its ability to remain at sea a longer duration at a stretch as situation demands, will invariably be advantageous and economical, when exploring the country's maritime horizons".
P-627 and her dynamic crew are primed and ready. With the increase of maritime crime globally, Navies need to be more constabulary in nature. Sri Lanka Navy is fully responsible for these marine duties and remains committed as our formidable first line of defence and deterrence. P-627 will guard our seas as a gallant sentinel.
Courtesy - www.dailynews.lk