Remembering victims of terror ; Kebithigollewa massacre
June 15, 2020
Remembering victims of terror ; Kebithigollewa massacre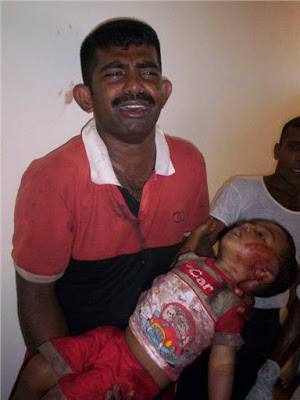 June 15, 2020 marks the 14th year remembrance of the LTTE attack on Kebithigollewa bus, one of the barbaric massacres perpetrated by the LTTE terrorists targeting civilians.
The LTTE terrorists detonated two roadside claymore mines around 9.45 am on June 15, 2006 at Kebithigollewa killing over 63 civilians including women and 15 children and injuring 42 others who were travelling in a bus along the Vavuniya – Horawapatana road.
Terrorists' target was a Sri Lanka Transport Board regularly plying along the same road. All passengers killed in the LTTE-detonated explosion, a hallmark of LTTE's ethnic cleansing plans against the community, were Sinhalese.
The gruesome terror attack drew wider condemnation over the LTTE, its tactics and fundraisers including the diaspora by the state and international institutions, which were earlier sympathetic towards the outfit.
It was the bloodiest attack perpetrated by the LTTE against civilians since signing of the infamous February 2002 Ceasefire Agreement between the government and the LTTE.
Investigations later revealed that explosives weighing about 20kgs were laden in the claymore mines detonated.
The attack rocked the entire country with shock and condemnation, as frontline media screened footage of the blast site, where bodies of schoolchildren, women and elderly were to be seen ripped-off and scattered.
"This vicious attack bears all the hallmarks of the Liberation Tigers of Tamil Eelam (LTTE). It is a clear violation of the Ceasefire Agreement that the Tamil Tigers claim to uphold", the United States deploring the attack targeting unarmed civilians, young and elderly, had stated.
The Sri Lanka Monitoring Mission claimed that the LTTE or supporters carried out the Kebithigollewa attack.
Prime Minister Mahinda Rajapaksa, who was the the Executive President and the incumbent President Gotabaya Rajapaksa who was the Defence Secretary immediately rushed to the scene of the blast and even paid visits to the injured at hospitals.
Meanwhile, on October 24, 2013, the Anuradhapura High Court sentenced a former LTTE terrorist suspect to 5 years imprisonment after the suspect pleaded guilty in abetting the heinous crime.
Kebithigollewa is a village situated 23 miles Southeast of Vavuniya, on the Vavuniya - Horawapatana main road in the Anuradhapura District.