Defence Services College opens after COVID-19 lockdown
July 06, 2020
Defence Services College opens after COVID-19 lockdown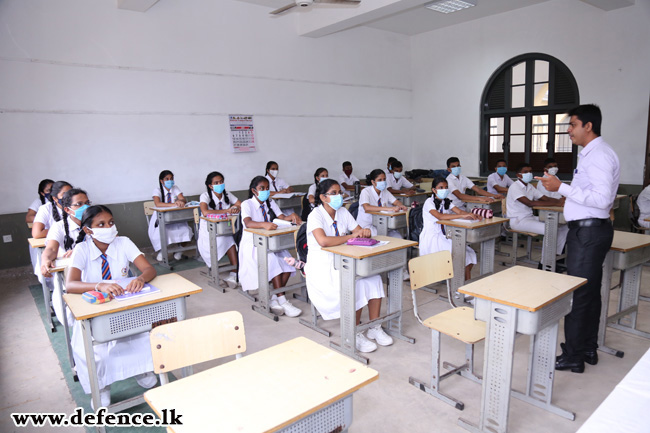 Classes conducted on instructions and guidelines issued by health officials.
By Maj Chandu Bandara
The Defence Services College at Malay Street, Colombo, was reopened, today, after a 115-day closure as the government had decided to shut down schools and educational institutions to contain the spread of coronavirus outbreak in the country.
"The school had been closed since March 12, and a lot of effort was put into sanitizing and cleaning the premises with the assistance of the Tri-Services and Police before commencing classes", Administrative Director of Defence Services College Maj. Gen. (Retd) W.R Palihakkara said.
Defence Services College Principal Niroshan Opatha told the defence.lk the entire staff including teachers was briefed on taking precautions according to the guidelines and instruction issued by the Health and Education Ministries to conduct classes in the new term.
According to Principal Opatha, despite the closure, steps had been taken to conduct virtual classes using available technology for all grades including the students of Grade 5.
"Today, the school was opened for Grade 5, 11 and 13 students as per the Education Ministry's guidelines in reopening schools. In addition, the school is constantly communicating with the parents and students in making them aware of the required standards and norms including emphasis on wearing facemasks and maintaining physical distancing", he said.
On June 29, principals and teachers of schools island-wide reported to work marking the first stage of the government's gradual effort in reopening schools according to laid down instructions of the Education Ministry.
Today marked the second stage of the program, with students of grade 5, 11 and 13 returning for studies at respective schools.
The third stage would proceed subsequently with classes commencing for grade 10 and 12 and subsequently the firth stage would proceed with classes been conducted for 3, 4, 6, 7, 8 and 9 grades.
Classes for grades 1 and 2 are scheduled to commence from August 10.
Pix / Video by : Sgt Jayawardhana & Cpl Dias