KNDU bill won't cause any hindrance to the country's free education
July 23, 2021
By Dilan Jayatillake
90% of the lecturers are civil academic staffers
No private institutions affiliated with KNDU
Neither admission of the under-qualified nor entertainment of influential requests
The profound setting for the enrichment of future civil-military cooperation
Not an umbrella to govern other state universities or to overrule the UGC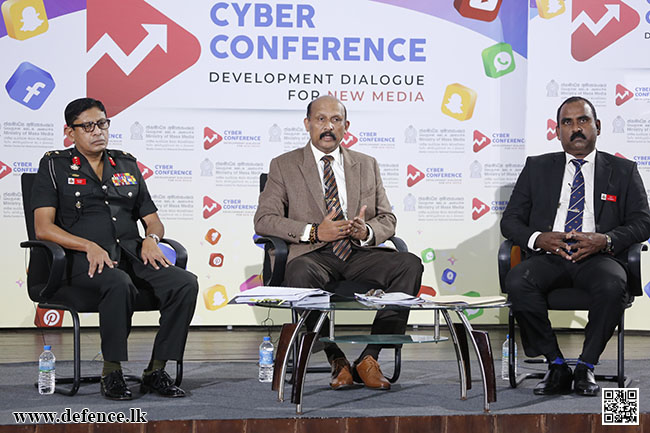 The 90% of the General Sir John Kotelawala Defence University's (KDU) lecturers are civilians, and therefore, new Act broached for Kotelawala National Defence University (KNDU) won't cause any hindrance to the country's free education, said the Defence Secretary Gen. Kamal Gunaratne (Retd) yesterday (July 22).
The motive behind this is to keep on higher education for brilliant students who marginally deprive the facility after Advanced Level Examination, he added.
Aim of this is to generate a lawful and disciplined generation embedded with leadership qualities in future to serve the motherland, Gen Gunaratne explained adding, "No admission is entertained for the influential people's children with less qualifications, as the standards are inflexible".
The drafted KNDU bill wasn't broached to wreck the higher education standards in the country as claimed, he stressed indicating that it was drafted by intellectuals of the country.
This is not the only University of this kind in the globe, the Defence Secretary said further illustrating that "There are no any private institutions affiliated to this as said, except the military and Police Academies".
The Sri Lankan Defence Secretary expressed these remarks while addressing a media brief held on a zoom-based video conferencing platform at the Government Information Department, yesterday.
KDU Vice Chancellor Maj. Gen. Milinda Peiris and Deputy Vice Chancellor (Academic) Prof. KAS Dhammika were also present at the virtual conference.
The Defence Secretary responding to the standards of KDU revealed, "Only 10 Doctor of Philosophy (PhD) degrees have been conferred thus far out of the registered number of 210 scholars".
The Education Ministry Secretary Prof. Kapila Perera is too a former student of the KDU, he also noted.
Further elaborating the current KDU composition, Gen. Gunaratne went on saying "It has the service of 136 PhD holders, 73 Master level Degree holders and 267 illustrious visiting lecturers as its academic staff apart from 24 lecturers attached from the armed forces".
Only the students who have fulfilled the prerequisites for university entrance will be enrolled, he added.
Responding to alleged militarization, "This is not totally governed by the military" he said referring to Prof. KAS Dhammika who is the current Deputy Vice Chancellor (Academic) of KDU.
Meanwhile, raising concerns into a question on merging of 'Day Scholars' with 'Military Cadets' at the same venue collectively would be leading to disputes, the Vice Chancellor stated "This joint atmosphere among students has produced a profound setting for civil-military cooperation enrichment within the society".
"With the admission of 'Day Scholars' in 2012, the status-quo was reshaped to a constructive competition among the students to pursue their education", he added.
"Day Scholars are also studying in the same lecture halls as the military officers, but they do not undergo military training", he further said "Conceptually 'Day Scholars' would also develop soft skills, leadership qualities including talents in music, toastmaster sessions, sports etc. which are essential elements to shape up their future.
There were no issues between 'Day Scholars' and 'Military Students' from 2012, Vice Chancellor asserted.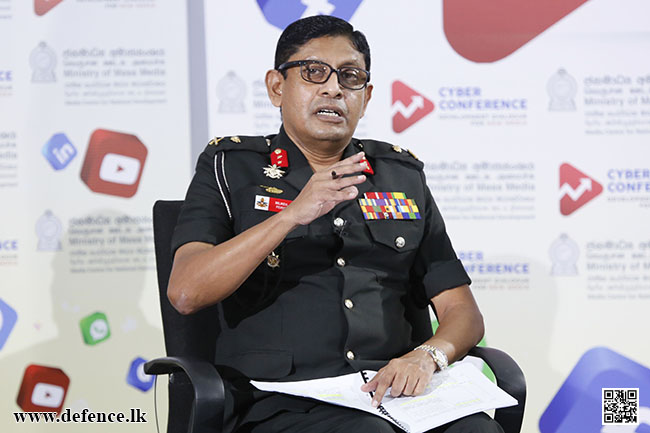 Sir John Kotelawala Defence Academy was initially established in 1981 by the Parliamentary Act No. 68 of 1981 and was granted university status through Sir John Kotelawala Defence Academy (Amendment) Act No. 27 of 1988 enabling to confer degrees, Maj. Gen. Peiris recalled the initial enactment.
Although, it was renamed as General Sir John Kotelawala Defence University in the year 2007 under amendment Act No. 50 of 2007, structural changes weren't introduced, he noted.
"The drafted new bill has introduced 'Board of Governors' into the KNDU framework in a bid to govern the system instead of 'Board of Management", Vice Chancellor said adding, it also has incorporated the Faculty Boards, Senate and Council in the new structural framework.
Positions were suggested for two experienced intellectuals of the higher education administration sector into the Board of Governors, he added.
This won't be an umbrella to govern other state universities or to overrule the powers of the University Grants Commission (UGC), as claimed. Maj. Gen. Peiris reiterated "this is merely to be on par with the world universities, as it demands a proper structure".
Moreover, all the military institutions affiliated to KDU are needed to be incorporated in the Act, he further stressed.
There are similar educational institutions established by various Parliament Acts, he said citing Ocean University Act, University of Vocational Technology Act and Buddhasravaka Bhikku University Act.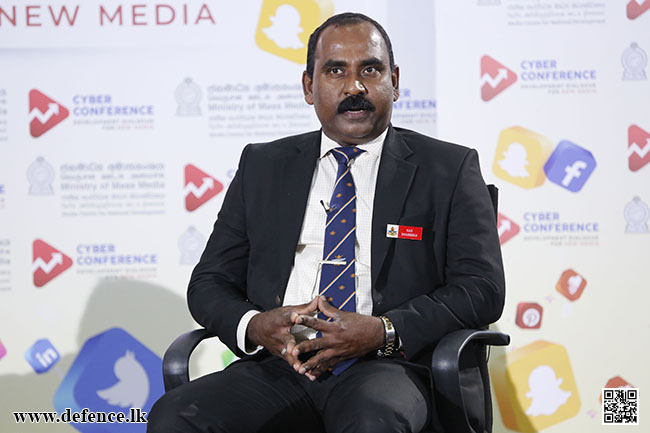 KNDU Act comes in the same vein and specifically, it is only for KNDU which governs only that institution, the Vice Chancellor illustrated.
Responding to another quarry, he said local students who have completed London Advanced Level too have the opportunity to enroll, subject to the fulfillment of stipulated education standards equivalent to Sri Lankan Advanced Level. Similar qualification is required for foreign students to register, he noted.
There are no student's unions here instead they have formed various associations, he also responded.
Highlighting on the benchmarked course curriculums with the global university specifications, he said "A 'Centre for Quality Assurance' is functioning here led by a renowned Professor who has performed in the State Higher Education Administrative Sector previously.
Prof. KAS Dhammika replying to the media said apart from all the details discussed above, this University follows specifically professions oriented education and the Faculty of Criminal Justice is one of them.
Therefore, this isn't overpowering the other corresponding universities, but instead the coexistence is sought, he affirmed.