Defence Secretary and Chairperson of 'Archaeological Heritage Management Presidential Task Force' (PTF) for Eastern Province, Gen. Kamal Gunaratne (Retd) laid the foundation stone for the proposed 'Pilgrims Rest' at the Deeghawapiya Raja Maha Viharaya premises amidst the religious blessings today (15 July).

...

Eminent scholar and Member of Parliament, India Dr. Subramanian Swamy was the guest speaker at the Security Salon organized by the Institute of National Security Studies (INSS) last evening (Oct 13).

...

Chief of the Army Staff of the Indian Army (COAS) General Manoj Mukund Naravane accompanied by a military delegation met the Defence Secretary Gen. Kamal Gunaratne (Retd) at the Ministry today (Oct 13).

...

National event to commemorate the International Day for Disaster Risk Reduction (IDDRR) themed 'COVID-19 and systemic risks' was held in the form of a hybrid event at the Bandaranaike Memorial International Conference Hall (BMICH) today (Oct 13).

...

His Excellency the President Gotabaya Rajapaksa reviewed the progress of Sandahiru Seya construction and scheduled work while arriving at the Stupa premises in Anuradhapura today (Oct 09).

...

The Defence Ministry has informed of dates for renewal of firearm licence for the year 2022.

...

The State Intelligence Service (SIS) celebrated its 80th Anniversary in a simple ceremony on Oct 01, 2021 under the auspices of Defence Secretary Gen. Kamal Gunaratne (Retd) gracing as the Chief Guest and the ceremony was held in keeping with COVID-19 health guidelines.

...

The conduct of prison officials makes the difference between the incarcerated drug lords and underworld gangsters in prisons to continue operating their networks from within prisons or put a stop to all their sinister operations.

...

'Cormorant Strike Xl - 2021', the annual Field Training Exercise (FTX) organized by the Sri Lanka Army concluded on a successful note in Kuchchaveli, Trincomalee, on Wednesday (Sep 29).

...

Defence Secretary Gen. Kamal Gunaratne (Retd) denoting the culmination of Sandahiru Stupa construction process said this sacred Stupa would be vested in the public in November this year.

...

Sri Lanka proposed to establish a Regional Knowledge Hub in Colombo in collaboration with the World Health Organization (WHO), to facilitate exchange of lessons learnt from COVID 19 and support countries to build back better.

...

The outgoing High Commissioner of Pakistan, Major General Muhammad Saad Khattak (Retd) made a farewell call on the Defence Secretary Gen. Kamal Gunaratne (Retd) at the Defence Ministry in Sri Jayawardenepura, Kotte, today (Sep 23).

...
The Sri Lanka Air Force (SLAF) recently handed over Heated Humidifie...

---

The final mock demonstration of the largest-ever joint Exercise 'Mitra Shakthi VIII' ...

---

The Army Service Corps School at Tisawewa, Anuradhapura on Thursday ...

---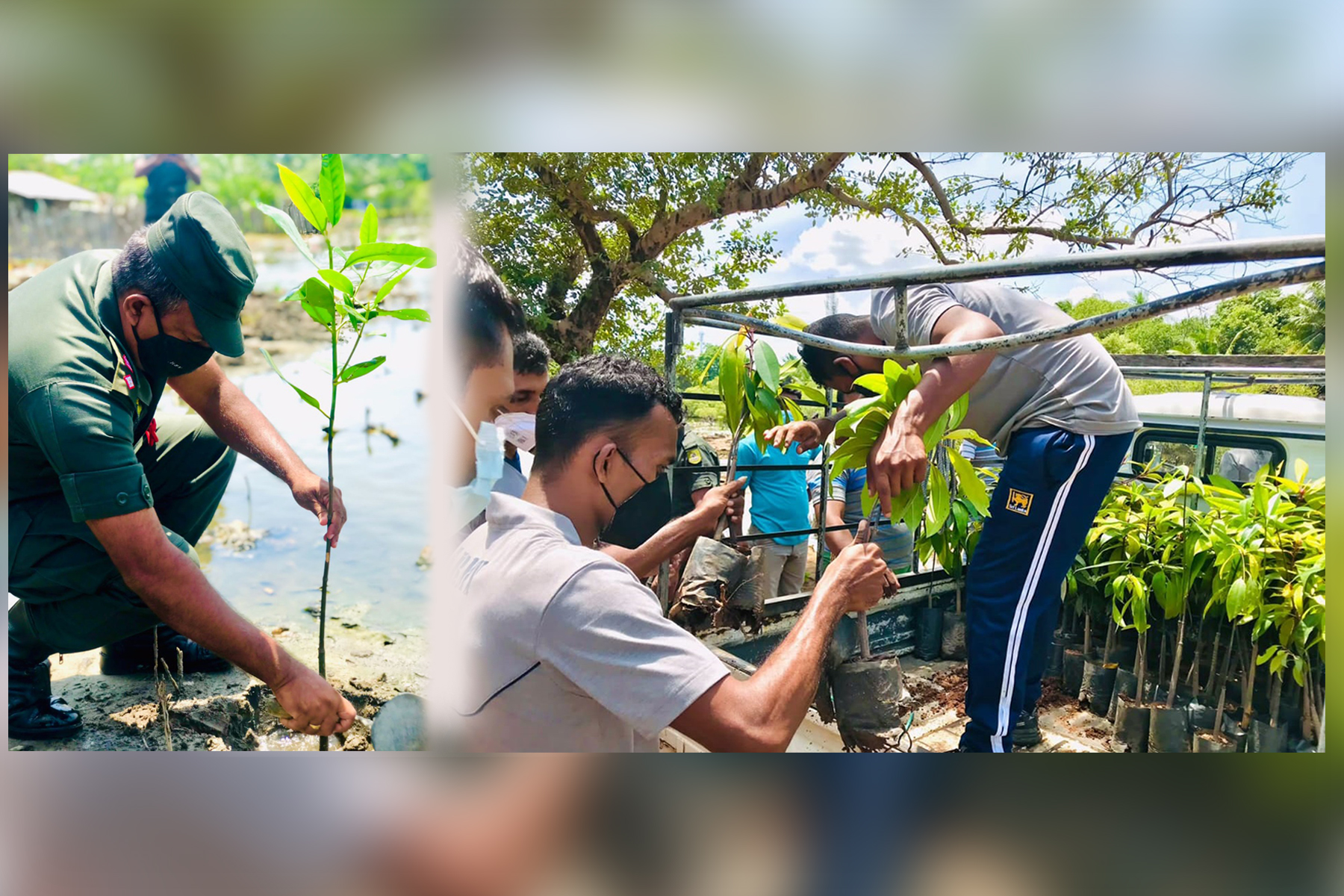 Mangroves help to stabilize coastline ecosystems, prevent erosion and absorb storm surge impacts during extreme weather conditions. Mangrove forests nurture our estuaries and fuel our nature-based economies.
Here a group of soldiers plants mangrove saplings during a mangrove conservation programme mooted by the Sri Lankan armed forces in the Eastern region.